Over the next couple of weeks, we'll take a look at some of the non-roster players looking to earn a spot on their respective NHL clubs. While this preseason mini-series won't solely reflect guys who are likely to make the big clubs, it will look at some of the best to take to the ice for the preseason squads.
Sunday marked the start of the NHL's preseason schedule with five games taking place. Columbus, Calgary, and Edmonton all took part in split-squad games with both Flames teams taking on their provincial counterparts in their respective games. The other match-ups included the Blue Jackets taking on Carolina in one game and St. Louis in the other split-squad game with Buffalo and Washington rounding out the night.
With that in mind, here's a look at the three stars from Sunday night's NHL preseason action.
Nathan Lieuwen, G, Buffalo Sabres
While the Buffalo Sabres lost to Washington on an Alexander Burakovsky goal, it was the Sabres goaltender that made his presence known to Buffalo's front office and coaching staff.
Nathan Lieuwen faced 25 shots in his preseason debut stopping 24. He posted a .960 save percentage and a goals against average just over 1.00.
Nathan Lieuwen was strong in net for the #Sabres in their 1-0 preseason loss to the Caps today, stopping 24 of 25 SOG http://t.co/QsFUmNgekS

— Rochester Americans (@AmerksHockey) September 21, 2014
The 23-year-old will have a slim chance of playing for the big club this coming season with the Sabres addition of Michal Neuvirth in the offseason. While Jhonas Enroth will likely lead the way for Buffalo, Lieuwen is just looking to make himself seen as a viable prospect in the Sabres organization.
Kerby Rychel, LW, Columbus Blue Jackets
Kerby Rychel will be a big part of the Blue Jackets future, and on Sunday he demonstrated just why that is. The 19-year-old left winger played 15 minutes in Columbus' split-squad game against the St. Louis Blues on Sunday. He played on both the power play (1:31 TOI) and on the penalty kill (2:01 TOI) recording one goal and a plus-one rating in his 15 minutes.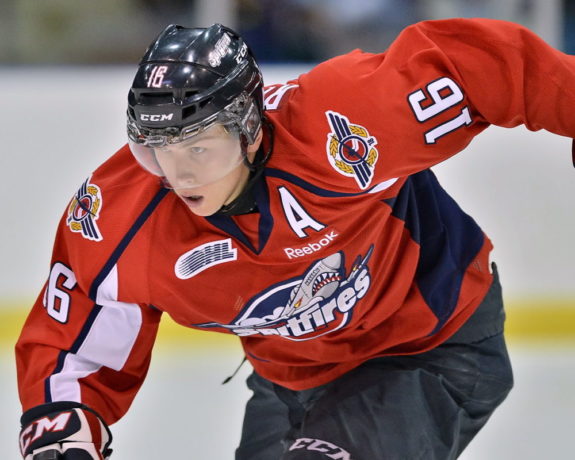 With Ryan Johansen yet to be signed by the club, Rychel could play his way into the thoughts of Columbus' coaching staff. Johansen's absence leaves a whole in the lineup that the Jackets will surely be looking to fill. Not a bad start for the 19th overall pick in 2013.
[ALSO SEE: Kerby Rychel – The Next Ones]
Leon Draisaitl, C, Edmonton Oilers
Finally, one player who could crack Edmonton's opening night lineup is Leon Draisaitl. The German forward debuted in an Oilers split-squad contest with the Calgary Flames playing just under 16 minutes in his first taste of NHL preseason action.
Marco Roy (1G), Leon Draisaitl (1A) and Darnell Nurse (1A) all pick up points as #Oilers top #Flames 3-1. Gaudreau & Bennett did not play

— Brendan Ross 🇨🇦 (@RossyYoungblood) September 22, 2014
The 18-year-old recorded an assists and was a plus-two in his first game for the Oilers. He also won 62 percent of the draws he took – a number that many would argue is an underrated stat. He played on both the power play (1:58 TOI) and the penalty kill (1:41 TOI) and will get the coaching staff thinking when it comes to their open spots in the lineup.
NHL Preseason: Three Stars From Day 2 (Sept. 22)
NHL Preseason: Three Stars From Day 3 (Sept. 23)
NHL Preseason: Three Stars From Day 4 (Sept. 24)
NHL Preseason: Three Stars From Day 5 (Sept. 25)
NHL Preseason: Three Stars From Day 6 (Sept. 26)
NHL Preseason: Three Stars From Day 7 (Sept. 27)
For more, follow Andrew on Twitter at @AndrewGForbes or his column at @Tape2TapeTHW.