The weather may be cooling off, but the battles are heating up in Texas. The Dallas Stars will kick-off their preseason with battles at nearly every position.
The Stars have a lot prospects considered to be NHL-ready or nearly there, but there are only a few open spots this season. Assuming Cody Eakin and Brenden Dillon eventually work out a deal and return to the team, there is at least one open spot on offense and defense, and Kari Lehtonen's back-up comes down to a battle between two big goalies.
There are many battles and prospects for Stars fans to watch this preseason. The list below is not necessarily the best prospects or the six most interesting players to watch this preseason. The six players below have legitimate chances at making the NHL or are prospects with great potential that will at least provide a sneak peek at what is to come in the near future.
Julius Honka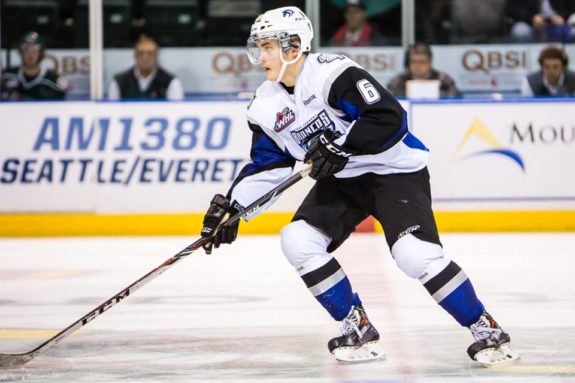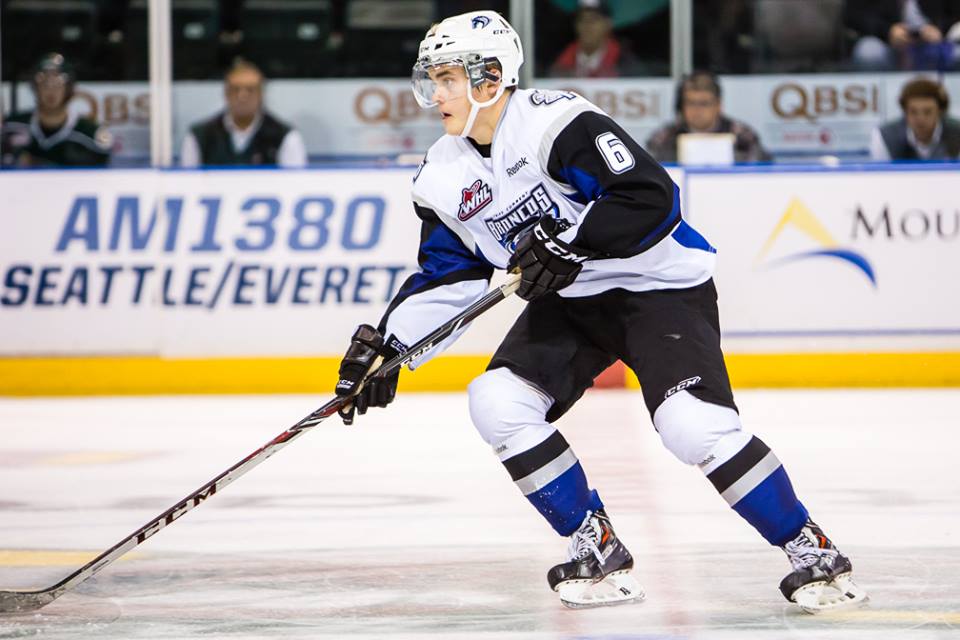 Honka is easily one of the most highly touted and anticipated defensive prospects in recent years for the Stars. The 18-year-old defenseman has impressed coach Lindy Ruff and the Stars staff already after being drafted 14th overall in June. His skating is swift and precise. His agility and poise is beyond his age. His passing is crisp. He isn't scared to put the puck on net, and he makes tough plays look easy. "He's probably exceeded my expectations," Ruff told the media Sunday.
The Stars knew Honka had the skill to play in the NHL, but his size might need some time to develop. His 5-foot-11, 180-pound frame isn't necessarily tiny, but the worry is how he would handle the big, physical bodies of the NHL, especially the Western Conference. The preseason should help provide a better glimpse of the electric youngster. There will be a spot or two up for grabs with the Stars, depending on whether or not Dillon gets re-signed. Though Honka might lose out to bigger and more-seasoned defenders such as Patrik Nemeth, Jamie Oleksiak or Kevin Connauton, his play could force Stars management into a tough decision or at least provide a tantalizing taste of what may come in the future.
DAL 2014 first rd pick Julius Honka has all the tools and tremendous speed but he needs to learn patience w/ the puck

— Mike Morreale (@mikemorrealeNHL) September 16, 2014
Honka is the new, shiny toy but he needs time — He's very skilled but so raw; needs to build strength first as well. We'll see in preseason — Brandon Worley (@brandonworley) September 19, 2014
Travis Morin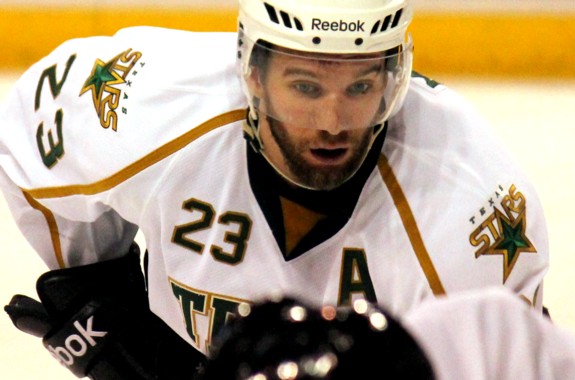 Don't let age fool you. He may be 30, but Morin didn't lead the AHL in scoring by accident last season. Morin played fewer games than the five runners-up, and yet he registered at least 14 points more than them. His 88 points in 66 regular season games and 22 points in 21 playoff games helped earn him the Jack A. Butterfield Trophy awarded to the Calder Cup playoffs MVP.
Although Morin hasn't impressed in seven NHL games with the Stars (four games in 2013-2014), last season could give him the confidence and boost to earn a spot in the NHL, especially if Eakin doesn't get signed soon. His age may push him back to being a reliable Texas Stars leader and valuable emergency call-up, but he could earn his way to the NHL with a strong preseason.
Patrik Nemeth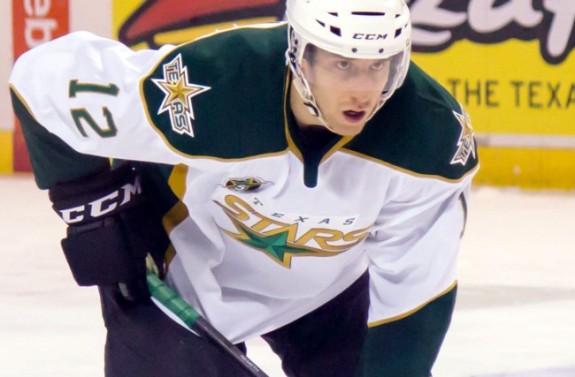 Nemeth may have the best chance of all the Stars' defensive prospects at locking up a spot on the NHL roster. The 6-foot-3, 235-pound stay-at-home defenseman was called up for eight regular season games last season. He eventually spent time on the second pairing in five of Dallas' six playoff games against the Anaheim Ducks. Nemeth showed poise and very strong defensive positioning in those 13 games. Despite being only 22 and playing in the NHL for the first, he did not look out of place at all. He was solid clearing out the front of the net and tying up the opposition near the crease. His passes and clearing attempts were mostly safe and effective.
After the Ducks eliminated the Stars in Game 6, Nemeth rejoined the Texas Stars in the AHL playoffs and eventually scored the Calder Cup-winning goal. The Stars have a lot of capable puck-moving offensive defensemen, but Nemeth could be the defensive anchor the team needs. He looked NHL-ready in training camp. A solid preseason could earn him a full-time roster spot in Dallas.
Jamie Oleksiak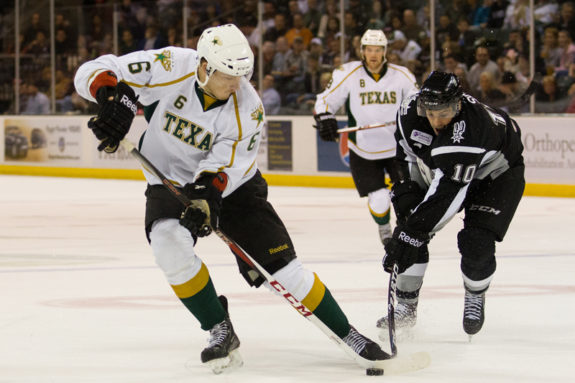 His name gets brought up every preseason, only to be tossed back to the AHL for more seasoning, but with potentially two spots open in Dallas, this could be his year. The knock on Oleksiak has mostly been his inability to use his 6-foot-7, 250-pound frame to his advantage. He's shown decent speed but sub-par defensive abilities in his 23 NHL games. He was a little tentative in his passing and clearing opportunities, and he didn't punish opposing players with his physicality.
Oleksiak showed more toughness and better defensive play in the AHL playoffs last season, so the hope is he can carry it over this preseason. He is only 21, so there is still time for him to develop. He has improved in the minors, but he needs to show it in the NHL. He hasn't fared well in training camp so far, but the Stars' seven preseason games (including the Dallas Stars versus Texas Stars showdown in Cedar Park) make for a perfect opportunity for "The Big Rig" to show some improvement.
Brett Ritchie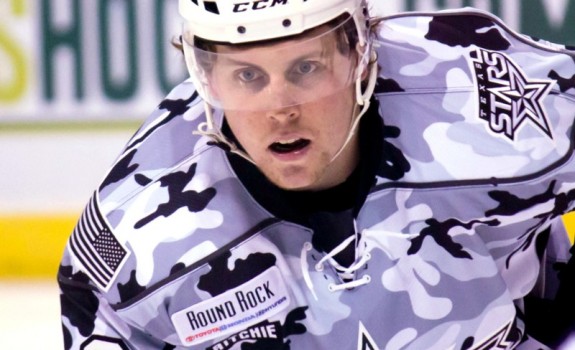 The 21-year-old winger was drafted in second round in 2011 and has been impressive in his development. Yes, he is out with a broken finger, and yes, he is expected to be out for two weeks, but I would be surprised if he didn't get into a few preseason games. Ritchie has a legitimate chance at cracking the NHL lineup. Ritchie scored 57 goals in and 106 points in 83 games with the Niagara Ice Dogs in the OHL and carried his impressive scoring over to the AHL. He registered 22 goals and 48 points in 68 games last season, and he followed that up with seven goals and 11 points in 13 playoff games to help Texas win the Calder Cup. He's demonstrated his skill and shown great potential in the minors. The next step is the NHL.
A big, physical winger with scoring touch is just what the Stars are looking for with a potentially open spot in the top six. Jamie Benn, Tyler Seguin, Jason Spezza and Ales Hemsky will surely be in the top six, but there are no other guarantees beyond that. Valeri Nichushkin figures to be on one of the top two lines, but there seems to be a battle for the final spot. If Ritchie can find a way to show his scoring touch in the preseason, he could very well find himself in Dallas in October.
Jussi Rynnas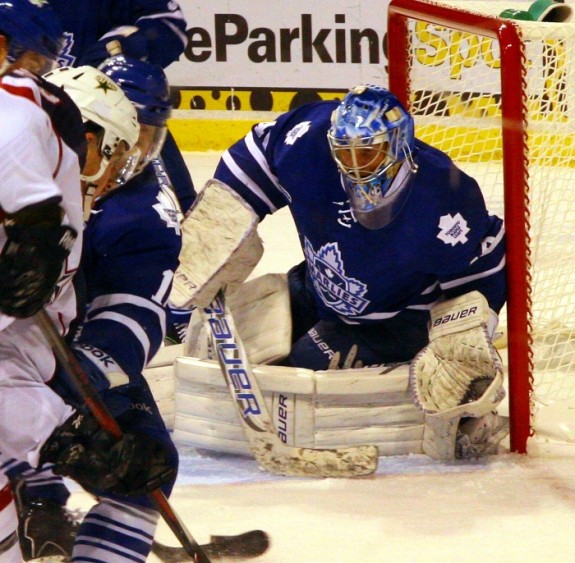 The 27-year-old goalie from Finland was impressive in training camp. Rynnas is battling Anders Lindback to back-up Lehtonen this season. Rynnas was solid in Sunday's scrimmage. He flashed a quick glove, excellent reactions and good positioning, all while facing the team with more NHL-caliber scoring. The Stars signed the 6-foot-5, 212-pound goalie to a two-year contract in July. He has a lot less NHL experience than Lindback, but Rynnas is coming off an amazing season in the Finnish Elite League. His 28-5-7 record, 1.51 goals against average and .939 save percentage last season were remarkable.
Rynnas has the preseason to show whether he can continue his stellar play from last season or revert back to the average play he demonstrated in the AHL and NHL over the last three seasons. The Stars want to rely more on their back-up goaltending to help give Lehtonen more of a rest during the season, so the pressure is on for the battle between the pipes.