The Leafs are in a bit of a strange place as we embark on another season of NHL hockey. On one hand, they are clearly missing the vaunted number-one centre that most successful teams are built around. As much as I like Tyler Bozak, I would like the options that moving him down the line-up would entail. On the other hand, they actually do have, after the first line anyways, some depth at that position.
The Leafs enter the pre-season with Bozak as the de facto top line centre, followed, one assumes, by Nazem Kadri and then a glut of potential third and fourth line options: Holland, Santorelli, Kontiola and Winnik. If you assume the team can only dress four centres, and you grant that if they want to have their fourth line in a defensive, checking role, their options are limited, since, of the aforementioned four, only Winnik fits that description. This means that essentially the Leafs have three players competing for the job of third line centre, meaning only one of Holland,Kontiola and Santorelli stands a good chance to make the team. (As a starter, at least).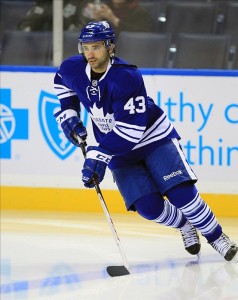 Now, I may wrong, but based on what I know and the information available to me, I do not believe that any of Holland, Kontiola or Santorelli stand a chance to beat out any wingers on the Leafs roster if they moved positions. I also do not think the Leafs are in a place to jettison talent, and thus have to find a way to be able to  play as many of these players as possible, given that all three of them offer intriguing mixtures of talent and potential.
I think I may have hit on a solution, although I don't claim to be the first to suggest such a thing: Move Kadri to wing, where his size probably plays better anyways, and where his weaknesses – namely defense and face-offs – are camouflaged if not outright forgotten. Personally, I think that if the Leafs were not so destitute at the centre ice position, that there is a good chance this would have already happened.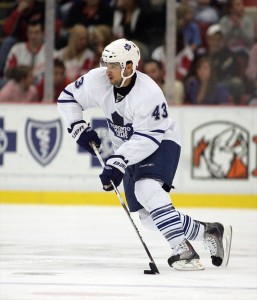 With Kadri on the wing on the second line, (or first if you want to break up Kessel and JVR) you now have four extremely talented wingers (Lupul is the other) and Holland can play on a scoring line where he is bound to have the most success. In addition, they now only have to choose between one of Kontiola and Santorelli, and injuries will probably work that out eventually anyways.
This seems like a good idea to me. What say you?