The time is drawing nearer for the Boston Bruins to pay the piper. After winning a Stanley Cup and leading the league in points within a span of four years, it's now Boston's turn to handle the tab. And even though the B's will enter the new season as heavy favorites to take home the prize, their overloaded salary cap will force GM Peter Chiarelli's hand to make a trade. Gambling with Johnny Boychuk, though, is a risk either way. But why?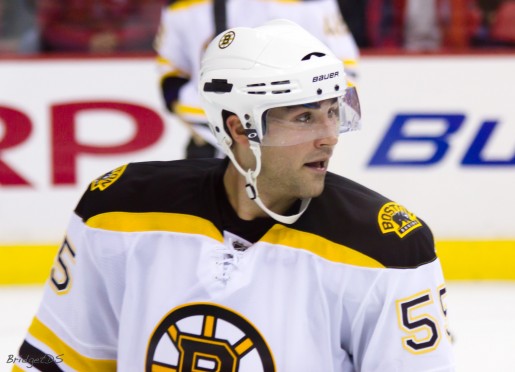 The Dilemma
Boston's financial woes are the cost of excess talent. If Chiarelli left the roster as is, Marc Savard's move to the LTIR would erase their $809, 143 overage, leaving the Bruins in compliancy. The problem is, Chiarelli can't afford to keep the roster as is. Not with Torey Krug and and Reilly Smith still unsigned.
The Bruins not only have to deal with the immediate impact of the cap in Krug and Smith, but also down the line with their class of upcoming free agents.
David Krejci's six-year, $43.5 million recent contract didn't exactly ease the difficulty in that task either. Not with six players set to become unrestricted free agents, and four set to become restricted free agents. One of those players is star defenseman Johnny Boychuk, who's name has been thrown into the spin cycle of trade rumors.
"Since the Bruins have opened their doors to Peter Chiarelli and Claude Julien's ushering in of a new direction for the franchise, there were two components of the game they seemed to value more than anything else; defense and balance. Well, if a move is made dealing Boychuk, it represents a complete and utter failure on behalf of Peter Chiarelli as well as an indication of perhaps a new movement for the Bruins." — Michael Memmolo, Causeway Crowd
Keeping Boychuk and the "direction" intact, however, isn't as simple of a solution as merely keeping him. Disregard what it'll take to sign the established Boychuk to a new deal. After all, he's remained steadfast in his stance on wanting to remain in Boston. But even if Chiarelli were to pump fake on trading Boychuk, his team will inevitably sacrifice in another area.
"The simple story of the B's cap problem, which a quick check of capgeek.com makes clear: The team is already in excess of the $69 million NHL maximum by some $809,000, with Group 2 free agent defenseman Torey Krug and forward Reilly Smith yet to be re-signed. Krug earned a $832,500 base salary last year and tacked on $850,000 in entry-level performance bonuses; Smith made $810,000.

"Both players presumably are seeking fairly substantial raises. Rookie forward David Pastrnak, if he makes the team, would cost nearly another $1 million." — Stephen Harris, Boston Herald
https://www.youtube.com/watch?v=bVuRA00H46Q
Let's not forget how Boston's cap hardship opened the door for veteran forward Jarome Iginla to make a dash for the Mile High City before the Krug/Smith contracts took center stage. And while Iginla was viewed as somewhat expendable at the time of his departure, balking at re-signing Reilly Smith will leave a mark, while solving little to no future question marks.
"We want them in our mix. As has been chronicled, we've never had that type of player not sign and not come to camp," said Chiarelli. "I've been through a few of them (camp no-shows) in my time. They're not very pleasant, but that's what we have right now."
The question lingering now is, who's most expendable? Reilly Smith was one of six forwards to record 50 or more points last season. That's including Iginla as well. Simply relying on Patrice Bergeron and Krejci to pick up the slack is narrow minded. Not with Iginla, a 30-goal scorer, and Smith's six power play goals, and three game-winners erased.
Torey Krug, on the other hand, was Boston's second-leading scoring defenseman last season. His 40-points were 17 more than Boychuk's, who played in only four fewer games. And considering the age discrepancy between the two (Krug – 23, Boychuk – 30), there's a reason why trade rumors revolving around Boychuk exist in lieu of talks of a team without Krug.
Obviously, there is more to being a defenseman in the NHL than just scoring. If anything, it's a bonus in most cases. But a team that sent out invites to a veteran forward near the very end of his career in Simon Gagne, and another coming off of an embarrassing buyout with the Buffalo Sabres in Ville Leino, scoring isn't exactly a facet to be overlooked. But even that doesn't solve the thorny dilemma of trading Johnny Boychuk.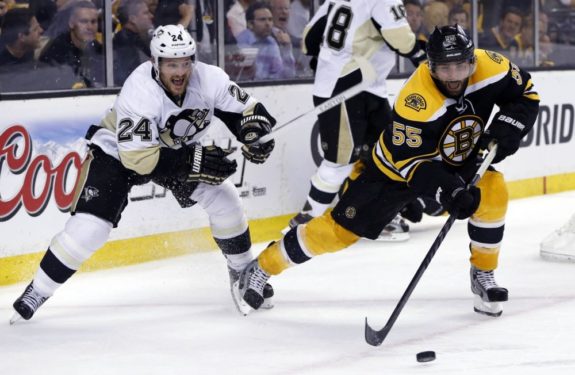 Pull the Trigger
Johnny Boychuk isn't getting any younger. The five-year veteran will turn 31 in Jan., which isn't considered "old." But since becoming a mainstay on Boston's blue line in the 2009-10 season, the Edmonton native has yet to play a full 82-game schedule. And although he's coming off a career best 23-point campaign, his post-season point production has failed to eclipse three points in two of the last three playoff appearances.
This is not to say, though, that a player of Boychuk's size (6-2, 225 lbs.), or physical style is expendable. It's not. But with everything considered, it could be the lesser of two evils. Allowing Boychuk to play out the final year of his contract will almost definitely unleash him to the free agent market next summer, while forcing another way to pull a rabbit out of a hat in securing Krug and Smith.
"Moving Boychuk – to the Oilers or anywhere else – not only frees up sufficient room to re-sign Krug and Smith but could also fetch a decent return. His modified no-trade clause expired at the end of last season, meaning the Bruins can now ship him anywhere without his consent. Given his UFA eligibility next summer, however, interested clubs might seek assurances of his willingness to commit beyond this season." — Lyle Richardson, The Hockey News
Although Boychuk's name hasn't been the sole defenseman linked to trade talks, he stands as the biggest predicament in terms of what it'll cost to re-sign him past this season. Trading Matt Bartkowski, the other name in the mix, would not only garner less in return, but it'd also free up $2.116 million less in cap space. So what good would it do to trade a defenseman who's not only four years younger, but would ultimately cost less to re-sign to a new deal?
"This summer, right-handed defensemen flew off the shelves faster than candy before Halloween. Big names Matt Niskanen, Brooks Orpik and Anton Stralman all received five-year contracts worth at least $4.5 million annually. Even average blue liners like Deryk Engelland and Mark Fayne received multi-year deals for at least $2.9 million.
"In that market, Boychuk's eyeballs can turn to dollar signs. A physical, right-handed defenseman with a powerful shot and playoff experience is a luxury many GMs will open their wallets for. The veteran righty could command $6 million a season next July, a price the Bruins likely can't afford with all their long-term contracts on the books and several other impending free agents." — Dan Cagen, MetroWest Daily News
While there's no guarantee that the return in which Boychuk would fetch would culminate in Chiarelli landing the GM of the Year award, it would instantly eliminate the headache of finding the necessary cap space to keep the younger talent that's also in peril. A fear of change, on the other hand, could land the Bruins in deeper water than they're willing to swim in. Not only would it squeeze their wallet even tighter, it may suffocate them.
I guess all of those who are freaking out over the possibility of the #Bruins dealing Boychuk are expecting a massive hometown discount?

— How you Bruin? (@BigNastyBruins) September 22, 2014
Consider what Matt Niskanen and Brooks Orpik received from the Washington Capitals last July. For anyone daydreaming at the onset of free agency, the pair of former Penguin defensemen made jaws drop when they matriculated to the nation's capital for a combined $67 million. And if you think that's egregious, just wait until Boychuk dips his toe into the free agency waters.
The pressure to unload Boychuk intensifies with Krug holding out. And with other situations involving restricted free agents throughout the league, Krug is gaining leverage. The 23-year-old turned down Boston's original one-year, $1.25 million offer. And after watching Ryan Johansen standing his ground against the Columbus Blue Jackets, and Danny DeKeyser's new $4.4 million bridge deal with Detroit, Krug has to be relieved he didn't jump at Chiarelli's first offer.
"It's also lower than what Krug made last season when he toped $1.75 million based on salary plus the $850,000 in bonuses he earned by reaching a few milestone statistics (25 assists and 40 points). Technically he'd be taking a pay cut with what the Bruins currently have on the table as an offer. That's a tough sell to a skilled player ready to take off, but that might be why Johnny Boychuk has been front and center about the trade rumors." — Joe Haggerty, CSNNE
As it turns out, the safest move for Boston to make is the one that appears to be the biggest gamble. Trading Boychuk would free up the funds to get not only Krug, but Smith, back on the ice, while turning in a juicy profit. The intimidation of having to either drill for oil to keep Boychuk past this season, or getting nothing in his departure would all be wiped away with the phrase, "You have yourself a deal."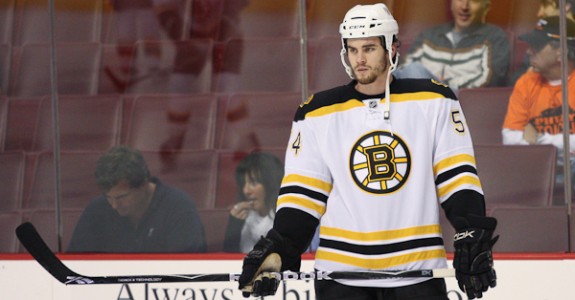 The Case for Keeping Boychuk
On the other hand, if trading Boychuk was such a no-brainer, the transaction would've already happened. And even though moving Bartkwoski in Boychuk's place doesn't add up, the Bruins still have options. Furthermore, Boston's 10/1 odds to win the Stanley Cup leads the entire league. So why would any competent GM take a stick of dynamite to a lineup that earned such preseason respect?
"I've been here for a while," said Boychuk. "I'm not coming up from the American League like I was a couple of years ago, so it's nice to be part of that core that we do have, if I am part of it. I think I am. We have such a good group, you would hate to see anything happen to it."
Certainly, the Bruins could find a way to grant both Boychuk, and the entire region of New England, what they want. After all, if Boychuk's $3.336 million cap hit this season on an expiring contract is enough to free up the essential space to finalize the roster, then why can't a combination of trades (not involving Boychuk, of course) achieve that very goal?
A fan gave a passionate plea for B's to keep Johnny Boychuk & Peter Chiarelli said at State of The Bruins "dont believe everything you read"

— Joe Haggerty (@HackswithHaggs) September 18, 2014
Since Bartkowski has already been dangled in trade talks, adding Adam McQuaid to the block would free up over a half a million less than waiving goodbye to one of the game's top blue liners. Sure, the return wouldn't nearly be as much as what Boychuk would bring, but keeping Boychuk on a championship caliber team is the bottom line return as far as Boston is concerned.
"The Bruins need to keep Johnny Boychuk. He's a fan favorite, he's great at what he does, and he responds well to the Julien system of two way, defensive minded hockey. Is it worth the loss of Matt Bartkowski and Adam McQuaid to keep him in the Black and Gold. Yes, I believe it is." — Andrew Thompson, Causeway Crowd
With proficient blue line play coming at such a premium in today's NHL, there will undoubtedly be buyers on both Bartkowski, and McQauid. The need for defensemen trumps McQuaid's injury list, which by now, drained the pen of ink that wrote it. Nevertheless, McQuaid is finally back from an ankle injury he suffered last season. And despite playing in only 30 games before the injury, the 27-year-old is healthy with added muscle.
"Injuries aside, McQuaid'€™s biggest problem might be that he is returning to a Bruins defensive picture that is much different than the one that he left. When McQuaid initially suffered his injury on Nov. 13, he was locked in as Boston'€™s third-pairing right defenseman, playing regular minutes alongside Torey Krug.

"When he went out, Matt Bartkowski got more NHL experience, while Kevan Miller emerged in McQuaid'€™s spot on the third pair. Now, the 27-year-old McQuaid is just one of nine NHL blue liners trying to get on the ice for the B'€™s." — DJ Bean, Big Bad Blog
McQuaid joins not only Boychuk and Bartkowski as upcoming free agents, but Dougie Hamilton as well – albeit, Hamilton is the only defenseman of the group that'll be a restricted free agent. Still, moving McQuaid in a package aids the financial figures, while using sound judgement in the odds department regarding his past injuries.
Chiarelli could also include Brad Marchand into the trading frenzy, but even his $4.5 million cap hit for the next three seasons hasn't been enough of a factor to stick any validity to the idea. Marchand's reputation of a world champion agitator may bring question into Chiarelli's decision to keep his edgy left winger. But lost in his bully persona is a skilled hockey player, who's scored 21 or more goals in three of his last four seasons.
https://twitter.com/chrisjoyce68/status/512638125550477312
Marchand is also a ticking time bomb (the good kind) in the playoffs. In both playoff runs of 20 or more games, Marchand has tallied runs of 19 and 13 points. In playing an enormous role in Boston's Stanley Cup win in 2011, Marchand finished his post-season dominance with 11 goals – one coming shorthanded, and another standing as a game-winner.
Peter Chiarelli may be neck deep in salary cap swamp water now, but the seven-year GM has options. This should come as no surprise to him, though, since Boston still stands as the odds on favorite at winning another Stanley Cup this season. As of now, however, Johnny Boychuk continues to patiently wait.