The NHL preseason has been filled with exciting plays, tough injuries and many young surprises thus far. Tuesday was no different – with some of hockey's prospects looking to make some noise for their respective teams.
While their names may not be the most recognizable to the average fan, their effort and skill set shown on the third day of the NHL's preseason could make them some of hockey's newest household names. The picks from day three range positionally from goaltender right out to centre. With that, here's a look at some of the top performers from Tuesday night's preseason action.
Vladislav Namestnikov, C, Tampa Bay Lightning
Tampa Bay seems to have a fountain of youth spitting out talent as if it came that easy. From Jonathan Drouin, Ondrej Palat, and Tyler Johnson to the already dignified roster players – Steven Stamkos and Victor Hedman – the Lightning could have another young center on the rise.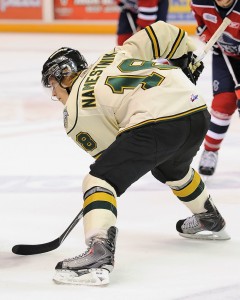 On Tuesday, Vladislav Namestnikov recorded three assists and a plus-three rating in just over 15 minutes of playing time. He played over two minutes on the power play and just under two minutes shorthanded.
While he only fired one puck on the Nashville net, he won 55 percent of the draws he took which is a huge plus for a young center. He'll likely have to show he can remain consistent before he's given the green light in Tampa, but should push for a job on the roster in the next couple of years.
Louis Domingue, G, Arizona Coyotes
While I thought the Arizona Coyotes may be in some trouble losing some of their offence in the offseason, their young prospects have certainly impressed thus far this preseason. Max Domi was one of our three stars on day two and his young – and possibly future – teammate makes the cut for day three.
His name is Louis Domingue. He's a goaltending prospect in the Arizona organization and was given the opportunity on Tuesday to show their coaching staff what kind of skill set he has. He played just under 40 minutes for the the Coyotes in their 4-0 win over the Anaheim Ducks and didn't disappoint.
Domingue stopped all 28 shots that he faced in his forty minutes of play. He earned first star honours in the game and stopped shots from Devante Smith-Pelly and Emerson Etem. While he won't be needed right away with Mike Smith at the helm, he certainly has the coaches speaking his name as the preseason continues.
Linden Vey, RW, Vancouver Canucks
He never really got the okay in Los Angeles, but now closer to home, Linden Vey could be a great addition to a rebuilding Vancouver Canucks lineup. He has the ability to play on both the powerplay and penalty kill while playing a skilled game in all three zones.
Linden Vey with a goal, 2 assists and a game-high plus-3 rating in his Canucks' preseason debut.

— Brady Trettenero (@BradyTrett) September 24, 2014
On Tuesday, Vey demonstrated some of his abilities recording one goal and two assists in just over 15 minutes of ice time. He finished with a plus-three rating, won 43% of the draws he took and played over three minutes on Vancouver's powerplay.
While he may have a tough time cracking the lineup right out of training camp, Vey could be a perfect call-up in the event of an injury later in the season. He'll certainly get an opportunity in Vancouver and should be part of their near future if he can continue to perform the way he did on day three of the NHL preseason.
NHL Preseason: Three Stars From Day 1 (Sept. 21)
NHL Preseason: Three Stars From Day 2 (Sept. 22)
NHL Preseason: Three Stars From Day 4 (Sept. 24)
NHL Preseason: Three Stars From Day 5 (Sept. 25)
NHL Preseason: Three Stars From Day 6 (Sept. 26)
NHL Preseason: Three Stars From Day 7 (Sept. 27)
For more, follow Andrew on Twitter at @AndrewGForbes or his column at @Tape2TapeTHW.