Full disclosure I have yet to watch Nikolay Goldobin play a single game. And before you start calling me crazy, let me just say no, I'm not crazy, my mother had me tested.
Fitting In
The soon to be 19-year-old Goldobin was the 27th overall draft choice this past June. Chances are the Russian winger will return to the OHL in the coming days. However, if Goldobin does make the Sharks out of training camp, where does he best fit in? The answer to that question may surprise you. It's the spot Brent Burns vacated with his move to defense, right wing next to Jumbo Joe Thornton.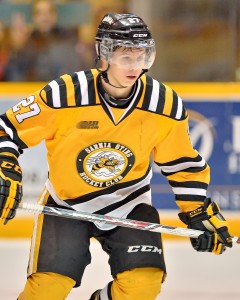 While this may sound like a stretch, when it comes to offensively touted rookies, it makes little sense to play them on the fourth line for any significant length of time. Yes, even Tomas Hertl saw some time playing with fourth liners like Andrew Desjardins but for the most part Hertl fit in on Thornton's left side.
Chances are if Goldobin makes the cut, he will start in the bottom six for a few games. Sharks head coach Todd McLellan prefers this method of "easing" players into the league or back from an injury. But are bottom six minutes really easier? You could argue that's not the case.
Ice Time Reality
A strong team's third line doesn't see that much less ice than the top two lines at even strength. Often the third group plays just a minute or two fewer. If Goldobin is slotted in on the third line, he won't see that much less ice time.
Therefore, the line he plays on at even strength doesn't really matter in terms of shifts. If we are talking about difficulty level or energy expenditure, hard to argue the Sharks third line duties a year ago weren't harder than the first line. A Sharks' third line while without Joe Pavelski spent a lot of time defending their own zone. Goldobin was drafted to score goals, so why put a rookie in a position where he constantly has to defend?
Yes, Thornton often played against elite competition last year. However, the Logan Couture line was frequently used as a shut down line as well. Therefore it is possible to shelter Thornton's line a bit more towards offensive minutes. Plus, even while facing elite competition, Thornton (and whomever his linemates were) dominated puck possession all year long. When Jumbo is out there, the Sharks have the puck far more frequently than they don't.
Making History
Wherever Goldobin plays, he should be on the ice, not sitting on the bench as part of a fourth line. Plus with Thornton, 6'4, 230, and Hertl, 6'2, 210, (perhaps even bigger, he's still a growing "boy"), it's not like the smaller Goldobin, 5'10, 185 pounds, won't have actual (read: not John Scott) protection around him. Plus regardless of how Goldobin plays, Hertl and Thornton can kick butt with anyone. If Thornton and Burns can make T. J. Galiardi look like a passable top-6 player, Goldobin should be fine next to Thornton and Hertl even if he struggles at the start.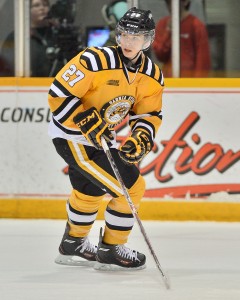 Making the team is a monumental task for Goldobin though, none of the most well known 27th overall picks of the last 30 years, Joe Nieuwendyk, Scott Gomez, Scott Mellanby, Tie Domi, John Carlson, Steve Staios, nor Cory Sarich made the NHL right out of their draft year. (According to Sharks stats guru Darin Stephens,  Sergio Momesso was drafted 27th overall in 1983 and played in one game during the 1983-84 season.)
That said, the NHL is trending towards younger, more highly skilled players and away from the goons who simply fight and hope not to get scored on. Goldobin, like Burns, features a dynamic offensive skill set. The Sharks will probably hold off and wait when it comes to Goldobin. Sending him back to the OHL to start the season is probably the right call. However, if they are keen on making a deep playoff run this season, they must find a way to keep Pavelski at that third line center spot. Goldobin making the historic jump to the NHL could be the answer to keeping Pavelski in the middle where he belongs.