With the sixth day of NHL preseason in the books, players are starting to receive word regarding their futures – at least for the 2014-15 season. But as the select few remain with their big clubs, still trying to earn a spot, The Hockey Writers continues to examine the top three players each day in the preseason.
Friday, marked another big day for NHL prospects. While the Dallas Stars littered their lineup with young talent, including Brett Ritchie and Brendan Ranford who both had good performances, other clubs like the Leafs and Bruins were taking a look at some of their young players.
Seth Griffith, C, Boston Bruins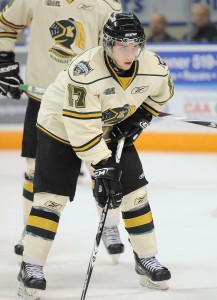 Although the Boston Bruins lost on Friday to the Washington Capitals, they had a chance to watch some of their top prospects show their stuff. Former London Knight, Seth Griffith, found himself on a line with Jordan Caron and Carl Soderberg – profiting from the opportunity.
Griffith who's coming off a 50-point season (20g-30a) with the Providence Bruins scored two second-period goals for the Bruins and won 100 percent of the faceoffs he took. He showed composure and confidence in all three zones on the ice, including a plus-one rating and 0-to-1 giveaway-takeaway ratio.
He play over 16 minutes for the Bruins, including just under two minutes of powerplay time. While the Bruins don't really have any open roster spots, Griffith can continue to push his way into a mid-season call up if he plays with the same ability as he did on Friday.
Josh Leivo, LW, Toronto Maple Leafs
Friday was an impressive game for Maple Leafs' forward Josh Leivo who recorded more points in a single game than he had in his seven NHL games last season. Playing alongside Tyler Bozak, Leivo scored a goal and added two assists – helping the Leafs to a 6-4 victory over the Buffalo Sabres.
He played over three minutes on the powerplay and over 20 minutes throughout the game. The organizations move towards adding some of their youth to the roster has been well documented this offseason. So what does that mean for Leivo?
If he can continue to play as well as he has – not just offensively – he could win a spot on the Leafs roster. With the injuries the team has suffered, that leaves open spots for some of last year's Marlies. On Friday, Leivo made it clear that he wants his name on the Leafs opening night roster.
Josh Leivo took a major step toward cracking the Leaf roster tonight. Might fit in nicely on the right side of the Kadri line. #TMLtalk

— Paul Hendrick (@HennyTweets) September 27, 2014
Louis Domingue, G, Arizona Coyotes
Louis Domingue – have you heard the name before? If not, then get to know it. The 22-year-old goaltender has unveiled his skill set during Arizona's preseason. He was listed once already as one of the stars in this preseason series (on Day 3) and hasn't slowed down since.
On Friday, Domingue took over for Devan Dubnyk in the Coyotes net and recorded the shootout win. He stopped all 23 shots he faced in 25 minutes of play and held the San Jose Sharks off the board in the second half of the game.
With his second appearance on this list, Domingue is climbing his way up the Coyotes' depth chart. As I mentioned after his great start on the third day of preseason, Domingue will likely not find his name on the big league roster this season, but he will certainly remain in the conversation for the future of Arizona's goaltending.
NHL Preseason: Three Stars From Day 1 (Sept. 21)
NHL Preseason: Three Stars From Day 2 (Sept. 22)
NHL Preseason: Three Stars From Day 3 (Sept. 23)
NHL Preseason: Three Stars From Day 4 (Sept. 24)
NHL Preseason: Three Stars From Day 5 (Sept. 25)
NHL Preseason: Three Stars From Day 7 (Sept. 27)
For more, follow Andrew on Twitter at @AndrewGForbes or his column at @Tape2TapeTHW.