Goalie masks have, like all facets of goaltending equipment, evolved considerably since their earliest predecessors hit the ice. In addition to moving from simple fiberglass molded designs to full-face-and-head helmets, goalie masks have seen a progressive evolution in the art applied to them. Today, an entire industry of professional artists serves beer leaguers to NHLers and everyone in between. Netminders tending the twine in St. Louis have followed this evolution, with the legendary Jacques Plante donning one of the first-ever iterations of goaltending headgear. We examine five of the top designs ever worn by Blues goalies, some of which are currently found in the Hockey Hall of Fame.
1. Curtis Joseph, 1995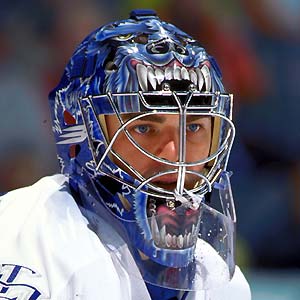 The first iteration of what became Cujo's trademark snarling dog design was seen after the controversial uniform change that added considerable amounts of red, along with slanted numbers and the infamous "trumpet" patch. Joseph's mask incorporated the full-face animalistic design also found on Andy Moog's and Tuukka Rask's Bruins, and Brian Hayward's Sharks designs. Despite wearing inspired masks prior to this one, this lid makes the cut because Cujo kept this format, adding more design elements and team and equipment logos throughout the remainder of his career with numerous different franchises.
2. Jacques Plante, 1968-1970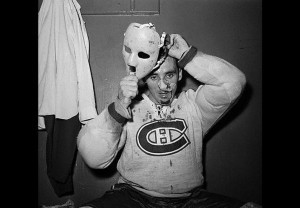 One of the NHL's all-time greats, Jacques Plante only used to wear masks during practice. His original basic fiberglass mask bore a striking resemblance to plastic masks kids play street hockey in. Although completely unsafe by today's standards, Plante himself credited use of a mask with saving his life on more than one occasion. Plante's later "streudel" mask inspired Montreal goalie Ken Dryden's iconic look, prior to most of the League going to a full-face fiberglass layout. Plante's mask makes the list because he was one of the true innovators in mask design and one of the original goalies to actually use one at all.
3. Grant Fuhr, 1997-1998
Hall of Famer Grant Fuhr enjoyed a five-season stint with the St. Louis Blues. A signature Mike Keenan move, the controversial coach and general manager jettisoned popular goalie Curtis Joseph for a proven winner. After a Mats Sundin slapshot prematurely retired Fuhr's first Blues lid — and corresponding nicely to an overdue jersey refresh — Grant Fuhr switched to a classy design featuring piano keys and the St. Louis skyline. This design matches perfectly the more-understated and timely look of the "post-red-era," and is widely considered Fuhr's best mask over his two-decade plus career.
4. Mike Liut, 1979-1985
Liut is considered one of the Blues' greats, primarily by fans but also fans of classic mask design. Although the standard Harrison long-chin design was widely used, the all-white purist approach has become one of the iconic goalie mask symbols. Liut, like most other goalies of his era, eventually switched over to the helmet/cage combo so common today. While those designs were forgettable in many instances, Liut's all-white full-fiberglass look instantly identifies the goalkeeper to anyone following the team since its inception. Ironically, this despite the fact that the all-white look was actually painted over his Cincinnati Stingers graphic from his WHA days.
 5. Brian Elliott, 2013-2014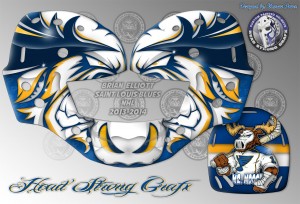 The newly-anointed number one in St. Louis has used his "Mr. Moose" theme in various iterations for a few years. However, the 2013-2014 version is truly an evolved version, utilizing more shades of blue and more yellow, matching the new uniforms rolled out during the offseason. Elliot's new moose lid is identifiable from the stands or on TV, while showing just enough detail up close. If his previous numbers are any indication, Elliot's moose will be as iconic as Cujo's dog in the hearts and minds of Blues fans everywhere.