Although it may not always be reflected on the scoreboard, the Florida Panthers have historically been golden in goaltending. From their inaugural season with the amazing John Vanbiesbrouck and Mark Fitzpatrick, to Mike Vernon and Trevor Kidd, to Roberto Luongo, Kevin Weekes and most recently Tim Thomas, this is a team that has always managed to find top caliber goalies.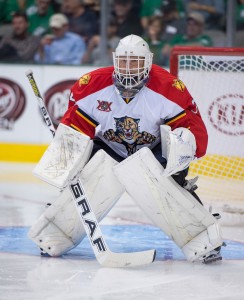 In an auspicious move Tuesday, the Florida Panthers re-acquired Roberto Luongo from Vancouver in exchange for Florida's top goaltending prospect Jakob Markstrom and center Shawn Matthias. Florida also received left wing Steven Anthony. However, the true ramifications of this trade haven't even begun to sink in.
Pumping Tires
Bringing Luongo back to Florida means that he and Thomas will be vying for, or at the very least sharing, the number one slot. Given their history during the 2011 Stanley Cup Finals and the infamous "Tire Pumping" statements, this could be an interesting endeavor.  Although the two shook hands and made nice at the end of the series, it wouldn't be human for them not to remember the animosity. Opponents become teammates and vice versa on a regular basis, across all sports, but when personal barbs are exchanged, that can change everything. However, Luongo has stated that he regrets his comments and perhaps this is the beginning of something beautiful. After all, how bad can it be to have goalies with that kind of talent, together, on one team?
With Luongo turning 35 and Thomas turning 40 (both in April), Luongo probably has a few more years in him, but Thomas has a Stanley Cup win under his belt and holds the current number one position. On the other hand, Luongo was a huge favorite during his time in South Florida, and there's no doubt fans are going to be excited to see him come back. Florida General Manager Dale Tallon had nothing but praise for his return.
"It sets a tone for our franchise." – GM Dale Tallon excited to bring Luongo back to @FlaPanthers. http://t.co/UzCriLSJA2 #NHLTradeDeadline

— NHL (@NHL) March 5, 2014
What Happens Next?
Whether or not Thomas is now on the trading block remains to be seen, but otherwise, this could be an interesting match-up. Overall, Luongo has a lifetime record of 367-305-92, playing nearly double the number of games (789) as Thomas (417), who sits at 212-140-48. In spite of the difference in the number of games they've played, if you look at their actual stats, the results are incredible. Luongo's career goals against average is 2.51 and Thomas's is exactly the same, 2.51. Thomas's save percentage is .920 and Luongo's is .919. The similarities are downright eerie. It's almost as if these two were made to play together.
In reality, the whole thing came as a surprise. Luongo's seemingly unbreakable contract made it improbable that anyone would be able to pick him up. In  2010, he was re-signed by Vancouver for 12 years and a total of $64M. Not only did they give away a young left winger (Anthony), the Canucks will still have to retain a large portion of Luongo's salary ($800,000 to be exact) until 2022. That's a lot of money to swallow, but after Vancouver coach John Tortorella's decision not to start Luongo on Sunday's Heritage Classic, something was definitely not right.
Luongo has said on more than one occasion that he would return to Florida, and after Vancouver's debacle on Sunday, everything seems to have fallen into place.  With only one win and three losses since the Olympic break, the team remains seventh in the Atlantic Division with a record of 23-32-7, so hopes for a playoff berth are probably not realistic this year. However, bringing back a team favorite like Roberto Luongo could breathe hope into a team that surely needs it. As an added bonus, it might just be fun to go to a Panthers game again.