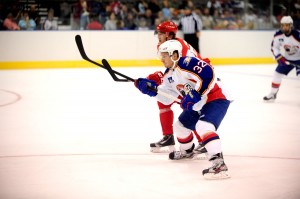 It's true what they say "big things come in small packages." The Norfolk Admirals have that in 5'8" right wing Norm Ezekiel. While the Barrie, Ontario native may not impress you on paper; he will impress you on the ice.
The 22-year-old is a heart and soul type of player and the type of player you want to be playing along side. Nobody knows that better than linemate Chris Wagner who talked about what Ezekiel brings on a nightly basis, "He brings straight energy.  He's a little fireball out there and pound for pound he's one of the tougher kids in the league."
Despite his heart and soul effort the 185-pound forward has fallen victim to a numbers game over his short pro career with multiple pit stops in the East Coast League and the American League last season before signing an AHL contract with Norfolk this season.
When you're on the same roster as Emerson Etem, Devante Smith-Pelly, and Rickard Rakell it does come down to a numbers game.  Ezekiel commented on what keeps him in the lineup rather than packing a suitcase for ECHL Utah, "It's just about working hard and staying about as focused as possible especially at this point in the season. You never know who's watching and you're always trying to fight for a spot."
One could argue that his versatile type of play also keeps him in the AHL. The right-handed shot chatted about his change of positions from defense to right-wing, "It's a different perspective and I've always been a good skater so the transition wasn't too hard for me. I've played a lot of forward too when I was younger. I knew the position well and it was a matter of getting into a good rhythm."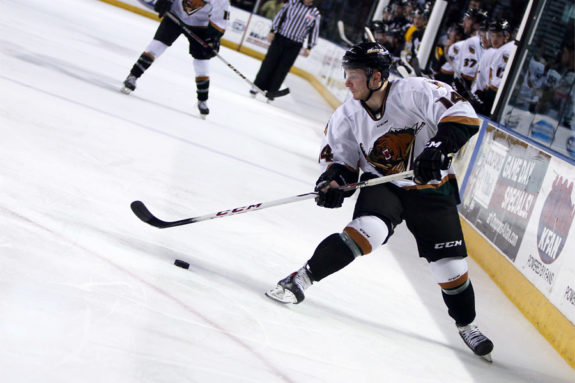 When a call-up occurs there's bigger on ice hurdles. Ezekiel explained the biggest hurdle from the ECHL to the AHL, "The biggest difference is faster puck movement. Guys make better decisions with the puck which speeds up the game. A lot of guys have speed skating-wise so when you come up here and you add the smarts about how you move the puck it can add the smarts of how you move the puck skating-wise it can turn up the play quite a bit."
Every coach in every league has a different style so with Norm having split time between Norfolk and Utah this season it can make the systems confusing and hard to learn. The OHL Alumnus talked about how the coaching staff has eased him back into the AHL after call-ups, "Just little tips and video reviews and we study our plays a lot so you can watch yourself and learn from your mistakes and always improve."
Norfolk's Head Coach Trent Yawney couldn't be more pleased with Ezekiel saying, "He brings energy and he's maybe one of the most improved players on our team from training camp to where he is now which is a credit to him."
Yawney continued to praise Ezekiel and his playing style, "He knows his role and he plays it to a tee every night. His energy and his passion are contagious for our team."
While Ezekiel may never be a 20-goal go-getter, he will continue to impress his teammates and coaches with his fireball style and his never say die attitude.
Follow Ted on Twitter @Bauerhockeydude