With starter Craig Anderson still on the sidelines with a hand injury, and backup Robin Lehner now out with an upper body injury, the Sens have had an interesting week.  On Tuesday Head Coach Dave Cameron stated that 27-year old Andrew Hammond will probably get his first career start Wednesday night against the Eastern Conference leading Montreal Canadiens.  20-year old Chris Driedger, who the Sens had to call up all the way from the Evansville Icemen of the ECHL will serve as Hammond's backup.  For Tuesdays practice they had to call for help in nets from 22-year old University of Ottawa student Erik Miksik who played local Junior B hockey the past 4 seasons.
Anderson Not Any Closer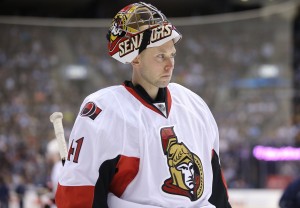 According to Head Coach Dave Cameron, starting goaltender Craig Anderson is not close to returning to the lineup anytime soon.  He still hasn't done much stick work but has been working out with Goaltending Coach Rick Wamsley to at least keep himself in shape.  Anderson, who has not played since January 21st when he had 37 saves in a 4-3 victory over Toronto, is being missed severely by the Senators.  His .927 SV% is 3rd best in the NHL behind only Carey Price and Pekka Rinne who are both being considered as Hart Trophy favorites.
Hammond Time
Although only facing a total of 16 shots in three relief appearances in the NHL, goaltender Andrew Hammond is ready to go.  The White Rock, BC native has taken the long road to the NHL.  After playing two seasons in the BCHL, Hammond would go on to have a solid 4-year career at Bowling Green University.  The Senators would sign the 6-1, 216 lb puck stopper to a two-year free agent level contract on March 20th, 2013.  He is currently 32-32-5 in his AHL career.  His strong lateral movement and ability to fight through traffic make him worth paying attention to.
#Sens head coach Dave Cameron says that Andrew Hammond will "probably" make his first career start tomorrow against the Canadiens.

— Ottawa Senators (@Senators) February 17, 2015
Chris Driedger Gets The Call
News Release: The #Sens have recalled goaltender @ChrisDriedger from @EvvIceMen (ECHL): http://t.co/paT248Zgn9

— Ottawa Senators (@Senators) February 17, 2015
Due to all of the injuries the Senators had to dip into their ECHL affiliate in Evansville, Indiana and call up 2012 3rd round pick Chris Driedger.  The Winnipeg, MB native is in his first season of professional hockey after a 94-46-6-9 career in the WHL between the Calgary Hitmen and Tri City Americans.  The Icemen have been struggling as they sit in last place, scoring just 122 goals in 50 games, making it hard for a 20-year old rookie goaltender to really shine.  Driedger has been good enough that he has started 36 of the clubs games and shown flashes of what he is capable of, but will most definitely need more minor league seasoning.  Being as young as he is, he has plenty of time to adapt to the pro level, the call up is just part of the business.
Childhood Dream Comes True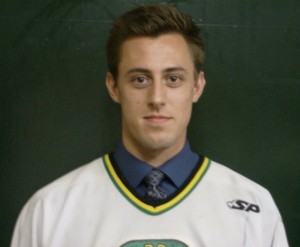 On Tuesday, and in need of goaltending help for practice, Senators Goaltending Coach Rick Wamsley picked up his phone and made a call.  He would leave a voice mail message for 22-year old University of Ottawa student Erik Miksik, who had just finished a strong Junior B career the following Spring.  "It was like a dream come true, I got to live my childhood dream if even for just one day", stated Miksik.  "I hadn't really expected all the media attention that came along with the experience, it was kind of funny seeing all the speculation and research being done on me on twitter", he added.
Erik Miksik @MiksikEr who was Packers MVP last season suited up for Ottawa Senators today in practice. Atta boy Mik! #Packers #EOJHL #Sens

— Arnprior Packers (@PackersHockey) February 17, 2015
Miksik, who is an Ottawa, ON native had recently played in the Eastern Ontario Junior Hockey League where he had stints with the Stittsville Royals, Athens Aeros, and Arnprior Packers.  In his final season with the Packers he earned team MVP honors while also being named the EOJHL Valley Division's Top Goaltender as he led the Conference in Games Played, Wins, and Saves.  Now mostly suiting up in the "Beer League", Miksik says this will be a day he will never forget and make one heck of a story to tell.  At the University of Ottawa, he is in his final year of obtaining his Bachelors in Accounting.
Dream day with Sens for beer-league goalie
The Waiting Game
With there being no immediate timetable for Craig Anderson to return, and Robin Lehner's upper body injury being kept quiet, all the Sens can do right now is wait.  The best case scenario is for Lehner to return Saturday night when Ottawa hosts Florida, and if not, then hopefully in time for next Wednesday's stint on the road against Anaheim.  The slow schedule and having the next two games at home may benefit the club as they wait on Lehner and hope for good news in regards to Anderson.  Until then, the team will be backstopped by Andrew Hammond and Chris Driedger, and will need some offensive support to help their inexperience in net.
The Ottawa ON native covers the Ottawa Senators and is a graduate of the two-year Sports Administration program from Durham College. He has acted as Director of Hockey Operations for the Arnprior Packers of the Eastern Ontario Junior Hockey League.
He is currently the Head Athletic Trainer for the Battlefords North Stars of the Canadian Junior Hockey League but states hockey writing as his biggest hobby.