Five years ago, on January 31st, 2010, the Toronto Maple Leafs made headlines across the hockey world with a blockbuster trade.
It appeared as if the Leafs, and GM Brian Burke, had made a ridiculous steal that would soon become their new face of the franchise. They had acquired one of the best up and coming defenceman in the league for just a few depth players.
The Trade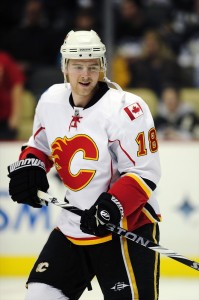 GM Brian Burke gave up Ian White, Matt Stajan, Niklas Hagman and Jamal Mayers to the Calgary Flames in return for Fredrik Sjostrom, Keith Aulie and, of course, Dion Phaneuf.
At the time, Hagman had just compiled his third straight 20-goal season. Matt Stajan was progressing well as a 26 year old, improving to a 0.75 points per game in his last two years with the Leafs. Ian White had shown he could put up a solid 25 points per year as a 25 year old defenceman. While Jamal Mayers was simply a fourth line veteran presence who knew his role.
On the other side of the trade, Toronto was acquiring Fredrik Sjostrom, a former 11th overall pick in 2001 who hadn't progressed well at all, but was speedy and still had some potential. Keith Aulie was a stay at home defenceman prospect, a 4th round pick in 2007. Lastly, Dion Phaneuf was in his fifth career season and had already proven himself as a top offensive defenceman in the league. As a 24 year old, Phaneuf had put up nearly 20 goal seasons each year, and was producing at about 0.6 points per game. He was going to come in and become their top defenceman and the face of the franchise.
Where Are They Now?
Niklas Hagman is a member of Jokerit Helsinki of the KHL, putting up 26 points in 43 games as a 35 year old. Matt Stajan is now 31 years old, and the only player the Flames still have from the trade. He has three goals and six assists in 39 games this season. Ian White went to the KHL last year, but is now back in the AHL this season, currently playing for the Nashville Predators affiliate, the Milwaukee Admirals. He has 17 points in 26 games as a 30 year old. Jamal Mayers finished his career in 2012-13 as a member of the Stanley Cup winning Chicago Blackhawks.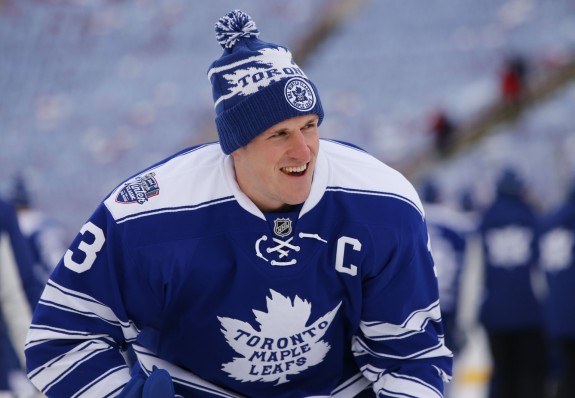 Fredrik Sjostrom most recently played in 2012-13 as a member of Frolunda HC in the SEL. Keith Aulie is still just 25 years old and is now a member of the Edmonton Oilers. He has played 153 career NHL games for the Leafs, Lightning, and Oilers. Dion Phaneuf is the captain of the Toronto Maple Leafs, although his progression seemingly slowed down with the Leafs. His best offensive season was in 2011-12 when he scored 12 goals and 44 points. With the Leafs now struggling immensely, Dion Phaneuf is finding himself amidst trade rumours for the offseason, as Brendan Shannahan appears to be on the cusp of a total rebuild.
Who Won the Trade?
Although neither team would probably be completely satisfied with the results, I'd have to give this one to the Toronto Maple Leafs. None of the players the Flames received turned into much, with Stajan being the only remaining part. While Toronto got their team captain and a new leader, although it didn't work out the way they planned. However, they still may be getting a significant return if they do decide to trade Phaneuf this offseason. So, the Leafs got the better player and may still be reaping the rewards of acquiring Phaneuf.
Who do you think won the Dion Phaneuf trade? Discuss in the comments!