A coach's dream, Mark Stone is one of the smartest players in the NHL.
Drafted in the sixth round in 2010 by the Senators, it's taken Stone only two seasons in the AHL before becoming a full-time NHLer. Now that he's here, Stone has quickly been making a name for himself.
"He's a real solid player, he's smart. He's got the best stick on our team, he's got one of the best sticks in the league, that's why he turns a lot of pucks over." – Dave Cameron. Ottawa Sun. Published: Feb. 8, 2015.
Not the quickest or most agile skater, Stone has been able to have success through the great hockey mind he possesses.
By the Numbers
The one aspect of Stone's game that can surely be considered elite is his intelligence with and without the puck. He makes great decisions when he has possession, and is the craftiest of thieves when on defence.
The numbers don't lie. Stone takes a whole lot more than he gives.

Tied for third in turnover plus/minus with Marian Hossa. That's pretty good company.

In addition to being top four in both of those categories, Stone is third in the league in turnover plus/minus per 60 minutes played. (minimum 600 minutes)
This all contributes to overall possession, where Stone is most useful.
Boasting the best possession numbers of the Senators forwards, Stone is becoming a regular in the Senators' top six. He seems to significantly raise his game when the score is close, making him an asset in tight games.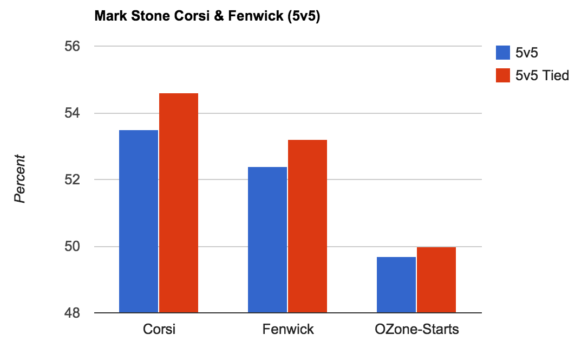 Not bad for a guy who was a healthy scratch twice during the beginning of the season.
The 22-year-old Winnipeg native is currently tied for third in rookie scoring with teammate Mike Hoffman.
Stone has also thrived with new coaching. He was underused when Paul MacLean was head coach in the first half of the season, but ever since Dave Cameron took over, Stone has been an absolute force. With an increase of around three minutes per game under Cameron, Stone has 15 points in his last 16 games and is definitely turning into the player this organization hoped he would be.
Ain't Pretty, But It Works
It's no secret. Mark Stone isn't the fastest skater around.
"He's not a natural skater. He's going to have to make sure he continues to work so he can stay up to speed in this league. Everything else will be fine." Dave Cameron. Ottawa Sun. Published: Feb. 8, 2015.
But where he lacks in elegance, Stone makes up for it with his hockey IQ.
The video below might be the goal that best shows what kind of player he truly is.
Coming off the bench, Stone steals the puck from Jarome Iginla, makes Nick Holden look foolish at the blue line and finally, sets up Clarke MacArthur for the game-winning goal.
He even stumbles on his way to celebrate with his teammates. It's almost too perfect.
***
Along with a few other youngsters on the team, Stone is in a contract year.
A restricted free agent this summer, he more than deserves a decent offer from the Senators. Right now, Stone is looking like he could be an important part of the team's core for years to come.
Time for the Senators to lock up one of the smartest players in the league long term.