Free agency hasn't even opened yet and the Vegas Golden Knights have already lost out on one of their top targets. Defenseman John Carlson re-signed with the Washington Capitals unexpectedly after the Caps were able to unload Brooks Orpik's salary on draft day. Unfortunately for Vegas, they missed the chance to add a top pairing defenseman to their roster.
Related – NHL Rumors: Karlsson, Tavares, O'Reilly, More
Regardless of that, the team still needs to add at least one defenseman with Luca Sbisa being let go. They won't find any defenseman with Carlson's skill on the market, however, as this crop of free agents is lacking in high-end talent. It is possible general manager George McPhee stays out of free agency in hopes that he can trade for Erik Karlsson, but the team still needs a stopgap considering their shallow depth. The following five players are the best targets for the Golden Knights going into free agency.
Mike Green
Now that Carlson is off the table, Green is the most offensively talented defenseman still available. After signing with the Detroit Red Wings in the summer of 2015, Green has spent three seasons in the Motor City as a consistent 35-point scorer. During the last two seasons, he led his team in average time on ice as their number-one defender. Although his age is beginning to show, he would do well on the second pairing for Vegas and they have the cap space needed for his larger contract demands compared to the others on this list.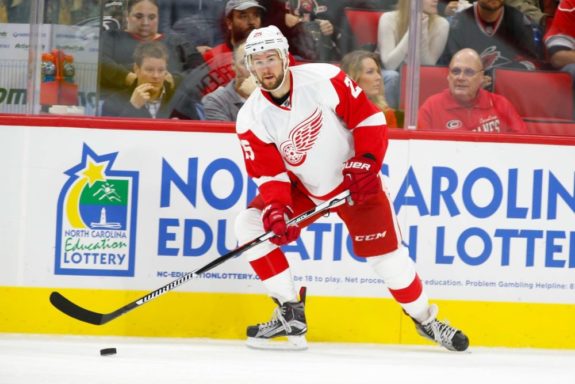 On the other hand, if McPhee is looking to add to this team's defense through a trade in addition to a signing, Green is not the best option. His contract demands will be high and for a long-term. Detroit has already given him one-year and two-year offers, so if he is going to sign short-term he will stick there. He also hasn't played a full season since 2008 and had his most recent season end early due to cervical spine surgery. Vegas doesn't need to target a free agent on Green's level this offseason – they can focus on more cost-effective options.
John Moore
Moore is seeing a significant amount of attention across the NHL due to the thin crop of defensemen available. According to TSN's Frank Seravalli, Moore has already had eight interviews for teams vying for his service. Moore is a mobile skater, proven by his ability to dominate in three on three overtime. He has six overtime goals in his career including two last season.
The problem with Moore is the fact that he has so many suitors. This is bound to drive the price up on an already average defenseman. Moore has struggled defensively at times with the New Jersey Devils, and although he skates well, he does not put up a ton of points. If Vegas can keep the price down Moore would be a solid addition, but with how many offers he is apparently fielding, time may be better spent working out a contract with another defenseman on this list
Thomas Hickey
The most cost-effective option on this list, Hickey is a former fourth-overall pick that has spent the last six seasons with the New York Islanders and put up respectable numbers as a middling defenseman. He straddles around 20 to 25 points per season while also providing solid play in his own end. He was also one of the only defenders on the Islanders last season to post positive possession numbers despite starting 55% of his shifts in the defensive zone according to Hockey Reference.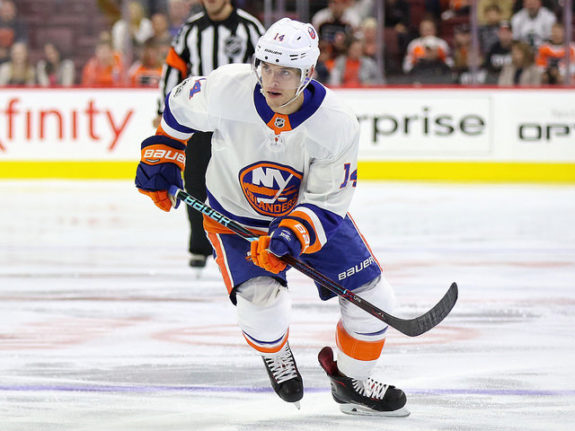 Hickey is never going to blow you out of the water, but he is a solid two-way defender that would fit well into any lineup. Plus, unlike the previous two, his contract will be on the smaller side. Hickey was already making $2.2 million per season on his last contract. He will get a bit of a raise, but not enough to make a team like Vegas worry. With Vegas focused on making big moves in other areas, Hickey would be a great depth signing to shore up the defense.
Dan Hamhuis
As one of only three free agent defensemen to play over 20 minutes per game last season, Hamhuis sticks out as a serviceable veteran option. Going into his 14th season, Hamhuis is a steady defensive defenseman who can still chip in offensively at times. He also has stayed relatively healthy these past two seasons missing only five games.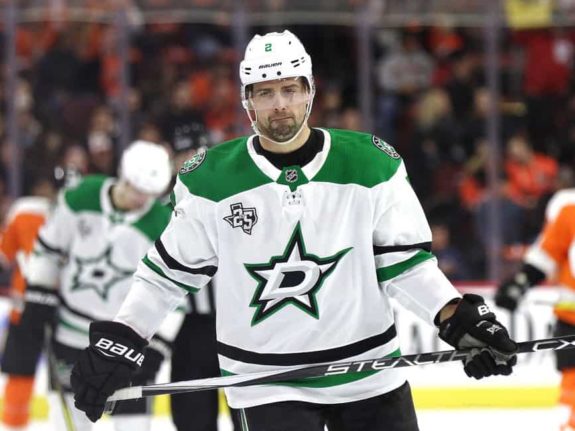 Hamhuis would only be demanding a shorter contract which could work in Vegas's favor, but seeing his age may put the team off. Hamhuis doesn't have the footspeed that the other defenders on this list have, which is a big factor in the way Vegas plays. He would make a good backup option if the others on this list are asking too much, but that's about it.
Related: Vegas Golden Knights 2018 Draft Class
Dylan DeMelo
After the San Jose Sharks chose not to tender a qualifying offer to DeMelo, he has become an unrestricted free agent. He will be the cheapest option on this list for sure, but he is also the least-proven player. He has only 133 NHL games in his pocket, and only last season did he manage to score over 10 points. DeMelo could join the rest of the Golden Knights in proving his team gave up on him too early and turn out to be a good puck-moving top-four defenseman, but he is an unknown asset and would not be worth a roster spot if he winds up in the press box all season. He's a gamble, but that just means Vegas is the perfect place for him.
Mike was born and raised a big hockey fan. He is a recent Sports Management graduate from the University of Massachusetts at Amherst, and is now a writer for the Vegas Golden Knights. More of his work can be found at https://michaelmanleyahs.wixsite.com/mysite/work-samples.