Entering their final game of the series against the Colorado Avalanche, the Vegas Golden Knights were desperate to break their goal-scoring drought and snap a two-game losing streak. The combination of these two events caused head coach Pete DeBoer to switch the lines in order to restart the offense. Part of this switch saw Alex Tuch move from the third-line up to the top unit.
As it would turn out, DeBoer's change in line combinations paid off. Tuch scored twice during the 3-0 shutout of the Avalanche and seemed to be one of the best players on the ice. Moving up to the first-line may have given him even more confidence in his game.
Why He Was Chosen
Tuch has consistently proved himself in his limited ice-time on the third-line this season. He was consistently among the top of the Vegas scoresheet in points and goals, despite playing nearly two minutes less than the top-six forwards. This lessened role is understandable given the amount of star power the Golden Knights have in their lineup. Despite playing less than he probably deserved, Tuch continued to play his game and produce at a high rate throughout the course of the season.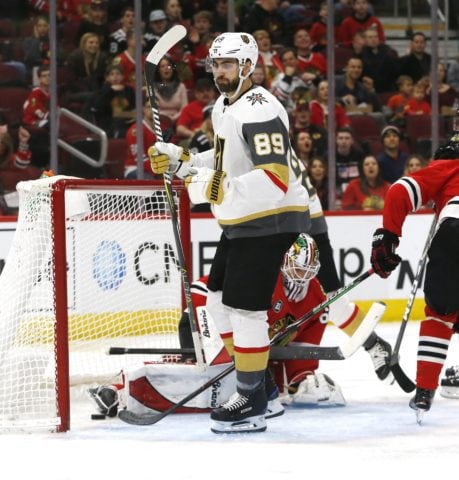 This high level of play allowed Tuch to get more playing time in key situations. When Tomas Nosek was placed on the COVID-19 protocol list, it allowed Tuch a chance to contribute on the penalty kill. His work while a man down has helped the Golden Knights kill off every penalty they have taken during this stretch. 
In addition to his offensive and defensive capabilities, Tuch's speed also plays a role in why he moved up in the depth chart. His ability to gain speed through the neutral zone makes him dangerous on the rush as well as the forecheck. On the rush, he can beat defenders wide and drive the net to either set up a chance for himself or find a teammate in open ice. On the forecheck, it allows him to force defenders to make a decision much quicker than they would like to. So far, during the 2020-21 season, it has allowed Tuch to create turnovers and generate scoring chances for the Golden Knights.
Why He Should Stay
It was obvious from the start of the game that Tuch had natural chemistry with Mark Stone. Their playing styles seemed to complement each other. This natural connection allowed the two to combine for Tuch's second goal of the night off a defensive zone transition. Stone is one of the best players in the NHL currently and can easily help the forward breakthrough and become a dynamic goal-scorer.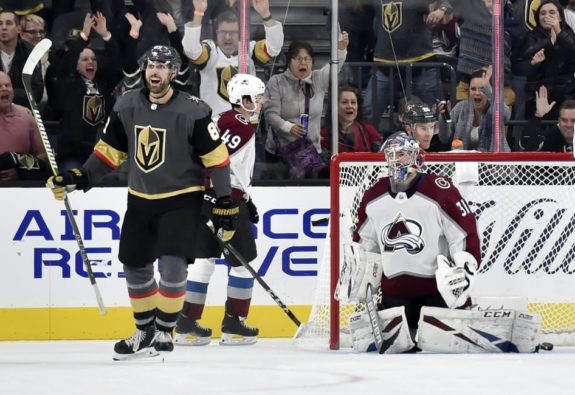 Another reason why Tuch should stay on the first-line is his recent offensive output. In his last two games, he has three goals, with one of them coming on the powerplay. He seems to have found a way to consistently find the back of the net and is currently only one goal behind Max Pacioretty for the team lead. Also, following his most recent performance, Tuch is now tied for second in points on the Golden Knights.
"Tuchy's had a great year. He's earned everything he's got with hard work and coming prepared to have a good start to the season. You know, he's a really effective guy. I liked him as much defensively tonight as I did offensively. I really thought with his speed defensively he's one guy that can really hunt down guys like [Nathan] MacKinnon from behind," DeBoer said during his postgame media availability.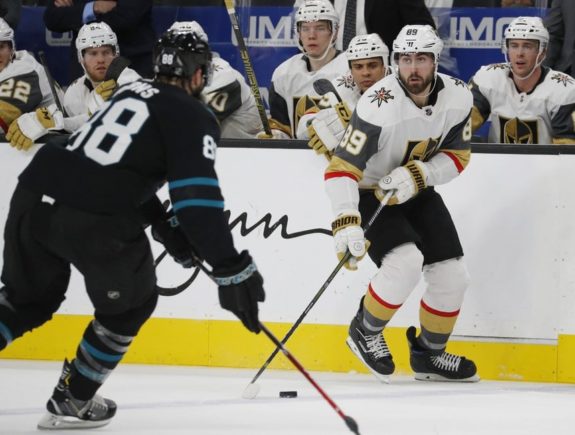 As it would seem, Tuch has done enough to earn the trust of his coach to give him extra ice-time moving forward. With the Golden Knights playing the San Jose Sharks and Anaheim Ducks later this week, he could be on his way to overtaking Pacioretty as the team's leading goal scorer. Even though the line shuffling was a result of two straight losses, DeBoer may have found gold with his new look first-line and should continue to move forward with these new pairings.   
---
---
I am a former Jr. A hockey player that is currently attending school at San Diego State University. At SDSU, I study Journalism and Public Relations while also playing on the school's rugby team. Hockey has been a big part of my life, as I have been playing since I was three years old. Other than hockey, I enjoy watching and playing all kinds of sports.