The Philadelphia Flyers were probably not expecting a big season from James van Riemsdyk. The team was likely hoping the veteran winger would at least bounce back from a disappointing 2019-20 season to provide some consistent offense on the third line and boost a fledgling power play.
Instead, the Flyers are getting more than they had hoped, a lot more.
JVR is off to a white-hot start and could be headed for a career season. Through 15 games, he leads the Flyers in scoring with 21 points. His eight goals are tied for the team lead with Joel Farabee, and he has a team-high 13 assists. In an 82-game schedule, van Riemsdyk would be on pace for a staggering 43 goals and 70 assists. No one expects him to continue to pile up points at that rate over the final 41 games of this truncated season, but the 31-year-old is primed for a special season.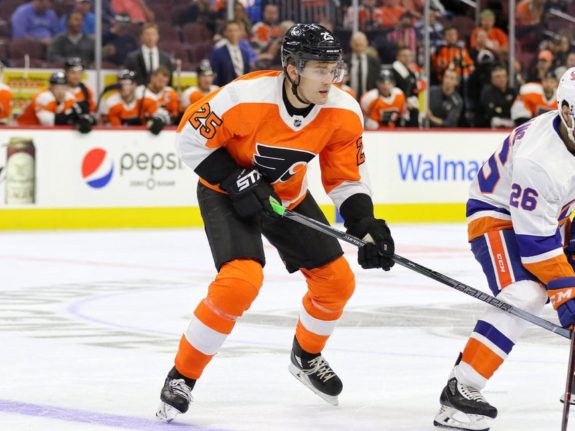 "I definitely feel confident in my game," van Riemsdyk told the media earlier this month. "I put in a lot of work in the offseason like I do every offseason. There are things you try to do to expand your game and add range to your game every year. It's nice that I'm able to contribute and chip in offensively."
He's done more than just contribute or chip in.
He was named the NHL East Division player of the month in January and is sizzling in February as well. In five games, he has three goals and six assists. He is also tied for 10th in the league in points despite playing two-to-five fewer games than the players ahead of him (the Flyers had four games postponed due to COVID-19 protocols). JVR is second in the NHL in power-play goals with six and tied for seventh with teammate Sean Couturier in points per game with 1.40.
Van Riemsdyk Contributing More Than Goals
Throughout his career, van Riemsdyk has been a goal scorer. While he is not a sniper, the 6-foot-3, 217 lb. forward likes to use his size to play close to the crease and score goals in tight spaces or on deflections. He's tallied 255 markers in his 12 seasons, including a career-high 36 goals in the 2017-18 season.
However, he is providing even more than goals this season. Although he has not been known for his play-making skills, he could set a career-high even in this shortened season for assists – his career-high is 33. This season, he has four multi-assist games, including a four-assist night in a win over the New York Islanders on Jan. 31; he had four games with more than one assist in 66 games last season.
Van Riemsdyk is also doing many of the little things that don't show up on the stat sheet. He is winning one-on-one battles in the corners and along the boards, making key defensive plays that often start odd-man rushes up the ice, and he's showing leadership in the locker room and on the ice.
His coach has noticed.
"(van Riemsdyk is) playing the right way," head coach Alain Vigneault told reporters after JVR had a goal and an assist in a 7-4 victory over the Washington Capitals in early February. "He's playing the right way defensively, he's on the forecheck, he's got a great stick, and he's creating turnovers. He's been a force for us."
Return to the Flyers
Van Riemsdyk was drafted second overall by the Flyers in the 2007 NHL Entry Draft and made his NHL debut in the 2009-2010 season. However, the team was impatient with his development and traded him to the Toronto Maple Leafs in 2011-12. With the Maple Leafs, his career took off. He scored 18 goals in a shortened season in 2012-13 and then found the back of the net 30 times the following year. He averaged 25 goals a year in six seasons in Toronto.
Former Flyers general manager Ron Hextall lured JVR back as a free agent in the summer of 2018 with a 5-year, $35 million contract. In his first season back in Philadelphia, the New Jersey native had 27 goals and 21 assists in 66 games. It was a solid season overall, but he was streaky. He'd carry the team for two weeks and then disappear for the next six games.
Last season was arguably the worst of his career. He finished with just 19 goals in 66 games and was dropped to the third and fourth lines during the team's run in the Stanley Cup Playoffs in August. His dreadful end to the season left his future with the Flyers in doubt, and there were rumblings during the offseason that the club was interested in moving him, or he could be exposed in the expansion draft.
Less than two months into the 2020-21 season, all of that chatter has been silenced.
What to Expect From JVR
If van Riemsdyk was going to return to earth, it would have happened in the last two games. The Flyers were off for 11 days, without practicing, due to COVID restrictions. It would have been understandable if he took a little time to get going again.
While he didn't register a point in the Flyers' first game back last Thursday against the New York Rangers, he picked up where he left off against the Boston Bruins in the outdoor game in Lake Tahoe on Sunday. Van Riemsdyk was one of the lone bright spots with a goal and two assists in the 7-3 loss.
Barring injury, it's hard to see JVR slowing down much this season. Sure, he will hit a cold patch here or there, but this is looking more and more like a career season for him.
---
---