How much did it matter that the Calgary Flames had a good game and came away with a victory over the Toronto Maple Leafs by a score of 3-0?  The answer to that question can be summed up in the response of starting goaltender David Rittich after the game had ended. Rittich was clearly happy.
Related: 7 Cool Things About Jarome Iginla: Calgary Flames Hall of Famer
In fact, Rittich's celebration at the final buzzer was more than exuberant. Without fans in the empty Scotiabank Arena, he could be heard ringing through the rafters. Good for him. He had an excellent game in which he made 34 saves for his first shutout of the season and fourth shutout of his career. Given Rittich's lot in life these days – as the backup goalie to Jacob Markstrom – he was probably celebrating more than the Flames 3-0 victory.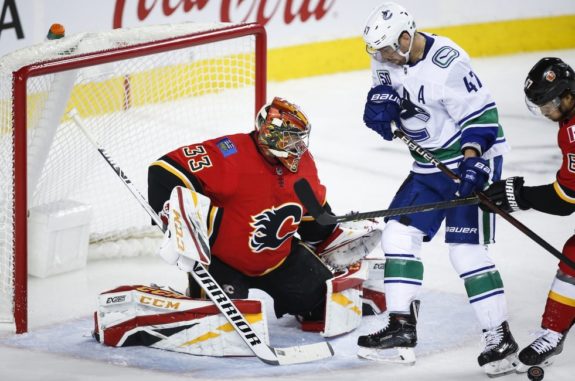 It's sometimes easy to forget that Rittich represented the Flames during the 2020 NHL All-Star game. In some ways, this season must be difficult for him. But he clearly was on his game last night and the team benefited from that fact.
In this edition of Calgary Flames News & Rumors, I'll comment about the game last night and what the victory might mean for the team and the Flames' players who played it.
Item One: David Rittich's Celebration Tells It All
As Rittich noted after the game, "I was just happy. Huge win. We needed something like that."
When the Flames announced that Markstrom wouldn't make his scheduled start Monday night against Toronto because of an upper-body injury, I wonder how many Flames' fans were nervous. Obviously, they didn't need to be. Rittich faced 34 shots and he stopped them all. He was clearly on his game against the high-scoring Maple Leafs from the beginning.
Related: The NHL 500-Goal Club
Although the 28-year-old Czech goalie now sports a record of 1-3-0 with a goals-against-average of 2.36 and a save percentage of .909 for the 2020-21 season, he's now played two strong games in a row. And both of these have come against offensive teams that have lit up other goalies. In the last game Rittich played against the Edmonton Oilers on Friday evening last week, he held the Oilers to two goals in a 2-1 Flames' loss.
Although it's still likely that Markstrom will get most of the work in net for the Flames, it looks like Rittich has started to round into the All-Star form that he displayed last season. That fact in itself bodes well for Calgary as they try to gain a position in the postseason playoffs. There's little doubt that Rittich's last two games should help him regain some confidence. 
Long-time 25-year-old KHL backup goalie Artyom Zagidulin served as Rittich's backup.
Item Two: Jacob Markstrom Is Listed as Day-to-Day with an Upper-Body Injury
Speaking of Markstrom, according to the Flames' head coach Geoff Ward, "It's day-to-day right now." (from "Ward says goaltender Markstrom is day-to-day," Daniel Austin, Calgary Herald, 23/02/21).
Ward added that, "We're going to get it evaluated again, but it's something where he's going to be daily for a little bit until we sort of know more, so that's where we're at with it right now."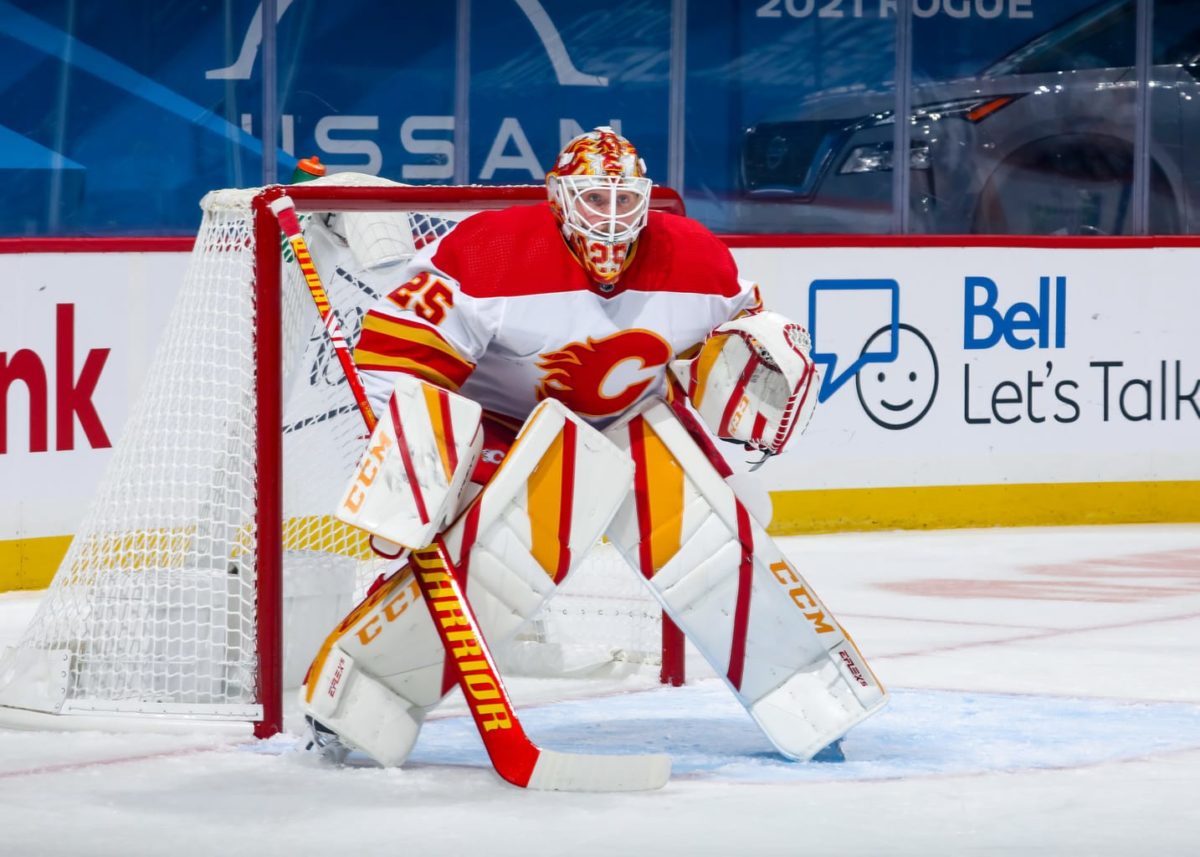 Given the quality of Markstrom's last two games – he's struggled in both, one wonders whether he's been injured for some time now. During Markstrom's most recent games, he surrendered five goals in each. During both games, he also was replaced by Rittich in net. Markstrom's record has fallen to 8-6-1 with a goals-against-average of 2.87 and a save percentage of .909.
Item Three: Matthew Tkachuk Breaks Goal-Scoring Slump
Matthew Tkachuk scored a goal and an assist in his team's 3-0 win over the Maple Leafs. Tkachuk's first goal came on the power play when he deflected the puck past Maple Leafs' goalie Michael Hutchinson. That goal pushed Calgary's lead to 2-0 in the second period. Then Tkachuk added the primary assist on Sean Monahan's power-play goal during the third period.
Related: NWHL's 2020 Draft Class was Exceptional in Lake Placid
The 23-year-old pest had been in a scoring funk. He hadn't scored in nine straight games and had totaled only a single assist in six previous games before he struck the score sheet twice last night. On the season, Tkachuk now has six goals and seven assists (for 13 points) in 19 games this season. Perhaps Tkachuk's coming out of an offensive dry spell that included five games without a point.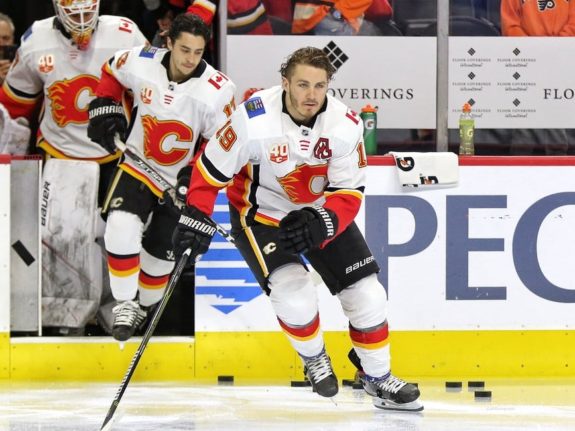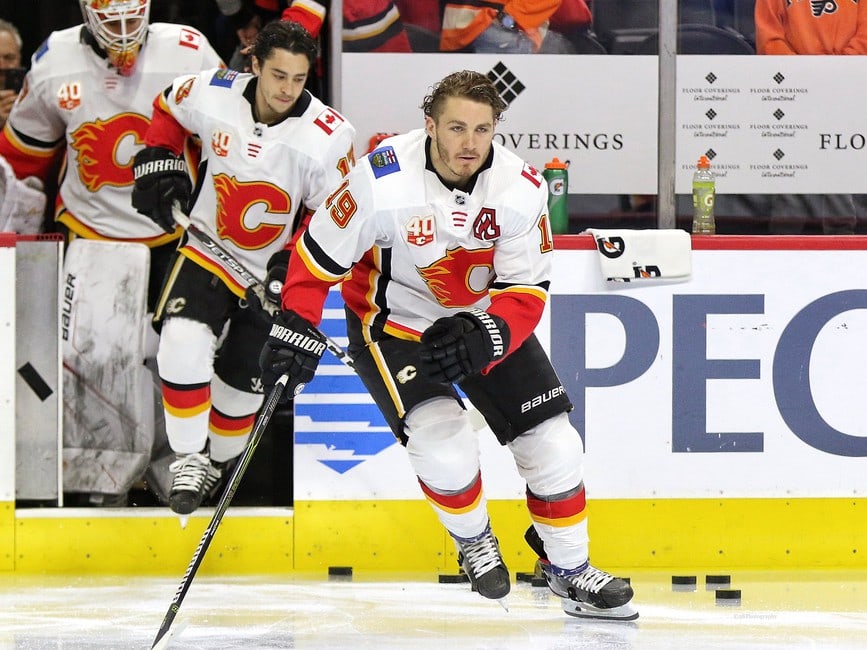 Perhaps most interesting for those planning to watch the game was the possibility of some action between Tkachuk and Maple Leafs' defenseman Jake Muzzin. Muzzin apparently got under Tkachuk's skin with a well-placed puck flip at the conclusion of the last game these two teams played against each other. Muzzin was obviously trying to make a point about what he thought was Tkachuk's part in backup goalie Jack Campbell's injury. However, all that was moot because Muzzin was scratched from the game because of an injury himself.
Item Four: Sean Monahan Scores His First Goal a Month
Sean Monahan, who had been out of the line-up for two games with what was described as a lower-body injury, scored a power-play goal and added an assist in Monday's win. Monahan's quick thinking and good hand-eye coordination allowed him to gather and put a loose puck past the Toronto goalie. That goal made the final score 3-0 for the Flames.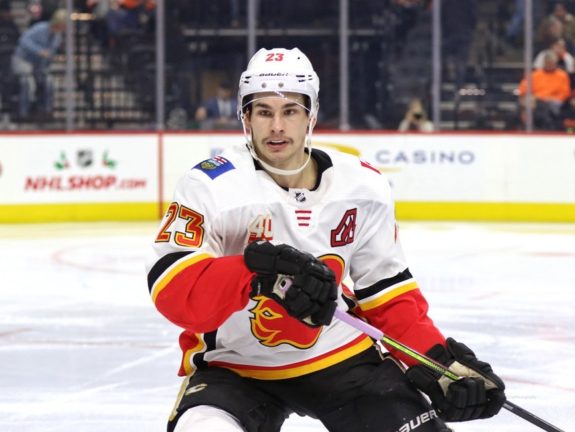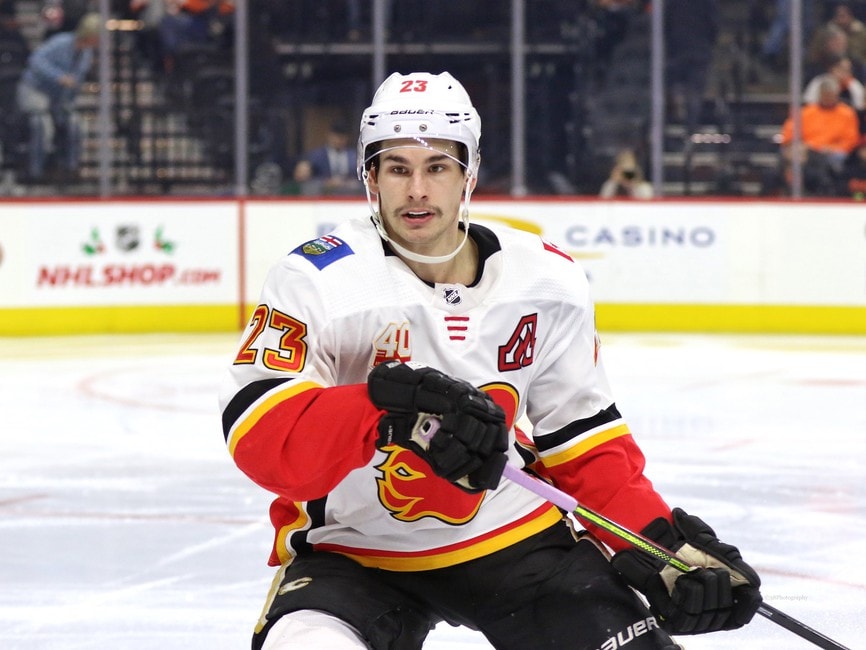 The goal was also Monahan's first since Jan. 24. He'd been on a 12-game goal-scoring drought. Monahan also registered an assist on Sam Bennett's goal during the first period. In total, on the season Monahan now has scored three goals and 11 assists (for 14 points) in the 17 games he's played this season. Calgary's new first line of Monahan, Bennett, and Johnny Gaudreau scored four points last night.
What's Next for the Flames?
Since Bennett moved to the Flames' top line and has skated with both Gaudreau and Monahan, two things have happened. First, the line has been good for both Bennett and the Flames. Second, it certainly slowed down trade rumors that would have moved Bennett to several other NHL suitors.
Related: Calgary Flames News & Rumors: Lucic, Monahan, Gaudreau & More
Flames' fans have to be curious about whether Bennett's desire to be traded still exists. Perhaps, Calgary is showcasing Bennett for a possible move. If that's the case, he's building the kind of reputation that would allow the Flames' organization to receive a higher value than it would have received otherwise.
We'll see.
---
---
The Old Prof (Jim Parsons, Sr.) taught for more than 40 years in the Faculty of Education at the University of Alberta. He's a Canadian boy, who has two degrees from the University of Kentucky and a doctorate from the University of Texas. He is now retired on Vancouver Island, where he lives with his family. His hobbies include playing with his hockey cards and simply being a sports fan – hockey, the Toronto Raptors, and CFL football (thinks Ricky Ray personifies how a professional athlete should act).
If you wonder why he doesn't use his real name, it's because his son – who's also Jim Parsons – wrote for The Hockey Writers first and asked Jim Sr. to use another name so readers wouldn't confuse their work.
Because Jim Sr. had worked in China, he adopted the Mandarin word for teacher (老師). The first character lǎo (老) means "old," and the second character shī (師) means "teacher." The literal translation of lǎoshī is "old teacher." That became his pen name. Today, other than writing for The Hockey Writers, he teaches graduate students research design at several Canadian universities.
He looks forward to sharing his insights about the Toronto Maple Leafs and about how sports engages life more fully. His Twitter address is https://twitter.com/TheOldProf