This is what a dynasty looks like.
The University of Minnesota Golden Gophers won their fourth National Title in five years Sunday with a 3-1 win over the previously undefeated Boston College Eagles.
Hope For the Future in Title Today
The Gophers are a team in transition.
The transition from leaders integral to their dynastic run to the younger players is underway. Or so it seemed this weekend as they skated to another back-to-back title win.
The Gophers are loaded with senior talent like Patty Kazmaier Award-winning forward Amanda Kessel, two-time Kazmaier-nominee Hannah Brandt and goaltender Amanda Leveille, who put in a strong performance Sunday. All three stepped up in a big way over the weekend. As did freshman and National Rookie of the Year award-winner Sarah Potomak, who finishes off the Gopher's top line with Kessel and Brandt.
Between the three of them, they accounted for 10 of the team's 34 shots and two of three goals Sunday. In the semifinal match against the University of Wisconsin that line took 15 of the team's 41 shots and scored two of three goals.
The goals for that line came at key times as well. In the two games, Kessel had a game-winner and a game-tying goal. Potomak potted the overtime winner against Wisconsin and opened the scoring just 17 seconds into Sunday's game. That remained the only tally until Kessel scored the eventual game-winner at 8:31 of the third.
Potomak wasn't the only sign that there's the potential for more wins down the road. Freshman Taylor Williamson also scored in the semifinals, and sophomore Kelly Pannek tallied the third goal in Sunday's win, her 23rd goal and 49th point of the season.
Those future leaders can return to a team that will be lead by junior All-American Dani Cameranesi, Olympian Lee Stecklein and versatile defenseman Megan Wolfe, who finished the season with a plus-45 rating.
Going Out on Top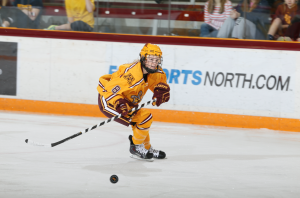 However, this win wasn't just about the future, but about the dynasty that has been.
It's a huge win for seniors like Brandt and Kessel, who end their collegiate career on top.
Brandt, the team's co-captain, has been a major part of Minnesota's success, stepping up through injuries and roster changes to be one of the highest scoring Gophers ever.
Kessel, who red-shirted to play for the national team previously, wasn't supposed to play her final season of eligibility due to concussion-related issues.
Then she unexpectedly came back in the middle of the season after having not played for a year and a half. You would have never known it. "It's like getting a slugger at the trade deadline," said coach Brad Frost after Sunday's win.
Kessel scored 11 goals and 17 points in 13 games. The last two of those goals will be special in her collegiate career. She potted the game-tying goal that sent their semifinal match against Wisconsin into overtime.
Sunday, she scored the game-winner.
Dynasty
Minnesota drew a tough opponent against which to prove a lengthy dynasty. Boston College went undefeated all season, taking their first loss of the year Sunday. In fact, coming into Sunday's match they'd only trailed in one game this year, and that was their semifinal game Friday.
They too have a bright future despite seeing players like Kazmaier-winner Alex Carpenter, Dana Trivigno and Haley Skarupa exit the program. Sophomore goaltender Katie Burt was outstanding in Sunday's game, stopping waves of the Gopher attack early in the first and third periods. For long stretches, she was what made it possible for the Eagles to jump back into the game if it weren't for Leveille playing an equally outstanding game.
"Hopefully now people will give Leveille the credit she deserves because she is just an incredible goaltender," said Frost.
She had a shutout going until the game's final minutes when BC turned on the pressure in a way that showed just how good this team is. Unfortunately for the Eagles, there simply wasn't enough time left to make a successful challenge.
With the 2016 National Championship, the University of Minnesota takes their sixth Championship all-time, passing the University of Minnesota-Duluth to become the winningest program in NCAA history.
The tradition continues. pic.twitter.com/azRBt6Hj5i

— Minnesota Women's Hockey (@GopherWHockey) March 20, 2016
Dustin Nelson writes about news and the Minnesota Wild for The Hockey Writers.