Entering Saturday night's game against the Chicago Blackhawks at the Staples Center, the Kings were 13-8-1 after 22 games, one point ahead of San Jose (13-9-0) and two up on both Arizona (12-9-1) and Vancouver (9-8-7).
Although it's still early, Los Angeles isn't having the same difficulty finishing close games that they did last season. At this point during 2014-15, they had already lost five games after regulation.
The defensemen
In the first of a three-part series, I reviewed the Kings forwards, most of which are performing reasonably well when compared against expectations. This is, after all, a defense-first club.
Edit — The Kings beat Chicago 3-2 last night, with Marian Gaborik scoring twice (including the winner in overtime) and Anze Kopitar dishing out a pair of assists. Maybe they read my criticisms of their lackluster numbers and responded. A man can dream.
With that as the perfect segue, it's time to review the defensemen.
Given that their first responsibility is to help keep the puck out of the net, the Kings defensemen are collectively doing yeoman's work. Los Angeles ranks second in the league in goals against at 2.14 per game, fourth on the penalty kill (84.9%) and eleventh in shots against (28.7).
First quarter grades
So how have the individual defensemen performed? Read on.
Drew Doughty: Doughty (2G, 10A, +8) is having his usual excellent season. His production is on par with last season's, although his blocked shots (28) are down a tad. His iCorsi/60 (10.67) and iFenwick (8.60) aren't at the very top of the league, but considering he skates against the other team's best players, that's to be expected.
Doughty's ATOI (27:02) is almost a minute lower than last year, which is a good thing. All in all, if you look up the definition of 'franchise defensemen', you'll see Doughty's picture right next to the description.
Grade: A+
Jake Muzzin: Muzzin (1G, 9A, +3) had such a good year in 2014-15 with 10 goals and 41 assists, it's not a shock that he isn't on pace to replicate it, at least with respect to lighting the lamp. That said, he's leading the defense in iCorsi/60 (12.02) and iFenwick/60 (9.10) and has the same number of hits and half again as many blocked shots as Doughty.
THW's Devon Slawson called Muzzin the most underrated defenseman in the league. You know what? He may have been right about that.
Grade: A-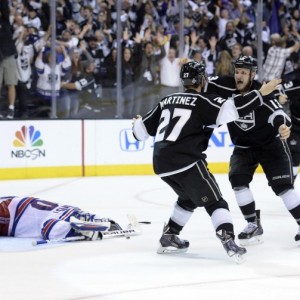 Alec Martinez: Martinez (3G, 4A, +4) has battled injuries throughout his 5+ year career, so the fact that he's remained healthy this season is a major plus. He's got a hard shot from the point and surprisingly good offensive instincts, with a defensive game that features a team-leading 46 blocked shots. If he stays healthy, he should set career highs in just about every significant category.
Martinez' iCorsi/60 (10.92) and iFenwick (7.11) rank 53rd among NHL defensemen.
Grade: A-
Christian Ehrhoff: The departure of Slava Voynov led directly to the signing of Ehrhoff, who appeared to be bargain at one year and $1.5 million. Ehrhoff (0G, 6A, -8) is obviously still adapting to his new team, although at 11.78 and 7.68, his iCorsi/60 and iFenwick/60 are second best among the defensive corps.
Grade: C+
Jamie McBain: Another bargain-basement signing ($600,000/1), McBain (1G, 3A, +2) gives the Kings decent value for his 13:43 of ice time.
His possession numbers (7.13, 5.05) are middling, but he's got some upside: McBain skated top-four minutes a number of times on previous teams in his career, scoring six or more goals in three separate seasons. He even blocks a few shots (20).
Grade: B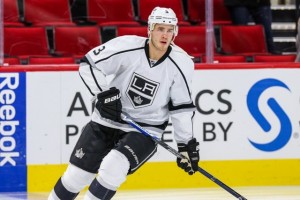 Brayden McNabb: McNabb (0G, 3A, +4) is just 24 years old and is already logging the fourth-highest number of minutes among Kings defensemen. He's earned his time due to his willingness to sacrifice his body (24 blocked shots) as well throw it around (50 hits). His possession numbers rank within the upper half of NHL defensemen.
Considering his youth and tempered expectations, McNabb's developmental arc has been impressive.
Grade: B+
Derek Forbort, Matt Greene, Jeff Schultz: Forbort has played in seven games and put up excellent possession numbers (11.52, 8.64) in limited action. Greene is out with an "upper body injury" and Schultz is currently playing for the Ontario Reign.
Grade: Incomplete
Next up: goaltending/special teams/coaching.
Do you see anything you agree or disagree with? If so, feel free to post your thoughts below or send a message to @McLaughlinWalt.
Walter McLaughlin is a Los Angeles Kings correspondent for The Hockey Writers. He is an avid sports fan, having followed the Kings since living in L.A. in the mid-1970's, as well as suffering through Seattle sports teams' general futility. He has a Bachelor's degree in Finance and has worked in community banking for over 25 years, specializing in SBA loans. He is married and has two daughters.