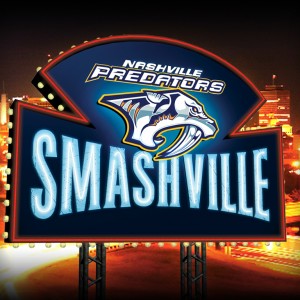 by Jas Faulkner, Nashville Correspondent
Swearing on the dusty, trepanned skull of Bob Lobertini will not change the weather in Nashville any more than declaring that an hour really has thirty minutes in it is going to change the time left on the jumbotron at Bridgestone.  This week in Predators hockey brought some excitement but it also left more than a few fans worried that, after a promising start, the team would revert to the club's 2008 iteration.
Did you know Mike Dekanich was in town?  He suited up as the phantom third goalie that wasn't when Pekka Rinne sustained an injury during the season opener against Anaheim.  As of today he has been told to go back to Milwaukee; so it looks like Rinne will be back between the pipes at some point next week.  We missed you, O Great Wall of Finland.  Dex, we hardly knew ye.  Good luck in Wisconsin, buhbeleh!
In the meantime, Anders Lindback (aka Little Pekka, aka Svenskey Dokey, aka "I Thought Rinne Was On IR") has been minding the net.  Was he perfect?  Nope.  He's a kid and he's new and he's good enough that the rhinestone-crusted puck bunnies are already speculating about his skate size.  His debut was  darned near spectacular.  He held off last year's Stanley Cup winners and some of the tougher people in the NHL to strap on blades and it's not even Halloween.   Somewhere in the the internet ether, FakeDanEllisis sighing quietly at the sturm and dang of it all as he gently turns a page in his leatherbound copy of "The Great Gatsby".
So what happened this week?  Where were you?   If you want the box scores, try clicking here.  If you want to get the rest of the story, siddown.
Tastes Like Chicken
Nashville at Chicago, October 13th, 2010
Second game of season and the Baal-only-knows-how-many-times Barry Trotz has had to answer questions about Game Five since mid-Spetember.  Do you see the weary, patient expression he gets?  Do you see the staff eyeing the rack of sticks next to the glove dryer? Do you see the fat chick with the Jewfro at the edge of the scrum doing an almost involuntary facepalm every time this happens?
This should be telling you something.
Game Five was not the team's best moment.  We get it. Now shut up about it already.
The next reporter I catch presenting this big, ugly verbal speed bump at a press scrum will be shadowed by me and my Best Gay Boyfriend (who acts as a mitigator to my conscience) to your publication's Christmas/Hanukkah/Kwanzaa/Yule/Festivus Party.   We will wait until you are dancing naked except for the fetching tinsel and strings of lights ensemble that you have improvised in a fit of festive abandon and then we will photograph you and use journalistic license to call this picture your personal "Game Five".   Of course we will post it here.
Would we do this to Grantland Rice?  No.  Grantland Rice would have dropped the whole Game Five thing by now.  So should you.
Now where was I?  Nashville…Chicago…
Lindback said no to the 'Hawks 23 times in his first NHL opener.  The score was three to one in favor of Nashville.  Joel Ward and Colin Wilson showed time and again that the hard work they put in to getting ready for hte season paid off.  Both of them got their first netters of the season.  Sullivan surprised no one with the quality of his playas he was all old school toughness in the City of Big shoulders. The Mad House seemed a little less, well, mad as Chelsea Dagger only got two rather scraggly singles tucked into her g-string and had to do a sad skate of shame to the ramp on the arms of Toews and Kane, who hopes to start shaving by Christmas.
This was follwed by the first installment of a four-game homestand…
Pardon Me Boyes, Is That The Cat That Chewed Your Streak In Two?
St. Louis at Nashville, October 14th, 2010
St. Stu of Grimson was quoted last year as saying that Nashville needed to remember that a game has sixty minutes in it.   This win against the Blues?  Ugly.  Thirty minutes of hockey bliss with lines that held up, special teams that were so gorgeous in their efficiency and grace that  people all over the 'Stone were Twittering  "Who ARE these guys?"  This was followed by thirty minutes of fifteen thousand people willing the last period and a half away so they could go get their Free Frosties and Twittering, "Who ARE these guys?".
The highlights?  More great saves and a close call by Lindback that stopped hearts in the stands.  Goc drew first blood with a goal less than a minute into the game.  He was followed by Sully, who delivered two to the net .  This was sweet indeed, although a hat trick for the Timmins Tornado would have been even better.
The game was not without its scraps and growls, but things took a turn for the weird in third period when Jordin Tootoo got his Elvis on and drew a double minor for roughing while his counterpart on the St. Louis side got a mere two minutes of quiet contemplation for the same sin.  The mouthing that went on between the penalty boxes might have been entertaining for the fans, but it didn't lessen the fact that by the time the clock ran out, it felt more like luck than the smart, sharp playing Predsnation had been seeing so far.  At the post-game press conference, Trotz said that the last thirty minutes of the game would be addressed.
Which brings us to Saturday…
Nureyev and Baryshnikov Kick Balanchine's Ass, Pictures At Ten
Washington at Nashville, October 16th, 2010
Whatever dark gods The Kremlin on the Potomac swear fealty to came through for them on Saturday night.  Even without the presence of Mike "Spanky" Green, Boudreau's tribe played three full periods that were by turns balletic and brutal.  They brought a tough game that included, among other things, an upper body injury for Birthday Boy Francis Bouillon.
Dumont, who had to be peeled from a headlock by Sloane during first, got a netter that felt like sweet revenge.  The other Predators' goal was planted squarely in the Caps' net by Tootoo with an assist from David Legwand.  After that?  Don't ask.
Like Thursday's game, this one went with the Preds making a strong, confident showing for the first half of the game and then seeming to lose momentum somewhere around the ten minute mark of second period.  To add insult to injury, the Predators started the game outshooting and outplaying the Caps by a wide margin that was was chipped away too quickly, with the Caps taking home the win in overtime.
Next week Nashville concludes its homestand with matches against Calgary and Pittsburgh, then it's off to Dallas, Texas, where they'll try to rope in the Stars in the land of factory farm grain-finished red meat and hyperthyroid provincialism*.
This is Jas Faulkner who is finally starting to stretch her legs.  I will see you at the 'Plex and the 'Stone and online at Facebook and Twitter.  Ciao, babies!
*Credit where credit is due for the latter descriptor goes to Harlan Ellison.
Jas Faulkner is a minimally socialised writer and artist who lives and works in Nashville, Tennessee. She hearts her attitude problem.