Jack Campbell was the big offseason signing for the Edmonton Oilers, but when he didn't start strong and continued to falter, many in Oil Country questioned if his acquisition was a mistake. At the same time, there were question marks surrounding young Stuart Skinner. He put up great stats in his time in the American Hockey League (AHL) and played well in his 13 NHL appearances last season, but could he take the next step to become an NHL regular?
Before the start of the season, former Edmonton Oilers' legend Wayne Gretzky spoke on the "Bob McCown" podcast, and the conversation shifted towards the Oilers' goaltending tandem of Campbell and Skinner, and "The Great One" made a couple of predictions for both goaltenders. He started by saying Campbell was going to be strong for the Oilers; however, alluded that he'd need an adjustment period but could handle the pressure because of his experience playing in a pressure cooker environment like Toronto. Secondly, he had high praise for Skinner, saying, "You watch how good this kid plays this year."
---
Latest News & Highlights
---
So far, Gretzky's predictions about the Oilers' netminders have come true. Campbell required an adjustment period, battled through the pressure, and is finally rounding out to form. Moreover, Skinner has not only proven he can handle the load of a starting goaltender, but his outstanding play so far in his rookie season has also earned him the honour of being named to the upcoming NHL All-Star Game. Also, Gretzky believed that Edmonton's goaltending tandem could be a great 1-2 punch and that prediction is finally starting to take shape just in time as the Oilers are set to make a push for the playoffs.
Gretzky Felt Campbell Can Work Through the Pressure
Gretzky played 10 seasons in Edmonton and worked in their front office for five seasons, resigning from his role as a partner and vice chairman in 2021, yet he still keeps tabs on the team he won four Cups with during the 1980s. On the "Bob McCown Show," in October, he stated he liked Edmonton's chances to win the Cup and added that they made a well-calculated move by signing Campbell, saying, "I really think one of the best signings of the summer was Campbell. I think he's going to be a really strong goaltender for the Edmonton Oilers." He also added, "He's coming from [Toronto] that's a lot of pressure — he handled it well."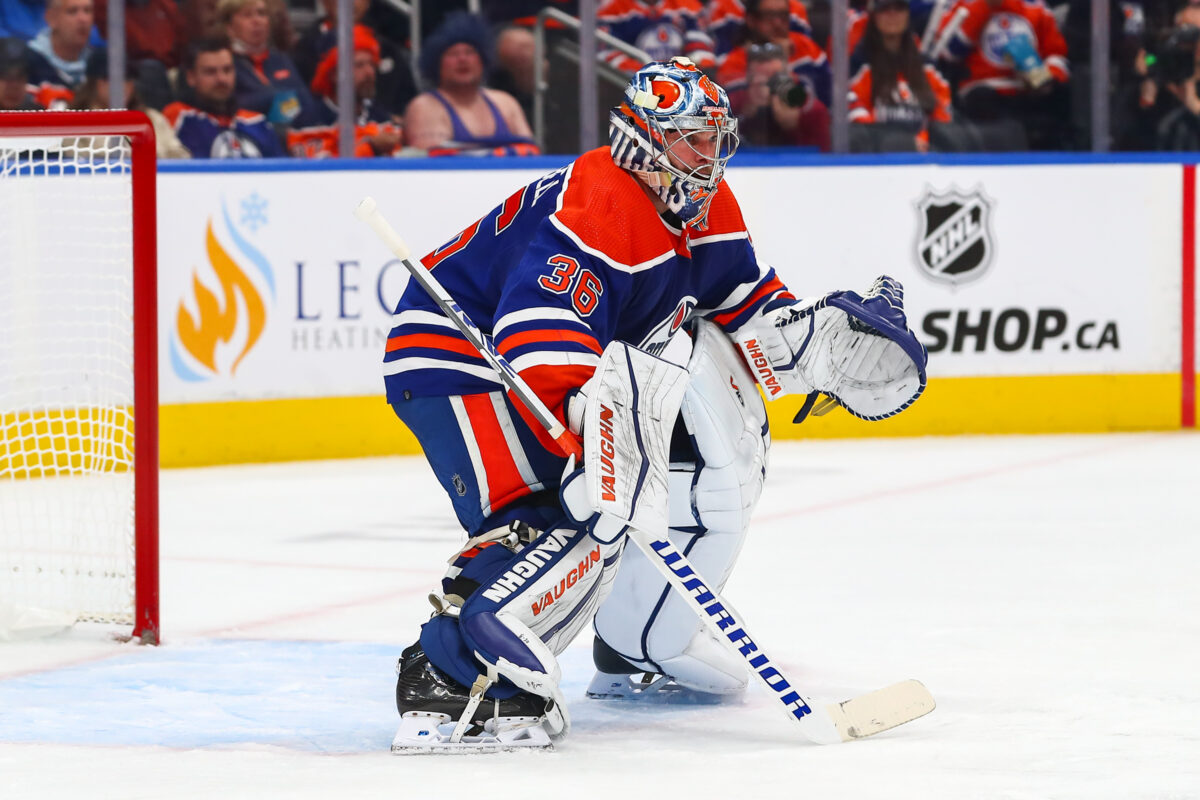 That said, coming out of the gates, Campbell struggled in his first six games in an Oilers uniform, posting a .888% save percentage (SV%) and 3.89 goals-against average (GAA). In his next ten games through November, his numbers dropped further, recording a .858 SV% and 4.29 GAA. His game and confidence were falling fast and he eventually lost the starting job to rookie netminder Skinner. There was also a period earlier in the season where Campbell's mental toughness was in question — he was often too critical of himself, such as the time on Nov. 6 after the 6-2 loss against the Dallas Stars, he called his play "pathetic."
Related: Oilers Finally Getting the Version of Jack Campbell They Paid For
Yet, give credit where it's due, Campbell persevered through the pressure and the media scrutiny and even made a big mid-season change. Sportsnet's Mark Spector reported in late December that he changed his goalie equipment, which seems to be working in his favour right now. He has a 6-1-0 record in his last seven starts and has posted a 2.28 GAA and .915 SV% in that span and as The Hockey Writers' Jim Parsons puts it, the Oilers are finally getting the version of Campbell they paid for.
Gretzky Had High Hopes for Oilers' Skinner
Additionally, Gretzky had high hopes for the recently named All-Star, Skinner. He predicted that the goaltender's confidence would grow because he knew he'd be staying in the NHL this season, saying:
I think Skinner is going to be a tremendous backup for Campbell. You know, Skinner was one of the best American League goaltenders and one of the best American League players for a few years, but when you come up and down and you come up for two weeks and go down for one game and you go back, I don't care who you are, you lose your confidence. You watch how good this kid plays this year because he knows he's staying the whole year. I think they're going to have a nice 1-2 punch.

– Wayne Gretzky
It's curious to know where the Oilers would be in the standings if Skinner (who prior to the game against the Vancouver Canucks on Jan. 21 had a .914 SV% and 2.96 GAA) didn't rise to the occasion when Campbell couldn't gain traction out of the gate. As Gretzky predicted, not only has Skinner's confidence grown, but he became the first Oilers' rookie goaltender to be named to the All-Star Game since Grant Fuhr did so in 1982. On top of that, Skinner recently signed a new three-year $7.8 million deal in December, and welcomed his son, Beau Skinner, to the world on Jan. 14 — which is the equivalent of scoring a hat trick in life.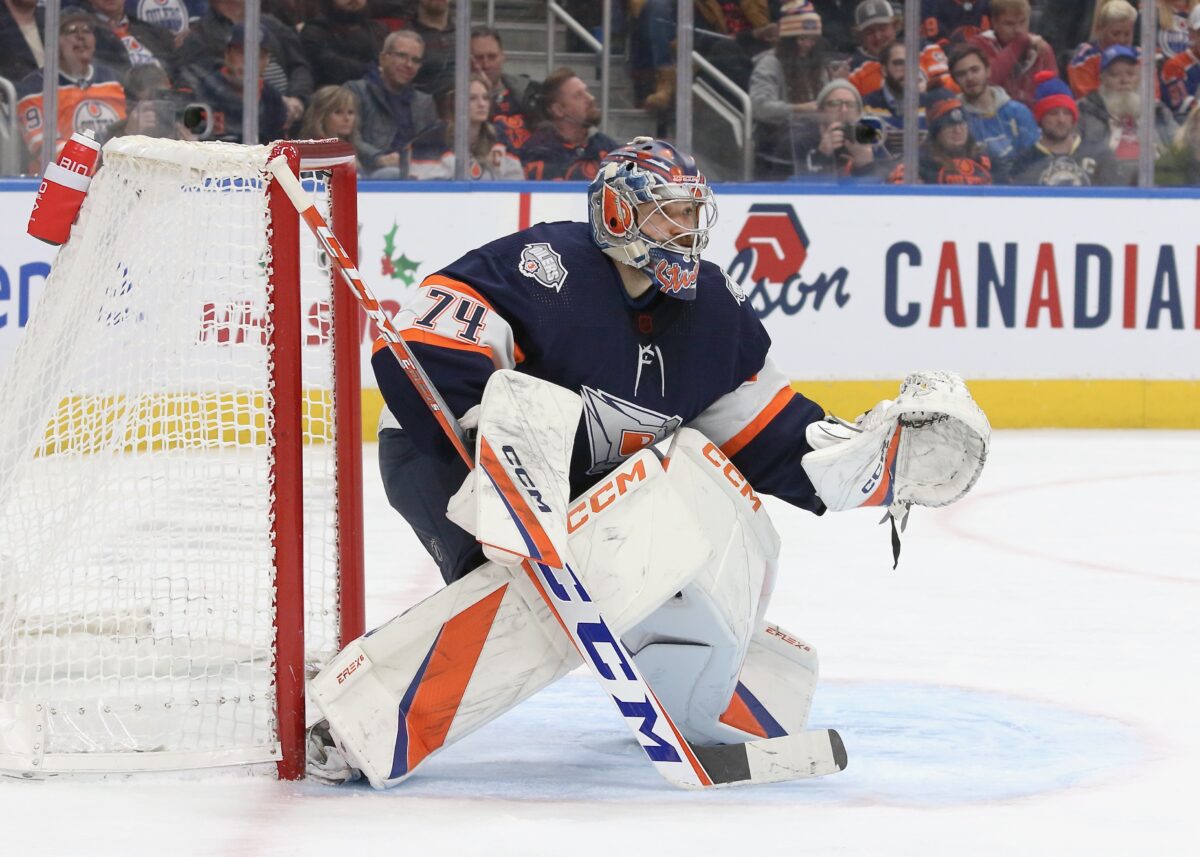 So far, Gretzky's goaltending predictions have come true, now the question is which goaltender gets the majority of the starts moving forward? Will they split the duties, or with Campbell's stellar play as of late, is it his net to lose now? Hockey analyst Rob Brown spoke of the issue on "Inside Sports", saying, "How about this for a team — your goalie, Jack Campbell, just won five straight and has been excellent in all five of those games, and your other goalie [Skinner] is an All-Star. That's a pretty good problem Woodcroft and the coaching staff have going forward."
Overall, Gretzky summarized that Edmonton would have a great 1-2 punch with Campbell and Skinner between the pipes — it took three months into the season to come to form, but it's finally coming to fruition. He also predicted that the Oilers would finish first or second in the Pacific Division. A month ago that seemed unlikely, but they're only a few points out now and to do so, they'll need solid play in net by both netminders, to go along with their high-powered offence.
Between Campbell and Skinner, who should get the majority of the starts moving forward? Have your say in the comments below!