The life of an NHL backup goalie isn't an easy one, seeing game action once or twice every two-three weeks. It becomes an even harder life when you are playing behind an elite goaltender who also happens to be the reigning Vezina Trophy winner.
Philipp Grubauer has been the perfect compliment in net for the Washington Capitals when it's time to rest their franchise goalie Braden Holtby. In eight games this season the 25-year-old netminder boasts a 6-1-1 record with a 1.86 GAA, a .932 save percentage and one shutout in stopping 206 of the 221 shots he's faced.
"I know my role now, I got the experience last year, which was a little bit different; an adjustment for me," said Grubauer after playing for the first time in fifteen games. "The more I play, the more I get comfortable. Mitch (Korn, goaltending coach for Washington) does a great job of keeping us ready and keeping us sharp. In practice too, all the coaches, the drills are designed to be like game situations."
His coach enjoyed what he saw from his backup in the first game of a back-to-back (that the Caps would eventually sweep). "Grubi made some real key saves when the game was tight," coach Barry Trotz said following his team's final game in the calendar year of 2016.
Valuable Asset
Sometimes teams will play noticeably harder in front of a backup goalie knowing they won't have their usual guy in net. At other times the team takes nine penalties in front of the backup — and we all know the best penalty killer is always the goalie, the last line of defense.
In Grubauer's most recent start in New Jersey on New Year's Eve, he and the Caps killed off all nine Devils power plays and split the home-and-home with their division rivals via a 6-2 win.
"All I can say is I'm glad I got to experience five minutes of 5-on-5 there in the last period," Grubauer told the media with a sly grin and laugh following his sixth win of the season. "It was awesome. A good job on the penalty kills, everybody blocking shots, sacrificing; we needed that in the second period. Everybody did a great job and that was key (today)."
Now there's a way to guard the net! … Leave it to Philipp Grubauer … @mhick1953 #WSHvsBUF @BillHoppeNHL pic.twitter.com/txxMJTs0Ur

— Dan Hickling (@DanHickling) December 10, 2016
The Caps could have lost their cool and taken even more penalties (in truth they probably deserved at least one more), but not one player was squawking at the referees all game and they collectively battled through the game. "I don't think we got too frustrated, once they call one you get frustrated but you have to move on," the German goalie said. "On their power play, and I think 5-on-5 we did an amazing job to limit their scoring chances."
AHL Seasoning Pays Off
After 105 games in the AHL with the Hershey Bears, Grubauer is clearly NHL-ready and has solid numbers over the first 50 games he's appeared in. Sometimes defense and structure are lacking in the minor leagues, which makes life a lot easier for goalies once they finally make it to the big leagues. Weird things happen pretty often in the minor leagues also, which allows goalies to figure out how to pace themselves and deal with long stoppages.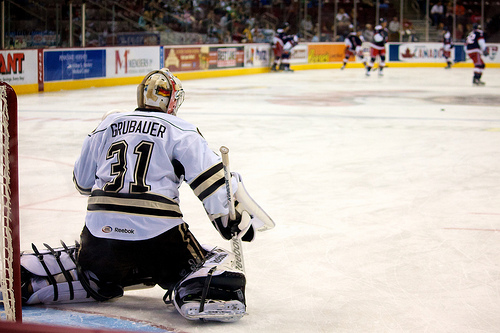 "What I've experienced in the past is in the ECHL, the AHL, sometimes games get out of hand really, really fast. Things get ugly really, really fast," he told The Hockey Writers with a chuckle. "I don't think that's happened to me in a game in the NHL."
Early in the December 31 win, Devils defenseman John Moore was injured by an unpenalized hit, which forced him to be carried off the ice on a stretcher after suffering a concussion. The game was delayed a good 10-15 minutes of real time and when play resumed finally, it was almost like the game was starting over again; all of the penalties that ensued (from both sides) were mostly related to the fact that the hit on Moore went unpenalized.
Afterward, Grubauer was less concerned with how long the game was delayed and more concerned that Moore was going to be okay and the proper precautions were being taken in aiding him.
"You never want to see that happen. It slows the game down, but they take their time to get him off the ice and make sure that he's alright," he said. "Take all the time you need, because if I'm down on the ice I don't want to be rushed off just because of the momentum of the game or whatever is happening. Hopefully, he is okay, you don't want to see that happen."
Dan Rice is in his 9th year of reporting for THW & has covered NJ Devils home games for 15+ years at various websites. He began his journey working for legendary broadcaster/writer Stan Fischler from 2002-04 & completed an internship at the ECHL; he also has been writing features for the NWHL (nwhl.zone) website since 2016.