Following a three-day holiday break, the Arizona Coyotes were back in action on Tuesday night at Gila River Arena against the Dallas Stars, but dropped their fifth consecutive game by the score of 3-2 as they struggled badly on special teams.
He makes it look easy. #DALvsARI pic.twitter.com/2f0PKDw4Rv

— Dallas Stars (@DallasStars) December 28, 2016
The Coyotes wrapped up their five-game homestand against the New York Rangers on Thursday night looking to avoid a sixth consecutive defeat, but were unable to pick up the victory as they allowed four power-play goals in a 6-3 loss.
Arizona then traveled up north to the Saddledome to finish out the 2016 portion of their season against the Calgary Flames with a win, but instead allowed four first-period goals and dropped their seventh consecutive game in regulation by the score of 4-2.
That'll do it for 2016.

Final: #Flames 4 #Coyotes 2 pic.twitter.com/2iU7X3uPge

— Arizona Coyotes (@ArizonaCoyotes) January 1, 2017
Starting the New Year on the Road
Following their New Year's Eve tilt in Calgary, the Coyotes will have a few days off to rest, relax, and regroup before heading to Vancouver for a matchup against the Canucks on Wednesday night. The Coyotes are just 1-5-2 in their last eight against the Canucks and will be looking to have some success against a team they've struggled with recently. Puck drop is scheduled for 7:00 P.M. in Vancouver (8:00 P.M. in Arizona).
.@BoHorvat scores in the shootout to help the #Canucks extend their win streak to 3 games in this @BudCanada Game in Five. pic.twitter.com/VCUC8WgReh

— Vancouver #Canucks (@Canucks) January 1, 2017
After wrapping things up in British Columbia, the Coyotes will head down to Anaheim for a Friday night matchup against the Ducks. The Coyotes have dropped three straight games against the Ducks and have allowed five goals in each of the losses. Puck drop is scheduled for 7:00 P.M. at the Honda Center (8:00 P.M. in Arizona).
Following their game on Friday night in Orange County, the Coyotes will pack up and return home to Gila River Arena for a Saturday night contest against the visiting New York Islanders. The Isles have struggled badly on the road this season, as they possess the league's worst road record at 4-8-2. Puck drop is scheduled for 6:00 P.M. in Glendale.
Duclair Heating Up?
Anthony Duclair has struggled badly this season in Arizona as he's scored just three goals through 34 games, but he finally appears to be heating up after a rough start in the desert; he scored two goals in three games last week and also fired eight shots on goal while averaging nearly 17 minutes of ice time per game.
The Duke is at it again. pic.twitter.com/wxWdQ4i5GD

— NHL (@NHL) December 30, 2016
Duclair possesses the ability to be an elite goalscorer at the NHL level, and the Coyotes are hoping that his back-to-back goals last week have given him the confidence to return to the level that he played at for most of the 2015-16 season.
Dvorak, Perlini Quickly Adapting to NHL Game
When Christian Dvorak made the Coyotes' opening night roster this season, many expected that he'd immediately make an impact in the NHL similar to how his former London Knights teammate Max Domi did during the 2015-16 season.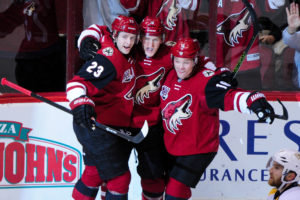 Through 33 games, Dvorak hasn't disappointed. He's posted four goals and eight assists while playing the difficult center position, and, at plus-five, is one of just three Coyotes players to have a positive plus/minus rating. The Coyotes have struggled badly as a team in their last seven games, but Dvorak's play has been one of their few positives during that time; he's recorded two goals, two assists, and a plus-four rating during the team's current seven-game losing streak, and has markedly improved upon his play as the season has progressed.
Perlini, on the other hand, didn't start the season with the Coyotes, but has quickly made up for lost time in the NHL. He's scored three goals in his first 12 games and has impressed many with his outstanding speed and solid wrister. He's currently on pace to score 15 goals despite spending the first three months of the season in the AHL, and should only continue to get better as he grows into his 6'3″ frame. Both players are enjoying solid rookie seasons, and are big parts of the future in Arizona.
Strome, Keller Excelling at World Juniors
Dvorak and Perlini have both managed to make an impact as rookies with the Coyotes this season, but they're not the only young players that Coyotes fans need to be keeping their eyes on. Clayton Keller and Dylan Strome, the team's last two #1 draft selections, both are tearing up the competition at the World Junior Championships in Canada.
Dylan Strome scored a pair in Canada's tournament-opening win over Russia. https://t.co/6LhIT9PkrP pic.twitter.com/6TUYfZXxgC

— Sportsnet (@Sportsnet) December 27, 2016
Clayton Keller displays great concentration and gives USA an early 1-0 lead. #WorldJuniors @CanadianTire #BigPlay https://t.co/JLvAqi0ZFz pic.twitter.com/BeFEG0rTGH

— TSN (@TSN_Sports) December 29, 2016
Keller and Strome are squarely in the spotlight at the World Juniors at the moment and find themselves among the tournament leaders in scoring. Strome ranks second in points with eight while Keller is tied for fourth with seven points himself. The two Coyotes prospects have stolen the show for their respective countries and will be two players to keep an eye on as the tournament progresses.
Pacific Division Roundup
The San Jose Sharks continue to lead in the Pacific Division, but have very little breathing room as both the Oilers and Ducks are within two points of the division lead. Here's how Arizona's other division rivals fared last week:
Anaheim Ducks (19-12-8, 46 points)
Last week: 2-0-2
Analysis: The Ducks have points in five straight games, but have won just two of them. They're still in good position in the Pacific, but one has to imagine that they'll need to start winning some more games in order to keep pace down the stretch.
Player of the week: Ryan Kesler – 3 goals, 3 assists, +5, 13 shots
This week: Wed vs DET, Fri vs AZ, Sun vs MIN
Calgary Flames (20-17-2, 42 points)
Last week: 2-1-0
Analysis: The Flames closed out 2016 by winning three of their final four games of the year, and will enter 2017 as one of the league's most surprising playoff contenders. In order for Glen Gulutzan's squad to remain in playoff contention, both Chad Johnson and Brian Elliott will need to continue providing solid goaltending.
Player of the week: Mikael Backlund – 4 goals, assist, +4
This week: Wed vs COL, Fri at VAN, Sat vs VAN
Edmonton Oilers (19-12-7, 45 points)
Last week: 1-0-1
Analysis: The Oilers have points in six straight games, and have rebounded nicely from a rough stretch of games that threatened to derail their season. However, they'll face off against Columbus in their next game on Tuesday. Will they become the 16th straight team to fall at the hands of the red-hot Blue Jackets?
Player of the week: Cam Talbot – 1-0-1 record, 58 saves on 61 shots (.951 SV%)
This week: Tue at CBJ, Thu at BOS, Sat at NJ, Sun at OTT
Los Angeles Kings (18-15-4, 40 points)
Last week: 1-2-0
Analysis: The Kings dropped the final two games of their season-long nine game road trip in Vancouver and Edmonton on Wednesday and Thursday, respectively, but returned home to the friendly confines of the Staples Center on Saturday night and picked up a 3-2 victory over the San Jose Sharks.
Player of the week: Tanner Pearson – 2 goals, assist, +1, 13 shots
This week: Tue at SJ, Thu vs DET, Sat vs MIN
San Jose Sharks (23-13-1, 47 points)
Last week: 2-1-0
Analysis: The Sharks continue to play solid hockey, and have won four of their last five games. They lost just four times in the month of December and will look to continue their positive momentum with three straight home games to start 2017.
Player of the week: Brent Burns – 2 goals, assist, +1, 9 shots
This week: Tue vs LA, Thu vs MIN, Sat vs DET
Vancouver Canucks (17-18-3, 37 points)
Last week: 3-0-0
Analysis: The Canucks swept their three games last week against Pacific Division opponents, and have climbed to within three points of a playoff spot despite having the West's worst road record at 5-12-1. If they can figure out how to win away from Rogers Arena, they could make some noise in the Pacific this season.
Players of the week: Ryan Miller & Jacob Markstrom – 3-0-0 record, 102 saves on 107 shots (.953 SV%), 3 saves on 3 shootout attempts (combined totals)
This week: Mon vs COL, Wed vs AZ, Fri vs CGY, Sat at CGY
The Coyotes are currently mired in a seven-game losing streak and haven't been particularly competitive at all during that stretch. If they want to have any hope of climbing back into the thick of things in the Western Conference, they'll need to regroup quickly and start the 2017 portion of their season on a high note on Wednesday night in Vancouver.