It's no secret that Arizona Coyotes forward Anthony Duclair has struggled badly for most of the 2016-17 season. He's scored just three times in 33 games after putting home 20 goals as a rookie last season and has been a healthy scratch by head coach Dave Tippett on numerous occasions as well.
#Coyotes scratch Duclair (second time this season), Stone (first time) and Connauton.

— Sarah McLellan (@sarah__mclellan) December 11, 2016
In addition, Duclair has also been the subject of numerous trade rumors throughout the season due to his struggles, but it would be hard to imagine the Coyotes parting with the talented youngster due to one bad stretch of games during his second full season in the NHL. In fact, it's a bit unfair to single out Duclair among a struggling group of Coyotes forwards. Most of the team's leading scorers from last season have regressed in 2016-17, which has resulted in the team's plummet to the Pacific Division's cellar.
A Rough Start
Duclair himself appears to be struggling partly due to a combination of factors; his ice time and shooting percentage are both significantly down from last season, and he's also been separated from his good friend Max Domi. Last season, Domi and Duclair formed a dynamic duo for the Coyotes and showed outstanding chemistry when paired together on one of Arizona's forward lines.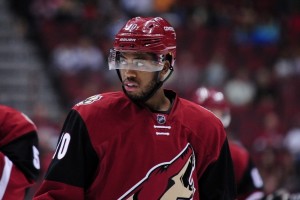 However, in 2016-17, the duo have rarely played together; the currently-injured Domi has instead been paired with 35-year-old veteran Radim Vrbata when healthy and was likely the catalyst for the right winger's hot start to the season. In addition, as was previously mentioned, Duclair's ice time is down nearly a minute per game from last season, and the youngster has seen far less power play time in 2016-17 as well.
These factors, in addition to the "sophomore slump" phenomenon that exists within professional sports, have all combined to cause Anthony Duclair to experience what has become the roughest stretch of his young and promising career. However, it appears as if "the Duke" has finally broken out of the slump that has plagued him for most of this season. He's scored in back-to-back games, and, more importantly, appears to be regaining his confidence after clearly lacking it for the majority of the season.
The Duke is at it again. pic.twitter.com/wxWdQ4i5GD

— NHL (@NHL) December 30, 2016
Although Duclair's goals both came in losing efforts for the Coyotes, it has to be comforting for the team and coaching staff to know that they can once again rely on the youngster to provide offense for a team that ranks 29th in the league in goals per game. If Duclair can continue lighting the lamp in Arizona, he could easily re-establish himself as a focal point of the offense and could also put to bed any rumors that might exist about his future in the desert.