The Nashville Predators went into the Christmas break hopeful that they could turn their fortunes around after the holidays to make up for their average play during the team's first 33 games. With back-to-back losses since returning to the ice, their plan is not shaping up so well to start, as they find themselves near the bottom of the Central Division and three points out of a wild-card spot. With Christmas behind us and the new year just around the corner, here is what the Nashville Predators should have on their wish list.
Health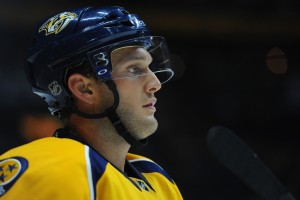 The Predators have run into some rather unfortunate circumstances regarding injuries and missed games that have for sure had some effect on their play. To date, the Preds have lost players on 13 different occasions rather that be to illness or injury, resulting in players missing games and leaving head coach Peter Laviolette to scramble up his lines to make accommodating adjustments.
A large sum of players even managed to catch food poisoning while making a visit to Detroit to play the Red Wings back in late October, a messy situation that saw many players leave the game early and sit out of the next night's game against the Pittsburgh Penguins as well. Remarkably, the Preds were able to fend off the defending Stanley Cup champions with what they had available to them that night and got backup goaltender Juuse Saros his first NHL win in a 5-1 Nashville victory. They overcame the odds even when health was against them — something they need to keep on doing.
Subban's Return
Since the one-for-one trade back in June that saw the Montreal Canadiens and Preds swap all-star defensemen, all eyes have been on Shea Weber and P.K. Subban to measure out the winner of the trade as the attention surrounding the swap has been ludicrous. The Predators aren't concerned with measuring, though, as their biggest concern is getting Subban back on the ice to do what Subban does best – play hockey.
Subban has been out since Dec. 17 with a reported upper-body injury and as a result, has missed Nashville's last six games. The Preds are 2-2-2 with Subban missing from the lineup during that stretch and you can see just how much he means to the team when he's not playing. Nashville looks a little confused out there during games without Subban's presence to move pucks up ice or carry it out of their zone on his own, meaning they've had to adjust both offensively and defensively in lieu of P.K's injury and this has lead to some mistakes.
Being able to pick up six points in six games isn't terrible, but you can tell how much stronger the team would be with Subban in the lineup and adding to their overall play. He was finally starting to find his step in Nashville before going down to injury, so you know he wants to get back out there and contribute. They're hoping he will be back with the team shortly so don't lose faith now.
Consistency
From goal scoring to goaltending, the Predators have to make an all-around better effort to be more consistent. This isn't so much about wishful thinking, this is about stepping up and wanting to make things happen.
Goals
The Preds, for some odd reason, have had trouble with consistently scoring goals this season. There will be some stretches where the team can't seem to score more than one or two goals a game but then rebound after two or three games with a scoring outburst to come away with 5-1 or 6-3 wins. It's like a switch exists in their locker room that decides on whether or not the team will be finding the back of the net some nights. The Predators need to find a way to keep the switch on to drive home the goals that they are capable of scoring. From their star players to their depth players, everyone needs to bring their efforts night in and night out from now on if they hope to make their way into the playoffs.
Goaltending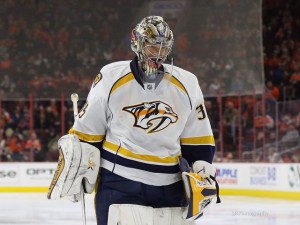 Pekka Rinne has been one of the more noticeable cases of inconsistent goaltending across the league during the last few seasons. One season he'll be lights out, shutting the gates down and coming away with Vezina-candidate numbers, only to see a drop in his performance the following season and raising the critics' concerns once again.
After a strong start to open the 2016-17 season, Rinne has since watched his performance slide. The Finnish-netminder is 13-10-5 in his 28 starts and has a .915 save percentage to go along with a goals-against average of 2.53 – weak suited numbers for a starting goaltender on a rather skilled team. Rinne will need to find his game once again going into the new year before things really get out of hand and the Preds watch their playoff hopes slip away.
It may be after Christmas now, but it doesn't mean the Predators can't finish getting everything on their wish list. Whereas many people are receiving gifts during this time of year, the Preds will have to go out and work for what they want to achieve, as not everything can simply be handed to them.