You really can't ask for a better month of hockey from the Minnesota Wild.
With a 23-8-4 record overall and a 12-0-1 month of December, Minnesota has propelled themselves to second in the Western Conference standings trailing only the Chicago Blackhawks with three games in hand. Bruce Boudreau now looks like a sage as he said it would take until Christmas for his new roster to fully start grasping his systems.
You could easily nominate about half of the roster to fill out this list, but three players have definitely stood out in my mind.
Third Star: Ryan Suter
Attribute his league-leading plus-25 to Devan Dubnyk's performance if you want, but Ryan Suter has looked as solid as ever throughout December. It wasn't a month of piling up points for the 31-year-old, but it was nevertheless productive in many ways. Most notably, he's making elite defensive zone coverage look effortless.
Boudreau and Scott Stevens made it a point of emphasis this offseason to lower Suter's playing time. It's an effort that will hopefully pay dividends later on as he'll be fresh for the entirety of the season. Slowly but surely, his ice time has decreased as he becomes accustomed to what's expected out of him. In addition, Dubnyk holding the opposition to a goal or two on a nightly basis makes it easier to ration the ice time of their best defenseman.
Second Star: Eric Staal
What a resurgence for the former second overall pick.
A change of scenery has done wonders for his career, as he's been able to seamlessly mesh in an unfamiliar environment. When you consider that Staal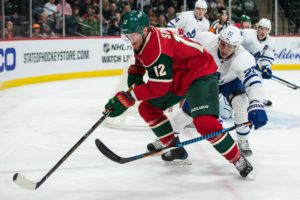 has entered a situation where he has been anointed first line center with brand new teammates and coaches, it makes what he is doing even more impressive.
The popular question surrounding the eldest Staal this offseason was whether he had left his prime back in the 2000's, or if his production had dipped due to a roster constantly rebuilding since winning the Stanley Cup nearly a decade ago.
Staal has answered that question rather quickly. Not only is he the leading scorer with 30 points, but he has displayed an uncanny ability to exploit seams in the defense. Somehow, there is no resource that tracks breakaway opportunities in this age of hyper-advanced data and statistics, but I'd venture to guess that Staal is near the top of the league in that category.
[irp]
Moving forward, Staal is a player Minnesota can ill afford to lose. He's taken the pressure off of Mikko Koivu to be the high-scoring center the Wild have desperately needed in past years. In addition, he's eased the pain of having Zach Parise recovering from various ailments for much of the season.
First Star: Devan Dubnyk
Where do you even begin talking about the month that Devan Dubnyk is having?
Dubnyk is the likely leader in the clubhouse right now to win the Vezina Trophy as he's set a blistering pace out of the gate this season. He currently leads the league in shutouts (five), save percentage (.947), and goals against average (1.67).
What's most comforting is just how calm he has looked between the pipes all season. It's not necessarily that he is making ridiculous stops on a nightly basis, but rather his ability to position himself to make difficult saves look routine.
Last night's game against the New York Islanders was the first time in over a month that he's looked human. For the first time since Nov. 26, Dubnyk allowed more than two goals in regulation.
It would be unfair if I didn't mention that Dubnyk has had help along the way. The entire roster is doing an excellent job of clearing rebounds, limiting turnovers, and killing penalties at an 85.6% clip while allowing only four power-play goals the entire month.
Previous blog experience on GonePuckWild and ISportsWeb.
Winter in Minnesota would be awful without hockey.