The Los Angeles Kings are back in California on Saturday and will play their first game at Staples Center in three weeks. Since Dec. 10, they have played nine consecutive games on the road and will return to Los Angeles for their first home game since, when they play the San Jose Sharks on New Year's Eve.
You can learn a lot from a team by how they play on the road. Pushing a team out of the familiarity of their home rink and into the confines of a foreign arena will show you exactly what they are made of. Making a team do it nine consecutive times will test that team's character, their ability to roll with the punches and their ability to adapt on the move. And that's what happened with Los Angeles.
As the Kings made their way across the country and stopped for games in all four of the NHL's divisions, there was plenty to take away about the state of Los Angeles hockey.
Jeff Carter Is Keeping the Kings Alive
Besides possibly Peter Budaj, there hasn't been a player playing better than Jeff Carter.
For Carter, his success hasn't just been a trend over the last nine games, where he found the back of the net seven times. He leads the team with 19 goals, six of those being game winners, and 30 points, and has been the only consistent skater for Los Angeles this season.
Outside of Carter no one on the Kings' roster has scored more than eight goals. For those not keeping track, Carter's goal total in the last nine games would put him in third if matched up with the season totals of the rest of the roster.
The team seems to live and die by Carter's production. If Carter is scoring goals, the team has a pulse, but if Carter has an off night, which has been rare, the team struggles to grab a 'W'.
[irp]
Time for Some Home Cooking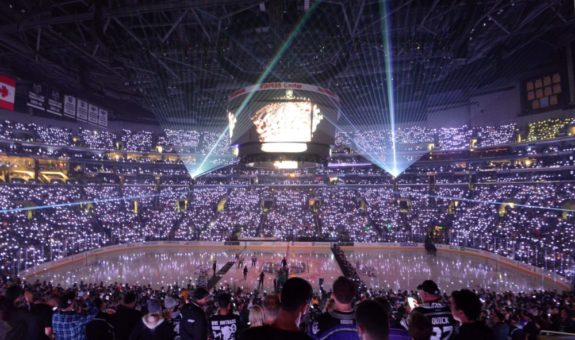 As the Kings unpack their bags and prep for their first home game in three weeks, one can't help but think they will be happy to be skating in Staples Center again.
Over the course of the Kings' last nine games they put together a dismal 3-4-2 record and grabbed only eight of a possible 18 points.
But the struggles on the road extend beyond Los Angeles' most recent road trip. Overall, the Kings have gone 7-3-11 on the road this season. Compare their road record to a home record of 10-4-1 and you see an obvious shortcoming when the team is away from home.
Luckily for the Kings, eight of their next nine games will be played on home ice and the lone road game is a short flight up the California coast for a tilt against San Jose. If they want to make up some ground they lost over the course of their last nine games the next nine games is their shot, because after that stretch of hockey they hit the road again for the following five games.
Starving for Production
In 18 of the Kings' 36 games played this season, they have scored two or fewer goals. Overall, they are averaging just 2.44 goals a game which is better than only eight other teams. In their last seven games, Los Angeles has only scored 11 goals which averages out to an even worse 1.57 goals per game.
[irp]
The Kings' lack of offense is due to the shortcomings of their star players through this point of the season. Team captain Anze Kopitar has one goal in his last 25 games and two points in his last 11 games which has contributed to his low totals of three goals and 16 points in 31 games this season.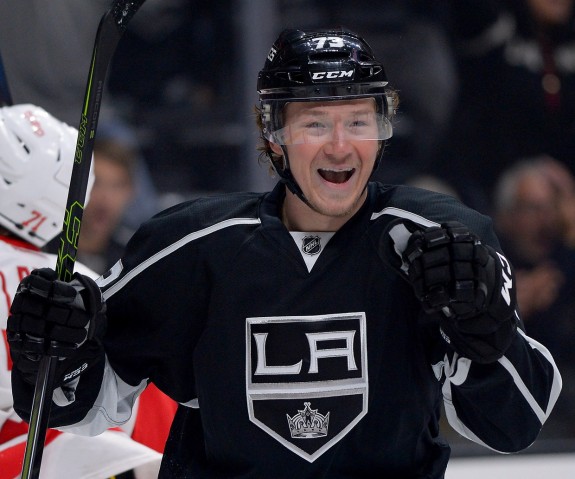 Most thought Tyler Toffoli, who is now on the injured reserve, was due for a breakout season this year. But the forward has only found the back of the net eight times and has notched only 20 points in 32 games played. Since returning from a lower-body injury, Marian Gaborik has been shuffled around the lineup has accounted for only one goal in 14 games played. Tanner Pearson, a young star like Toffoli, has only eight goals in 34 games.
Obviously, this lack of production has been a major factor in the Kings' shortcomings this season. During their road trip, there were five games decided by one goal and the they went 1-2-2 in those games. Their last game of the trip, a 3-1 loss to the Edmonton Oilers, can basically be notched up as a one-goal game as well, since it was 2-1 with an empty net goal to seal the victory.
That is six games that could have gone the Kings' way if they had gotten another goal. That is 12 points they could have grabbed if someone had come through in the clutch. Instead, they only picked up a win in one of those games and have just three points to show for it.