Sports can be cruel. One moment, you can be at the top of your game, and the next you can be on the ice in pain, with your season and even your career in jeopardy. That's the situation St. Louis Blues defenseman Carl Gunnarsson found himself in after his skate caught on the boards during a play behind the net against Los Angeles Kings' forward Gabriel Vilardi on Monday night. Gunnarsson stayed down on the ice until he was helped off by Blues trainers.
On Tuesday morning, the team announced that they placed the Swedish defenseman on injured reserve and that the knee injury would be season-ending. With Gunnarsson an unrestricted free agent (UFA) after the season, and already a depth defenseman at age 34, it seems more than likely that his Blues' career is done. But if that is the case, Blues' fans should not overlook his contribution during seven seasons with the team. Despite numerous injuries, he was a team player who showed up in big moments.
The Perfect Depth Defenseman
There is no glory to being a depth defenseman in the NHL. But that doesn't mean that they don't serve a critical role. The Blues acquired Gunnarsson in a surprising offseason trade in 2014, sending defenseman Roman Polak to the Toronto Maple Leafs. Polak had played eight seasons with St. Louis and had been a beloved physical presence on the backend during that time, so the trade caught many Blues fans off guard. In the trade, the Blues also acquired a 2014 fourth-round pick (94th overall) with which they selected Ville Husso, who debuted as the team's backup goalie this season.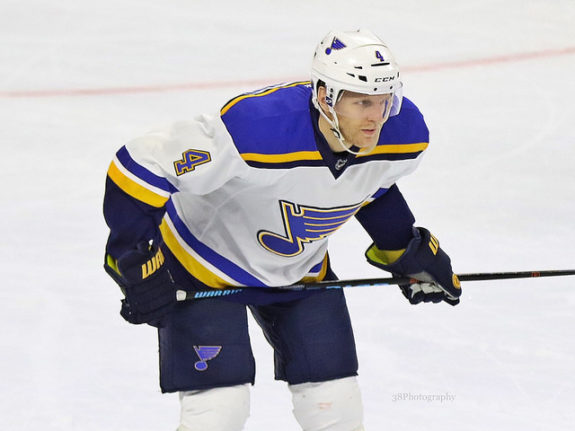 Gunnarsson would never play a fully healthy season in St. Louis, maxing out with 72 games in his second season (2015-16). But when he played, he played well. Through his eight seasons with the Blues, he averaged 16:13 while healthy. Not a point producer, he only managed 15 goals and 37 assists (52 points) in his 325 games.
But points weren't what anyone was looking for from Gunnarsson. He needed to be a consistent, steady presence on the back end, capable of playing on the bottom pairing and occasionally flexing up the lineup. And he did that. Over seven seasons, he was plus-41 and had just 87 penalty minutes. He blocked 1.5 shots on average per game. He was a steadying force. But he also had a strange knack for stepping up when it counted, including scoring on the team's "dad's trip" and earning the nickname "Boom Boom." But there will be one moment from Gunnarsson's career that will stand forever as a great moment in Blues' history.
Gunnarsson's Stanley Cup Heroics
One shining moment in Gunnarsson's career is frozen in time as one of the greatest goals ever scored in franchise history. The Blues made the Stanley Cup Final three consecutive times at the beginning of their existence, being the expansion conference sacrifice in three straight sweeps, twice to the Montreal Canadiens and once to the Boston Bruins (a series which ended with Bobby Orr's iconic flying goal). They would not return to the Stanley Cup Final for almost five decades until a miracle run brought them face-to-face with the Bruins again in 2019.
Without home-ice advantage, the Blues lost Game 1 of the series, and their backs were against the wall in Game 2, a contest that they had to tie twice before forcing overtime. In overtime, the team needed a hero to score its first-ever Stanley Cup game-winning goal. And Gunnarsson stepped up to become that unlikely hero.
On a delayed penalty just under four minutes into overtime, the Blues were pressing in the Bruins' zone. Gunnarsson got the puck at the blue line and passed to his defensive partner Alex Pietrangelo, who passed back for an immediate one timer. The puck found its way through traffic and over goaltender Tuukka Rask's shoulder for the goal. But what became even more legendary was the story behind the goal.
Gunnarsson had pinged a shot off the post late in the third period that could have been the game-winner in regulation. During intermission, he had a chance encounter with head coach Craig Berube, as team center Oskar Sundqvist explained: "Berube came in and said that he used the [bathroom] after the third period, and Gunnarsson came and stood next to him. And all Gunnarsson said to him was, 'I just need one more chance.' It's true, apparently. It worked out."
Gunnarsson confirmed the rumor: "Yeah, I can't deny that. That's where it happened. It makes it even more fun, I guess. It's a good story." Noting the incredible feeling of scoring a game-winning overtime goal in the Stanley Cup Final, he admitted "I don't score too many, but nothing comes even close." It undoubtedly was the greatest goal of his career, but more than that, Gunnarsson's humble heroics will remain one of the greatest goals in Blues' franchise history.
Future With the Blues
Gunnarsson is now 34 and done for the season with his injury. Over the last three seasons, he's managed just 73 games of a possible 209 (assuming the 2020-21 season plays out fully as scheduled). The Blues have depth on the left side now, and likely won't look to extend Gunnarsson as a player. It will be his decision whether to pursue his career on the ice, but if he is interested in coaching or front office work, the Blues may well find a place for him. Gunnarsson has served a valuable role for the franchise for most of a decade, and the team and fanbase will always appreciate his contributions.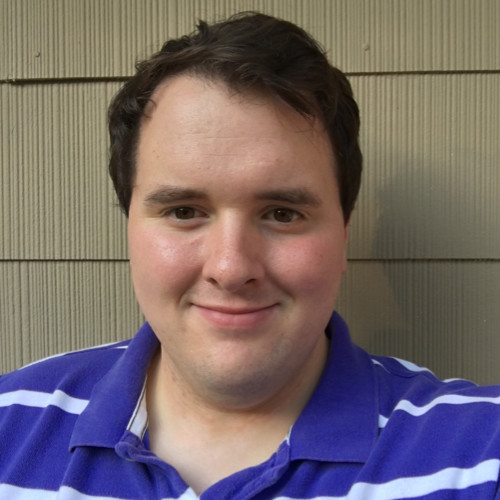 Stephen Ground is a veteran of over three years at THW, focusing on the St. Louis Blues, NHL goaltending, and the annual World Junior Championship. He is the co-host of the Two Guys One Cup Podcast, a hockey podcast focused on the Blues.