The Pittsburgh Penguins are quietly one of the hottest teams in the NHL at the moment and the rest of the league may need to take notice. The Penguins are no longer a team with concerns over scoring issues and disappearing stars, as they seem to find ways to win no matter what the circumstance. And, if Sidney Crosby's two assists mark the beginning of the end of his scoring slump, head coach Mike Johnston and the Penguins will quickly become a favorite in the Eastern Conference.
Poor defensive play, goaltending lapses and irresponsible turnovers were all part of the Penguins' outing vs. the Montreal Canadiens last night at Consol Energy Center. But, it didn't matter. The Penguins found ways to claw back, even erasing a one-goal deficit after two periods, which they hadn't done since January 2014. When you have a team that comes together in a bind, just as Pittsburgh did after their dismal start to the season, it can mean something special going forward. Considering the way members of this team continue to pick each other up, there's definitely something special about the 2015-16 Penguins.
In past seasons, prior to Johnston taking the reigns in Pittsburgh, everyone seemed to know how to beat the Penguins. Get in their heads, frustrate their stars and force this team into bad penalties and costly mistakes. The Philadelphia Flyers have made a living against Pittsburgh for years following that exact philosophy. But, with Johnston at the helm, there's never a sense that Pittsburgh has given up. There's never a sense that they feel out of a game or unable to keep their composure. That exact mental aspect was tested yet again against the Canadiens and they passed with flying colors. There are times that watching the Penguins under Johnston's lead is extremely frustrating, especially when it comes to personnel decisions and lineups. There's no denying that he has created a new culture of calmness in Pittsburgh, though.
Dupuis Remains Invaluable for the Pittsburgh Penguins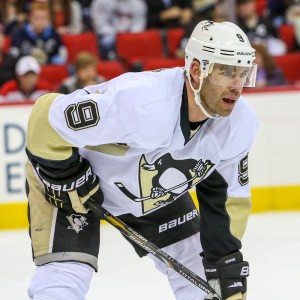 I don't like to refer to intangible qualities or contributions when providing analysis on individual players in most cases. However, Pascal Dupuis is simply different and deserves credit for what he brings to this team in both on-ice production and pure leadership. He's the epitome of what the hockey world refers to as a 'glue guy' and it shows each and every time he dawns a black and gold jersey.
There's also no denying his chemistry with Crosby. After all these years of playing side-by-side with one of the most creative players to hit the ice, he knows exactly where to be in any given situation. That awareness was obviously evident when he whipped the puck around the end-boards to Crosby and darted to the far post for a tap-in just 13 seconds into the game. There's something to be said about understanding what a player like Crosby is going to do with the puck and capitalizing on it time-and-time again. There's also something to be said about the fact that the Penguins are 18-4-1 dating back to last season with Dupuis in the lineup.
While the conversation has always been that Crosby needs an elite winger to play alongside him, Dupuis has quietly been the straw that stirs the drink with No. 87. Crosby is a completely different player with Dupuis at his side and it's never more obvious than when he's playing with a different cast of wingers. This past summer, I visited the topic of Dupuis and fellow former top-liner Chris Kunitz getting a crack with Crosby again despite the arrival of Phil Kessel and it was met with dissent and disapproval. I think my point stands, however. If Dupuis playing on the top line means more production from your captain, there's no reason to change things until Dupuis is unable to handle those duties.
By the Numbers – The Penguins are Defying Logic
The newly deployed line of Crosby, Dupuis and Beau Bennett were productive on the scoreboard but lost the possession battle with their most common opposition in a big way. In fact, Crosby recorded 12:13 time-on-ice with Dupuis and 13:27 with Bennett, boasting a dismal 40-percent and 48-percent corsi percentage, respectively. When facing Max Pacioretty and company, Crosby had an 18-percent corsi-for percentage. Those numbers are courtesy of war-on-ice.com.
The rest of the Penguins, outside of their third line that consisted of Kunitz, Nick Bonino and Patric Hornqvist struggled as well. Defensively, the pairings deployed last night were essentially owned when it comes to underlying numbers until Olli Maatta and Kris Letang were paired. That duo did a great job against the Canadiens' leading scorer Dale Weise and his linemates.
Of course, the score that's reflected on the scoreboard when the game concludes is the most important group of numbers in a hockey game. So, the Penguins can obviously celebrate their ability to fight back from a 3-2 deficit to gut-out a shootout victory thanks to Crosby and David Perron. While it's concerning that the Penguins are essentially losing their own game when it comes to puck possession, I'll take eight wins in their last 10 games any day. It'll be interesting to see if the new line configurations will eventually improve Pittsburgh's underlying numbers over time.
Pittsburgh Penguins writer for TheHockeyWriters.Com and PittsburghHockeyNow.Com. Youth hockey coach, and student of the game.