According to TSN's Darren Dreger, the Leafs have contacted former Lightning coach Guy Boucher about potentially coaching the team.
Leafs still looking at gm + coaching options. It's believed Tor contacted Guy Boucher. Boucher told TSN 1050 an NHL team had made contact.

— Darren Dreger (@DarrenDreger) May 6, 2015
Boucher, 43, coached two seasons and 31 games of another with the lightning from 2010-2013 and currently coaches in the Swiss League.
He is an interesting choice for coach because he is known for his innovative style and willingness to push the boundaries in what is generally a very conservative sport.
Boucher is infamous for his 1-3-3 play which once forced the Flyers to do this:
The play forces the other team to carry the puck up the ice and then either dump it in or try to sneak it by on the boards.  When this happens, the last guy back attacks and hopefully forces a turnover.
It is kind of boring, but it is effective – but it's important to remember that this isn't the only way Boucher coaches.  When he was employing this strategy, the Lightning did not have a very good team, and I do not believe it was constant; more of a called play, I believe.
This is just one example of the innovative mind of Guy Boucher and clearly Shanahan – who has hired Kyle Dubas and fired many of his scouts – is intent on doing things differently (as he flat-out said in his recent  press-conference), so it does seem that this is a quality that would appeal to the Leafs' brass.
Boucher does have NHL success – as a rookie coach he took the 2010-11 Lightning to within one game of the Finals, against the eventual Cup Winners, despite that team not being very good on paper.
He is known as an aggressive puck pursuit coach (meaning you probably shouldn't read too much into the video above) who relies on mobile defensemen and defensively minded forwards.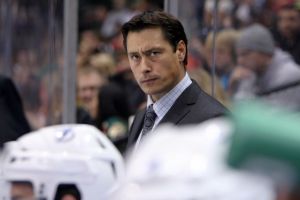 Now, that doesn't scream Maple Leafs, but it is the EXACT OPPOSITE of the Randy Carlyle/Ron Wilson Maple Leafs and so, logically, it makes sense the Leafs would want to pursue a coach with this type of vision.
See you later Polak and Robidas!!!!
To recap: Boucher has been successful in the NHL, he's innovative and open to new ideas (like the Leafs' management) his game seems tailored to the defensively responsible forwards/mobile defense that advanced stats suggest is the optimum way to play (and the Leafs are no doubt moving heavily in that direction).
Furthermore, the way things are done in Toronto, typically, is to hire the biggest name you can get and hope for the best (Pat Quinn, Brian Burke, Ron Wilson, Paul Maurice, Randy Carlyle) and so in the past, he may not even have been a consideration.  Today, he seems like an example of what Shanahan means when he says he "has no interest in doing things the same way they're always done."
Not that he needs it, but Boucher has my endorsement to become the Leafs next coach. Here's hoping they move on him in the next few days, as there are a ton of open coaching positions currently.
Covering the Leafs for the Hockey Writers.