by Jas Faulkner, contributing editor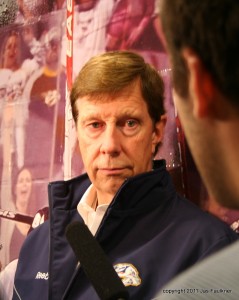 "That's the hard part of the business," Predators GM David Poile said when asked about sending Nashville's first home-grown player to Montreal in exchange for Hal Gill.  Poile continued that club on the other side of the table also played a part in his decision to send the young forward to the Habitants.  "It was tough decision to make.  It was because we were dealing with Montreal that we even considered trading Blake."
That was one of many considerations on the table for both GMs.  Whenever trades like this happen, the chatter can be a race to the bottom with speculation about who got the least for their money.  In this case, it looks like both clubs have a lot to gain with the transaction.  For Poile, it's the acquisition of size and experience. for Habs GM, Pierre Gauthier, it's a gain of a very different sort.
Montreal's GM will be getting some youth and two solid players with a lot of potential by making a deal for Robert Slaney and Blake Geoffrion.   He is also restoring part of one of the league's best known and longest family legacies.
" He has great  hockey genes."  Poile stated, "He comes from a great hockey family."
To say the least.
Blood Ties and Deeply Entwined Histories
Blake is the only fourth generation NHL player on the ice today.  His great-grandfather, Howie  Morenz, was the Habitants' first bona fide star.  Morenz's son-n-law,  Joseph, Andre Bernard Geoffrion would make a name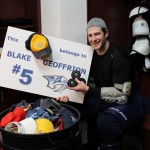 for himself  as a presence on Montreal's roster as well. His explosive style of play earned him the nickname  that described his favorite way to put a puck between the pipes.  Are you a fan of the slap shot?  Thank "Boom Boom" Geoffrion for making it attractive enough to be a part of every good player's skill set.  Blake's father, Daniel Geoffrion, has some august and historic club names in his CV as well, having been a Nordique, a Jet, and Habitant.
The youngest Geoffrion, who grew up in Florida and Nashville, originally wanted to play baseball, but blood ties, the tutelage of his father and grandfather and involvement in Nashville's Youth Hockey League led to time with the storied University of Wisconsin Badgers, Team USA and eventually back to Nashville as part of the Predators' roster.  Upon joining the Nashville club, first as a prospect with their AHL affiliate in Milwaukee and then as a part of the regular roster, Geoffrion brought the connection between the Geoffrion family and the Predators to full circle.  Predators GM Poile's first job as a part of an NHL front office was with the Atlanta Flames.  He was later promoted to General Manager and work closely with their first coach, Bernard Geoffrion.
Everybody Wins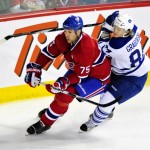 Geoffrion has a lot of live up to, given his pedigree.  Nashville is also depending on his success in Montreal because part of the trade includes a draft pick based on Geoffrion's performance as habitant.  Blake's past performance and the environment he is entering, one  that provides a combination of high expectations with the support and a profound sense of familial continuity may prove to be just what the young center needs to reach his full potential.
To accomplish this, Poile had to be ready to play some Spassky-level GM chess to get what the club needed to make it to the next level.
"If you're going to make a deal you have to pay the price.  I was prepared to do what it took to get Hal Gill.  Coach Trotz will agree that we needed to get some veterans and size.  I think with Gill we got everything we've been looking for.  Is he the fastest guy out there?  No.  But he has the ability to shut down players and is a proven quantity when it comes to the penalty kill. He gets out there and gets the job done."
Size isn't everything, though.  Poile added that Gill's experience was a one of the main reasons he chose him.  Given that this season's iteration of the Predators started out with more first and second year players with under thirty games than any other team in the league, this looks like a good move on his part.
Will Gill play a key role in the Predators' continued upward trajectory?  Will Geoffrion, now a part of his family's beloved Habitants prove that blood will tell?  Keep watching both clubs.  As the marketing wonks at NHL love to say, "History will be made."  This year the slogan may very well be prophetic.