When Ron Hextall announced the hiring of former North Dakota Head Coach Dave Hakstol to take the same position with the Philadelphia Flyers, the reaction from most Flyers fans was "who?"–which then prompted the local media to refer to the acquisition of someone outside of the organization as the beginning of a "culture change".
Three hundred and forty six times.
Hextall is being applauded for bringing in an outsider to take over the team, although he didn't stray too far from names he's familiar with on this one.  Dave Hakstol has probably been approached by NHL teams in the past, but his path to The Show isn't a very common one. From the USHL's Sioux City Musketeers to the University of North Dakota _______s and now the Philadelphia Flyers, Hakstol is the first head coach to make the jump from NCAA to NHL since Bob Johnson in 1982.
It's also worth noting that Hakstol coached Hextall's son Brett from 2008-11.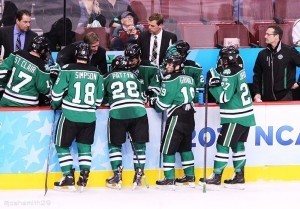 The resume of Dave Hakstol is impressive, specifically taking his team to the Frozen Four seven times in eleven years. Hakstol's greatest quality as a strategic coach was that he was able to adapt his coaching style based on the teams he had to work with. As much as a coach in the college game will try to build a roster around what style he wants to play, there are always years when the roster isn't quite what you had in mind. Hakstol could turn "rebuilding years" into "playoff years".
But just because he took a slightly different path to the NHL doesn't mean Hakstol represents a culture change for the Flyers. In fact, it means the exact opposite. Dave Hakstol is known as one of the most intense and intimidating men in the hockey world. Even North Dakota's journalists are scared of him.
His stare is legendary. Chris VandeVelde, who played for Hakstol from 2006-10, called it "scary". One of his most well-known moments behind the bench was flipping off a referee.
There are almost no stories of Hakstol making a joke, and you'd be hard-pressed to find a picture of him smiling. The Alberta-native was raised on a Western Canadian farm, and has spent almost all of his life in parts of the world with populations dwarfed by Philadelphia. He's as straight-laced as they come.
His preferred style of play is right up the alley of the Philadelphia Flyers too. Though Hakstol's adaptability is key, he's looking to play a physical, north-south style of hockey that wears down opponents. In college hockey nearly every game is played back-to-back, Friday and Saturday, against the same opponent. This year North Dakota lost 7 games in the regular season, but were 16-1 in Saturday games against the same opponent they played the night before. That one loss came on March 7th, the final game of the season before the NCHC Tournament. That could be huge if Hakstol's teams are competing in the playoffs.
All this represents is that the Flyers are staying the course. Craig Berube had a tough time controlling the locker room, but how different is Hakstol's demeanor from Peter Laviolette? Or Hextall himself? Not very. This will still be the rough-and-tumble Flyers. This team will still look to intimidate, play physically, and outwork you. For better or for worse.
Bantam, Midget, Junior, Pro hockey scout at International Scouting Services. Hofstra University alum.