Grab a snack, this is going to be a long one.
Worst. Trade. Ever.
Almost Wayne Gretzky trade bad, but not that bad, still horribly bad for Oilers. The kind of trade that makes you turn your PlayStation off hoping it didn't save bad. The kind of trade that potentially costs you a Stanley Cup down the road bad? Possibly!
Peter Chiarelli can now lay claim to being the only man in NHL history to have traded Phil Kessel, Tyler Seguin and now Taylor Hall. The Edmonton Oilers announced today, with much fan backlash, they've traded forward Taylor Hall to the New Jersey Devils for defenseman Adam Larsson.
Initially this looks like a landslide victory for GM Ray Shero and the Devils who have added two skilled forwards in the span of a week in prospect Michael McLeod (drafted 11th overall) and now Hall. New Jersey in itself was one of the worst ranked offensive clubs in the NHL in 2015-16, actually they were the worst at 2.22 GF/GP (let's not try to be nice about it). Edmonton had the 27th best ranked goals against per game at 2.95.
The honeymoon phase between Chiarelli and the Oilers fan base might finally be over now with this bombshell of a trade where it looks like Shero and the Devils got the best player in the trade. Remember again this is the guy who traded Phil Kessel to the Toronto Maple Leafs for what turned out to be Dougie Hamilton, Jared Knight and Seguin.
It's also the same guy that traded Seguin with Rich Peverley to the Dallas Stars for Loui Eriksson, Matt Fraser, Joe Morrow and Reilly Smith. Won one, lost the other and might have actually come out even (that's his hope) on this one.
But let's be real, this is a horrendous trade today. Did the Oilers mistakenly think they were trading Hall to the Arizona Coyotes for another top pairing defender in Oliver EKMAN-Larsson?
Related: Oilers Trade Hall To New Jersey 
Related: Hall Trade Could Cost Oilers A Stanley Cup
Trying NOT To Be Biased From Here On
This is straight up a trade for two clubs looking to address a need. It had to be done, but for Larsson?
The Devils can't score to save their lives and the Oilers can't keep pucks out of their own net to save theirs. Neither are playoff contending teams and both need to make a massive step forward roster wise if they are to compete in 2016-17. The Devils have been missing an impact scoring forward in their lineup and the Oilers chasing an ever elusive top pairing defender.
Oh boy let's break it down…
New Jersey Acquires Taylor Hall
Hall, 24, gives the Devils a top five left-wing in the NHL coming off a 26 goal 65 point season. He's had some injury trouble but when healthy one of the best left-wing players in the world who's represented Canada internationally several times.
An elite skating forward that'll help the Devils offensive transition game, Hall generates a majority of his opportunities on the rush. Looking at his hero chart he's a bonafide star forward and he'll come with a cap friendly $6.0M cap hit until the end of 2019-20 when he'll become a UFA. Four more years for a forward with an excellent cap hit that could still become a 80-point scorer.
Related: Oilers Trade Matter Of When, Not If
Related: Hall For Subban?
Oiler fans will need to come to realization that as much as Hall signified the start of the initial rebuild in 2010, he also signifies the Oilers inability to reach potential. He was the cornerstone before Connor McDavid arrived, and this is now McDavid's team, not Hall's. I'll avoid any trashing of a players locker room issues, there were rumoured to be some issues with Hall muttered about in the media but without fact, it's fiction.
This comes down to need again. If the trade market has taught us anything it's that unless you're willing to trade a player for a package of a  draft pick and prospect where you're more than likely NOT going to get good value, you have to make a player for player, need for need move. The Columbus Blue Jackets traded a big No. 1 center in Ryan Johansen to the Nashville Predators for a future No. 1 defenseman in Seth Jones. The Montreal Canadiens just traded a No. 1 offensive defenseman in PK Subban to the Nashville Predators for a No. 1 two-way defenseman in Shea Weber.
Edmonton Oilers Acquire Adam Larsson
And now that you're gone, I just want to be with you… Sorry I had to channel my inner Enrique to sooth my soul.
The Oilers needed a No. 1 defenseman, is Larsson the right guy? Only time will tell. In the present the Oilers are getting a 23-year-old two-way defender from Sweden with limited offensive potential. As per Chiarelli's own admission this is not a sexy No. 1 defender, in fact No. 1 is HIGHLY debatable considering his hero chart. Some have to feel bad for a guy who may be the fanbases new whipping boy (Justin Schultz 2.0) by no fault of his own.
Larsson is a good hockey player however.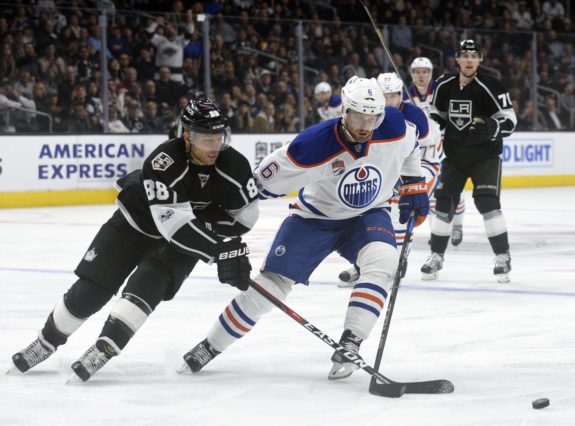 This is a strong puck-mover with good NHL size for a defender. He has a decent shot from the point and is a big minute guy for the Oilers backend. He needs to get more involved physically and needs to shot the puck and  get involved more offensively to really realize his potential. Remember this is the guy drafted the same year as RNH who everyone thought was the best defenseman in his draft and many thought he was going to be the first overall pick.
Related: World Baffled By Lopsided Trade Involving Former 1st Overall Pick
Related: Oilers Bet On Larsson
Edmonton used Larsson as a comparable for Oscar Klefbom's recent extension and if all things turn out then the Oilers top pairing could be had for a mire $8.33M. Larsson and Klefbom both have similar $4.16M cap hits. Remember PK Subban comes in at $9.00M per, Shea Weber comes in at $7.87M and the likes of Kevin Shattenkirk could've cost the Oilers $6.5M plus. The Oilers got an economically sensible player that's signed until he's 28 years old (2020-21).
Larsson came on strong last year after a few years struggling to adjust to the pro game and he finished the year averaging 23:20 TOI, his high last season was 28:36. If Larsson doesn't pan out as a No. 1, Oiler fans might be kicking themselves for losing a talent like Hall, but they didn't make the playoffs in either of Hall's six seasons in Edmonton. The fact is they were a perennial basement dweller.
Change is necessary.
You Have To Lose Something To Get Something
The Oilers still have plenty of options upfront with moving Leon Draisaitl to his off-wing and bumping Ryan Nugent-Hopkins back into the No. 2 behind McDavid, they also have a glut of wingers right now that they can roll three offensive lines, a growing  trend in the NHL. Just look at the Stanley Cup champions in Pittsburgh who rolled three lines with Sidney Crosby, Evgeni Malkin and Phil Kessel all contributing on different lines.
According to Chiarelli, Hall was upset at the trade as he saw himself as part of the solution in Edmonton and not a sacrificial lamb to bring a No. 1 defender to town. The media and insider speculation was growing that an RNH move would bring in a defender, it made sense too. The Oilers had three potential No. 1 centers, two on ELC's and another making $6.0M. It just goes to show how much Chiarelli values RNH's two-way game and ability to play up and down the lineup.
This is a team that has drastically made some movement. They've brought in Cam Talbot, Griffin Reinhart, Zack Kassian, Patrick Maroon and now Larsson. Until July 1st is here we don't know and if we've learned anything from the NHL we can't guarantee but can speculate that Milan Lucic and Jason Demers will be joining the team via free agency as well. This is a massively improved Oilers squad that has something they haven't had throughout this rebuild; toughness. The Oilers are suddenly a more difficult team to play against, if Lucic and Demers are actually added to the team.
Let's fantasy armchair GM this for a second and see what this roster looks like with Lucic and Demers:
GOALTENDERS
Cam Talbot $4.1M
Laurent Brossoit $750K
Chiarelli has stated that the Oilers will pursue a No. 2 backup via free agency and give Brossoit an opportunity in camp to compete for job.
DEFENSE

Oscar Klefbom $4.1M
Adam Larsson $4.1M
Andrej Sekera $5.5M
Jason Demers $5.0M
Brandon Davidson $1.4M
Darnell Nurse $863K
Griffin Reinhart $863K
Mark Fayne $3.6M
This is all pending a speculated addition of Jason Demers as a right side defender. Andrew Ference ($3.2M) and Jordan Oesterle ($585K) are both wildcards. Ference could be moved in a negative value deal or placed on LTIR for his final year. Oesterle would slide into top eight if Fayne is moved.
FORWARDS

Milan Lucic ($6.0M)
Connor McDavid ($925K)
Jordan Eberle ($6.0M)
Patrick Maroon ($1.5M)
Leon Draisaitl ($925K)
Jesse Puljujarvi ($925K)
Benoit Pouliot ($4.0M)
Ryan Nugent-Hopkins ($6.0M)
Nail Yakupov ($2.5M)
Matt Hendricks ($1.8M)
Mark Letestu ($1.8M)
Zack Kassian ($1.5M)
Lauri Korpikoski ($2.5M)
Anton Lander ($987K)
Iiro Pakarinen ($725K)
Lucic is not signed and if he were to be added he'd be replacing Hall on the top unit. Puljujarvi is also unsigned but will likely compete for a top six role. Both cap hits are estimates. The Oilers would have some cap problems and be pushing up against the ceiling. They'd need a taker for Korpikoski and possible see if they can move Letestu who struggled as the No. 4 center last year.
Best Of Early Twitter Reactions
Bergevin and I were going to trade with each other (Hall for Subban), but we decided at the last-minute that this would be more fun.

— Peter Chiarelli (@FakeOilersGM) June 29, 2016
Hey #oilers fans – Lucic has 62 goals in last 3 years, Hall had 67 goals. Not saying Lucic = Hall re goals, but are we overreacting a tad?

— Rob Anderson (@AirdrieRob) June 29, 2016
The really incredible thing is that it appears Edmonton has traded Taylor Hall and still needs a first unit PP defenceman.

— Jonathan Willis (@JonathanWillis) June 29, 2016
Pretty much sums it up, right? -bm #Oilers pic.twitter.com/YLvteUPdqy

— OilersNation (@OilersNation) June 29, 2016
Taylor Hall said Edmonton was "taken from him," when discussing chat with Chiarelli. #Oilers

— Greg Wyshynski (@wyshynski) June 29, 2016
Hall for Adam Larsson straight up? There's maybe 20 D-men I'd trade Hall for straight up. Larsson isn't within a $5 cab ride of that list

— Robin Brownlee (@Robin_Brownlee) June 29, 2016
I'm preparing for one of the worst trades of the modern era here.

— Travis Yost (@travisyost) June 29, 2016
Well, it appears Bergevin was wrong. The NHL does make PlayStation trades. #Hall #Oilers

— BrianWilde (@BWildeCTV) June 29, 2016