P.K Subban is a nice person. He signs autographs, takes pictures with fans, and lets his likable personality shine. He's also very generous, highlighted by the incredible donation he made to the Montreal Children's hospital. But just because you're nice, it doesn't mean you don't have ego, and at times it seems as though Subban's ego is bigger than the team. If you listen to sports talk radio in Montreal, you'll quickly notice that Subban is a polarizing figure. The fans are scared to lose him, yet still scrutinize his every move. They have questioned the validity of his injury, calling in to say they saw P.K out on the town, till all hours of the night. I suppose being injured means you have to stay home until the season's over.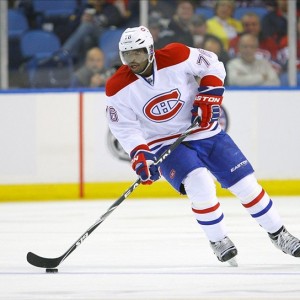 (By the way, Michel Therrien said it was up to P.K when he came back, but Subban said it was up to the doctors). While his teammates are fighting out on the ice, P.K is living it up, promoting himself, his clothes and his image. If I were a teammate, that wouldn't sit well with me. He may be done for the season, but there are still games to be played. Perhaps that's a reason the players chose Max Pacioretty for the teams humanitarian award. Maybe P.K isn't the easiest guy to get along with. I'm not inside that dressing room, so I don't know.
But we do know that he isn't always trusted on the ice, evidenced by his minuscule usage at the 2014 Olympics, and his exclusion from Team Canada's initial World Cup roster. The Habs weren't even convinced they wanted to give him a long-term deal. The owner had to step in to help settle contract disputes. His skill is undeniable, but is it worth everything that comes along with it?
Brian Wilde of TSN 690 suggested that Subban could be traded before July 1st (when his no move clause kicks in), but also made it clear he thinks it's unlikely. If you move a guy with Subban's talent, you'll probably lose the trade. And who's going to take his place? The Habs have a lot of good young blueliners, but none of Subban's caliber. The Habs don't want to rebuild. They want to take another run at the Cup with a healthy Carey Price. But we all know they have plenty of work to be done. So is Subban legitimately on the trade block?
McKenzie said he'd be shocked if MTL management doesn't sit down & discuss options for all players, including PK before his NTC kicks in.

— Platinum Seat Ghosts (@3rdPeriodSuits) April 8, 2016
Is any player in the world untouchable? Sidney Crosby, Carey Price, Connor McDavid, Jonathan Toews, to name a few? Would you put P.K Subban's name on that list? Just because a player is really good, it doesn't mean he's a fit on every team. Some players need a fresh start. Sometimes they just don't mesh where they are. But as I've mentioned, a Subban trade is a trade the Habs will probably lose. Would there be willing partners? Of course. Could the Edmonton Oilers be one of them?
There's like six players in the world I'd trade Taylor Hall straight up for. I think Subban is one.

— Travis Yost (@travisyost) April 8, 2016
I've said many times that I don't think the Oilers should trade Taylor Hall. He is a top winger in the NHL, and they will be hard pressed to replace his production. Does he play a little reckless sometimes? Sure. Does he need to play more with his linemates and not try to create everything by himself? Yes. But I believe his style of play still has room to grow and evolve to make him into an even more impactful player. Because the Oilers are so bad, however, it appears as though no one outside of McDavid and Leon Draisaitl is safe. Is a Hall for Subban swap a win for both sides?
For some reason, Hall gets blamed for a lot of the problems in Edmonton. And certainly he has been part of their core for a long time now, but I tend to believe that he will become part of the solution. Shipping him out-of-town may end up being a mistake. The Oilers badly need defensive help, and the Canadiens need more scoring. But would that trade (unless it involves other pieces), end up being somewhat of a lateral move for both teams?
A Subban for Taylor Hall trade is fairly even value. Granted, it involves both teams pointlessly digging a huge hole to fill another.

— Dave (@BmoreDaveS) April 8, 2016
PK Subban, Mike Condon and a Third Round Pick for Edmonton Oilers Taylor Hall, Ryan-Nugent Hopkins and a Second Round Pick. Comment/Like

— Its_Mr_Clutch (@Its_Mr_Clutch) April 8, 2016
How would Subban fit in Edmonton? It's interesting that there seems to be leadership questions on both the Habs and Oilers, and you wonder how P.K's personality would mesh in that room. He also costs a lot of money (a cap hit of $9 million per), though locked up through the 2021-22 season . He is about to turn 27 years-old, considered the prime for a defenceman. Hall is 24 years-old, and signed through the 2019-20 season at a $6 million dollar cap hit.
With both teams eliminated from the playoffs and a long summer ahead, you had to know trade rumors will pretty much dominate the headlines. I'm sure the Habs would keep listen to offers on Subban, even if it's unlikely they trade him. And as for the Oilers, well they could move just about anyone at this point.