The Hamilton Bulldogs are first place in the OHL's Eastern Conference. That's good news, however there is something that has been troubling with the team. They are the have scored the lowest amount of goals of any team in their division and only two other teams have scored less than them. To help amend that problem, Bulldogs General Manager Steve Staios has made deal. The Bulldogs have traded Connor Roberts, a second and third round pick in 2019 and a third round pick in 2020 to the Flint Firebirds in exchange for Nicholas Caamano and Ryan Moore.
Here is what Staios had to say about the two players he acquired.
"We are excited to welcome Nicholas and Ryan to the Bulldogs family… They are exactly the type of players that the Hamilton Bulldogs covet.  Both provide us with the speed, skill and work ethic that will help us accomplish the goals we have set for our hockey club."
A New Leader in Town
Those goals probably have a lot to do with actually scoring goals. The Ancaster-native Caamano's 12 goals on the season are already good enough to place him first on the Bulldogs in that category. Moore has eight goals which places him in fifth place in goals. They both have a total of 21 points, which ties them with Matthew Strome for third in points.
In order to bring in that goal scoring they had to give up those three picks, but more importantly, they had to give up Connor Roberts. He was the first player the Bulldogs ever drafted after moving to Hamilton from Belleville. It clearly hurt Staios to move Roberts.
"Unfortunately in this league if you need to add some significant pieces, they're looking for your best young players and Connor Roberts was the player they were looking for and it was very difficult for me to get past that… I can't say enough about what he meant to our team and our community and the type of player he is."

"That's the most difficult part about this — we are giving up what we think is a prototypical Hamilton Bulldog, but obviously other teams are coveting the same thing."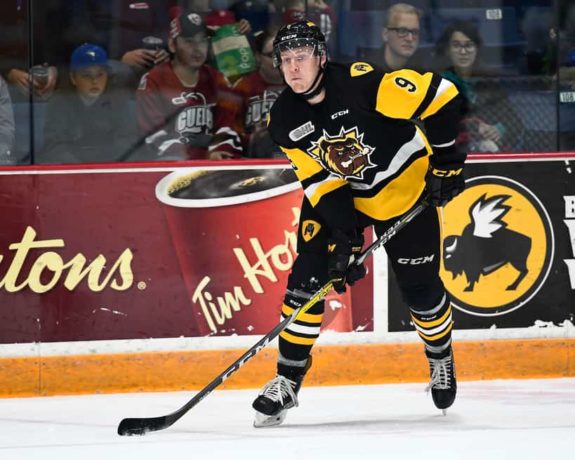 Roberts was a player that was looked at as a player was going to take a step forward in his second OHL season. That hasn't exactly happened. He has only three goals and five assists for eight points on the season. While he hasn't been showing up on the scoreboard, he has been playing with more toughness recently. It looks like he could be on his way to breaking out. It just won't be with the Bulldogs.
The Firebirds also get the player that will be in the OHL the longest. Roberts is draft-eligible in the 2018 NHL Draft and has at least another year, if not two, to play in the OHL.
All or Nothing
This move signifies that the Bulldogs are going for it this season after being eliminated in the first round last season. Moore is an over-ager so this will be his last season in the OHL. With Caamano, he looks to be a player that will be moving up to the AHL next season. He was drafted by the Dallas Stars in the fifth-round of the 2016 NHL Draft. He had a strong training camp with the Stars and people were wondering if he'd get the nine-game treatment.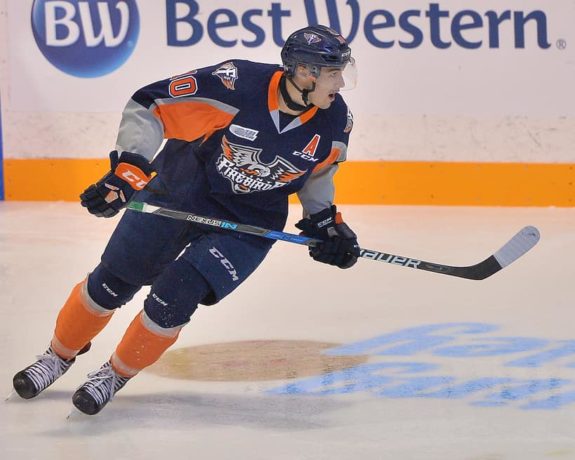 So the Bulldogs have acquired two players that might not be with them as soon as next season. With the Bulldogs holding a slim lead in the standings, this move needs to help them improve their goal-scoring. The majority of their losses have come by one-goal in low-scoring games. Caamano and Moore should keep that from happening so often, especially if Kaden Fulcher and Nick Donofrio keep up their strong play.
Caamano and Moore should make their debut Saturday night as the Bulldogs take on the Ottawa 67's. The Bulldogs will also debut their new third jersey in the game.