Junior hockey in Canada is insanely competitive. Teams have to serve two or three masters simultaneously; developing players efficiently enough to have a winning program, but knowing the right time to flip those assets for useful futures – all while hopefully producing enough National Hockey League talents to lure future prospects to their organizations.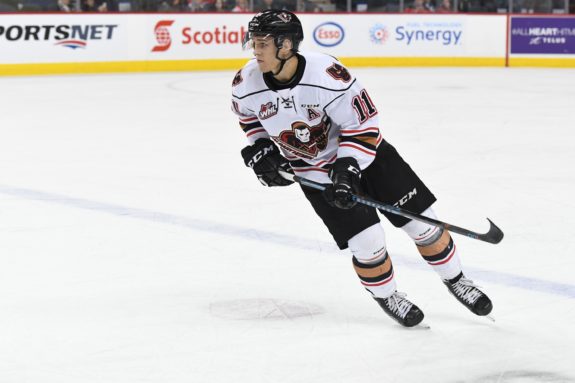 The Calgary Hitmen are in a bit of a rebuilding cycle after enjoying a prolonged period of success under former general managers Kelly Kisio and Mike Moore. But despite their placement near the bottom of the WHL's standings, some smart asset management has put the Hitmen in the proverbial driver's seat as they're potentially the team most able to tilt the balance of the WHL's upper-end. The first domino fell this past weekend, as they sent two potent offensive weapons to the Swift Current Broncos.
Breaking It Down
The Hitmen traded forwards Beck Malenstyn and Matteo Gennaro, along with a fifth round pick in the 2018 WHL Bantam Draft, to the Broncos in exchange for forwards Connor Chaulk, Riley Stotts and Jacob Prokop, defenseman Dom Schmiemann, goaltender Ethan Hein and a second round pick in the 2018 WHL Bantam Draft. The trade seems to suit the needs of both clubs, something noted by Hitmen general manager Jeff Chynoweth when he spoke with the media following Calgary's 2-1 overtime victory over Red Deer.
The Hitmen give up an offensive-minded 20-year-old in Gennaro but get back one in Chaulk who can play in any game situation, and is particularly renowned for his two-way play. For a team with a very young blueline group, having a smart 200-foot center that can help out defensively is a big boost. The 18-year-old Schmiemann gives them an experienced defender that can play a ton when Jake Bean and Vladislav Yeryomenko head to the World Juniors in December. The 17-year-old Stotts is a highly-touted player who had success at the bantam and midget levels but hasn't yet produced in the WHL – though he was stuck behind a stacked forward group in Swift Current. The 15-year-old Hein gives the Hitmen a potential future netminder, while the 17-year-old Prokop – older brother of Hitmen prospect Luke Prokop – is probably headed to the NCAA but gives the Hitmen another potential future forward.
Just a few weeks after division rivals (and 2018 Memorial Cup hosts) the Regina Pats added defender Cale Fleury, Swift Current bolsters their already-scary offense with the arrival of Gennaro and Malenstyn. A seventh round pick of the Winnipeg Jets at the 2015 NHL Draft, Gennaro put up 43 goals and 80 points last season but didn't come to terms on a contract and now is both a free agent and one of the most productive offensive players in the WHL. Selected in the fifth round of the 2016 NHL Draft by Washington and subsequently signed to a contract, Malenstyn has been limited to four games this season due to an injury but when healthy is a very intelligent and versatile forward that can play in any game situation. Their acquisitions give the Broncos a boost in the intensifying arms race in the WHL's wide-open Eastern Conference.
Future Moves
A quick glance at the Hitmen roster suggests two things: the trade leaves the Hitmen the ability to compete for a playoff spot in a fairly poor Central Division, and there are probably more moves coming.
Hitmen GM Jeff Chynoweth: "We have other possible players that we can look at if the deal makes sense. We're not giving our players away & we're not throwing in the towel for the season. We expect to make the playoffs. That's the Calgary Hitmen way & that's not going to change."

— Laurence Heinen (@lheinen21) November 26, 2017
The Hitmen currently have two offensive-minded players on their roster that won't be back in the WHL next season: Vancouver Canucks prospect Jakob Stukel and Carolina Hurricanes prospect Jake Bean. Stukel's an overager this year, while Bean is under NHL contract and will almost definitely be playing in the Hurricanes system next season. With the Hitmen in the playoff mix but not contending for a division lead or expected to advance far in the post-season, the likely scenario is they will shop Stukel and Bean in an effort to bolster their roster for next season.
Despite Regina and Swift Current having made big moves already, several WHL clubs are still looking to add to their rosters: these likely include Victoria and Portland in the Western Conference, along with Brandon, Medicine Hat and Moose Jaw in the Eastern Conference. With multiple assets to shop and multiple suitors looking to make deep playoff runs, the Hitmen are well-positioned heading towards the WHL's trade deadline in mid-January.