The Boston Bruins have had an interesting situation on their hands over the last few weeks. While they are most certainly not in the middle of a goalie controversy, the fact that both Tuukka Rask and Anton Khudobin are fighting for starts has created an interesting dynamic in the crease.
Rask, the Bruins' $7 million per year goaltender, has struggled mightily this season. His 3-7-2 record highlighted by a 2.89 goals against average and a .897 save percentage has left many criticizing the Finnish-goalie to no end. In contrast, Khudobin has compiled a 7-0-2 record with a very impressive 2.22 goals against average and a .932 save percentage. It's led to murmurs of Khudobin being the better goaltender and the Bruins being unable to win with Rask as the starter. To put it bluntly, both of those claims are asinine and hardly worth the time of day.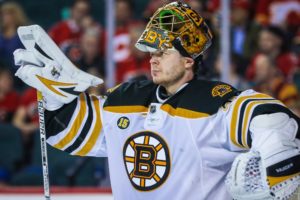 Rask is still the best goaltender on the Bruins roster (and it isn't even close). Despite his struggles, Rask is still a very good starter and teams with worse goaltending have won Stanley Cups in the NHL. That being said, riding the hot hand of Khudobin in net has absolutely been the right call as of late. Just because Khudobin isn't the better of the two goalies, he's playing better hockey than Rask and has helped the team out of the basement of the league and into a playoff spot.
Until Rask can find his groove, Khudobin should continue to get a lot of time between the pipes. That being said, Rask can't ride the pine forever and he can't continue to find himself annoyed with the coaching on the team. As is the case with any competitor, nobody wants to sit and nobody wants to lose their job. That remains true with Rask who will get a chance to redeem himself Sunday against the Edmonton Oilers.
Starting Rask at the Perfect Time
The decision to start Rask makes a lot of sense. For starters, the Bruins' starting netminder hasn't played in a game since Nov. 15 against the Anaheim Ducks – a game that saw him allow four goals on 27 shots (good for a .852 save percentage) in a losing effort. Keeping a goalie who has played in at least 64 games in each of the last three seasons away from the net simply isn't a good idea. Struggling or not, he'll never turn things around if he remains on the bench until Khudobin loses a game.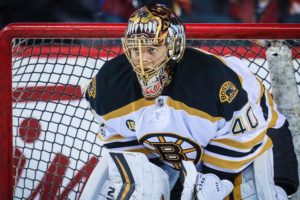 It comes down to a few things. If Rask isn't playing, he won't be able to make the adjustments needed to get better – and even if he was, keeping him on the bench wouldn't let the team know about the improvements anyway. Outside of just the physical aspect of it, the issue of morale has already been discussed. Upsetting a player is not the be-all end-all.
As a head coach, Bruce Cassidy needs to do what's best for his team. To this point, what's best for this team has unquestionably been Khudobin. Still, that doesn't mean Rask is now the backup and it doesn't mean player morale shouldn't be considered when making personnel decisions.
Outside of those reasons, the decision to start Rask against the Edmonton Oilers on Sunday rather than the Tampa Bay Lightning on Wednesday is a smart one by Cassidy. Not only did Khudobin struggle a bit against the Penguins (both in positioning and consequently with goals scored), but starting a goalie for the first time in weeks against the Lightning would be arguably the worst decision a coach could make. Instead, Rask gets a struggling Oilers' team that could give him the confidence he needs to build some sustainable success.
Which Goalie Starts Moving Forward?
While it may seem like a difficult situation for Cassidy to be in as a head coach, the reality of the situation is that he's in a very good spot. So many teams would love for their backup goaltender to perform at the level that Khudobin has. Whether or not he plays textbook goaltending or not, he's produced results. If the Bruins can get Rask back on track, the Bruins goaltending situation could be among the best in the league.
When it comes to making a decision on who starts, that should be answered entirely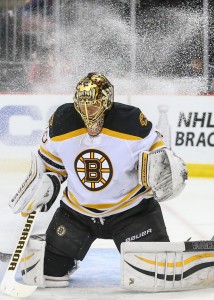 by play on the ice. If Rask steps in Sunday and shines against the Oilers, there's no reason to bench him in favor of Khudobin against the Lightning.
If Rask struggles, Khudobin should play against the Lightning. It's hard to suggest flip-flopping each game and starting a goalie in consecutive games only if they win, but Cassidy has already suggested that the decision doesn't necessarily come down to wins, but by performance and the situation (such as the game against Edmonton followed by Tampa Bay.) Additionally, what better way to motivate a goalie than by letting them know that their minutes are at risk?
Still, Khudobin has made it known that playing helps find a rhythm from game-to-game.
"I think for every goalie, when you're playing more and more and more, you always get in a rhythm, you feel the puck better, you kind of, you see the puck better, and of course, for me personally it's easier," Khudobin said. "I mean, it's not really easy to play in this league, but when you're in the rhythm, then it's easier for me."
In the end, it'll come down to which goalie performs well enough to start and Khudobin won't be rooting against Rask despite his minutes being on the line.
"It's never easy. … He's going to get in games – I don't know when – but I hope he's going to get in a rhythm too, because we both do the same job," Khudobin said of Rask. "My job is the same, and if I'm going out there then I try to play, and try to get the win. If he's going to go there, then same thing, and I wish him good luck in everything. So, there's nothing changed about that."
It'll be an interesting situation moving forward. Best case scenario, both goalies play well and force Cassidy into making a tough decision each and every night. Right now, the decisions shouldn't come down to pleasing everybody. Instead, it should come down to making the best decision for this hockey team in the short-term and the long-term.