One-third of the way into the shortened NHL season, there has hardly been a lack of surprise and excitement. The Chicago Blackhawks have yet to lose in regulation, the Buffalo Sabres fired Lindy Ruff after 16 years, and all three Eastern Canada teams are currently in playoff positions. Individually, the season has been very interesting as well, with certain faces emerging from the crowd that would (and some who would not) be expected to shine. While it is very early in the season, the awards watch for the five main NHL awards are in full swing and ready to be considered. Here are the favourites to win the most important individual awards, nearly halfway through the year:
Hart Trophy: Sidney Crosby
The hart  trophy is awarded to the player that is the most valuable for his team in the National Hockey League. For that reason, this trophy cannot be given to early favourite Patrick Kane, who has seen his entire team produce in every aspect of the game, en-route to an historic start. It also explains why other front-runner Thomas Vanek cannot win the award, as his best effort has not earned his team a potential playoff spot. Rather, the early Hart Trophy favourite should be the best player in the league: Sidney Crosby. Crosby leads the Pittsburgh Penguins in shots, assists, points, Average Ice Time (for forwards), powerplay points, faceoff wins, faceoffs taken, and +/-. He has the teams largest Corsi, starts the majority of his shifts in the defensive zone, and finishes a majority of them in the offensive zone. Without Crosby, the Pittsburgh Penguins would be an entirely different team, one that would be lacking an identity and likely many wins. He defines a player that is unequivocally valuable to his team, more than any other player in the National Hockey League. For that reason, he is the favourite to walk away with the Hart Trophy this season.
Honourable Mentions: Patrick Kane, Thomas Vanek, Steven Stamkos
Norris Trophy: Francois Beauchemin
In many situations, the Norris Trophy is awarded to the National Hockey League defenseman that racks up the point totals, and is a vital component to his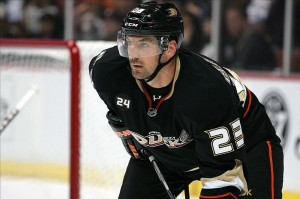 team's offensive success. This year, the Norris Trophy favourite is somewhat of a dark horse, most notably because not only does he not fit the mold of the prototypical Norris winner, but he isn't even on the radar. Francois Beauchemin, the man who had seemed like his career was finished upon leaving Toronto, has found his stride once again, and in a more dramatic way than ever. Through 16 games, Beauchemin has recorded 12 points, averages 24 minutes of ice time a night (including 3:30 shorthanded), and is a staggering +15, good for first in the National Hockey League. Is it likely that he keeps up this pace? Probably not. However if he manages to, Beauchemin will have a combination of offensive potency and defensive responsibility that defines a top defender. What further helps Francois' case for winning the award is that no defenseman thus far has separated themselves as the best of the year, whether that be through scoring goals or standing out. It would be a shock for him to win it in June, but as of now Francois Beauchemin appears to be the front runner for the Norris Trophy.
Honourable Mentions: Alex Pietrangelo, Kris Letang, Zdeno Chara
Vezina Trophy: Pekka Rinne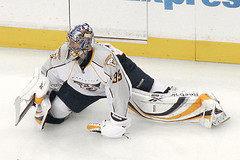 No offense in the NHL is more anemic and non-existent most nights than that of the Nashville Predators'. Through 19 games, the Predators only average 1.95 goals per game, which slates them as 30th in the league and the only team to average less than 2 goals every contest. They fire a paltry 24 shots on target and have been shutout an astonishing five times. That caliber offense usually leads to a lottery pick and a sign to rebuild a struggling team. But the Preds are sitting in a playoff position, contending for home-ice in the first round. How is this possible? Because of Pekka Rinne. Rinne has been outstanding through his 17 games played, with a 1.77 GAA and a .931 sv%. Those stats alone are sufficient to justify one as a Vezina Trophy winner. Add to those facts that he has 7 wins with a non-existent offense and has planted them firmly into a playoff spot, and it's a no-brainer. Pekka Rinne is the favourite for the Vezina Trophy, who might have trouble carrying that piece of hardware and his team at the same time.
Honourable Mentions: Craig Anderson, Viktor Fasth, Carey Price
Jack Adams Award: Bruce Boudreau
It was just a few months ago where people were preparing for the collapse of the Anaheim Ducks. The team had just finished 6th last, Bobby Ryan was unhappy being called the scapegoat, Jonas Hiller had not returned to pre-vertigo form, and star players Ryan Getzlaf and Corey Perry seemed destined to leave the Golden Coast in 2013. However a bolstered defense, a new goaltender, and some role players have given 2nd year coach Bruce Boudreau the tools needed to turn the ship around. Boudreau, otherwise known as Gabby, is a player's coach and promotes a high-flying offensive system, as seen during his tenure with the Washington Capitals. So far, it appears as if Boudreau has made a serious impact in the room with his new team. The Ducks are 13-2-1 this season, sitting third in goals scored per game and fourth in powerplay percentage. Boudreau has gotten his star players such as Getzlaf and Perry to play to their potential, energized the veterans such as Selanne and Koivu, and has most notably re-juvinated Francois Beauchemin's career, who is putting up fantastic numbers. If the Ducks continue this torrid place throughout the year, there should be little doubt that Gabby takes home the Jack Adams Award.
Honourable Mentions: Paul MacLean, Michelle Therrien, Joel Quenneville
Calder Trophy: Jonathan Huberdeau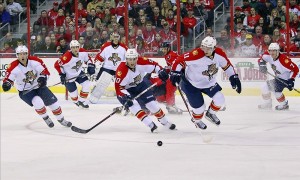 Of all of the awards that are presented to a wide variety of NHL players, the Calder Trophy is often the hardest to handicap prior to the announcement. Players rarely produce numbers in their first year that aren't similar to those of the other nominees, and as a result the award can rarely be predicted well. However, this year the favourite appears to be Florida Panther Jonathan Huberdeau. Huberdeau, the 19 year old rookie, has certainly made an impact on his team, potentially more than any other rookie. He has 8 goals and 13 points, the most goals among all first-year players and the most points among all Panthers. His 8 goals also means that he accounts for approximately 20% of all of Florida's goals. He averages 16:00 of ice time a game, good for second among rookies. In addition, he has a +2 rating, incredibly impressive considering Florida's -23 goal differential this season. Ultimately, what separates Huberdeau from the rest of the Calder Cup Nominees is his ability to make an impact on a seemingly talent-deprived team. For that reason, Huberdeau is the favourite for the Calder Trophy in 2013.
Honourable Mentions: Vladimir Tarasenko, Cory Conacher, Justin Schultz