The Rangers currently sit in tenth place in the Eastern Conference.  At one game over .500 (8-7-2), this is not the team many expected to see in New York this season.  As the Blueshirts look to turn things around, they need to simplify their game, and their coach is working to remind them to do just that.   Earlier today, John Tortorella gave some very specific instructions at practice:
https://twitter.com/stevezipay/status/306079146516295680
That's what we want, right?  "Shoot the puck!" We all say that, especially the guy in the blue seats who screams "Shoot!" at every opportunity. But do the Rangers really need to shoot more, or is it something else?
Shots on Goal
The Rangers are ranked 12th in shots on goal, averaging 29.5 per game. They're certainly finding opportunities to get the puck on goal. Their actual scoring is much lower. They sit 23rd, with an average of 2.35 goals per game. That puts the Blueshirts at a team shooting percentage of 8.0%, which is 25th in the league. The Rangers are taking shots, but they're not scoring enough. Aside from shooting more, what should the team work on?
Missed Shots
It feels like the Rangers are always missing the net. Solid scoring opportunities are wasted by shots that sail wide of the net. But how bad are the Rangers when it comes to missed shots?
Suprisngly, the Rangers are right in the middle of the pack. They're ranked 14th with 11.2 missed shots per game. The Winnipeg Jets lead the league with 14.1 missed. Ottawa is second with 12.9. Of course, the Senators also lead the league in shots on goal, so it appears that Paul MacLean's boys are throwing anything at the net. In order to balance that out, let's look at missed shots relative to shots that made it through. Stats below are on a per game basis.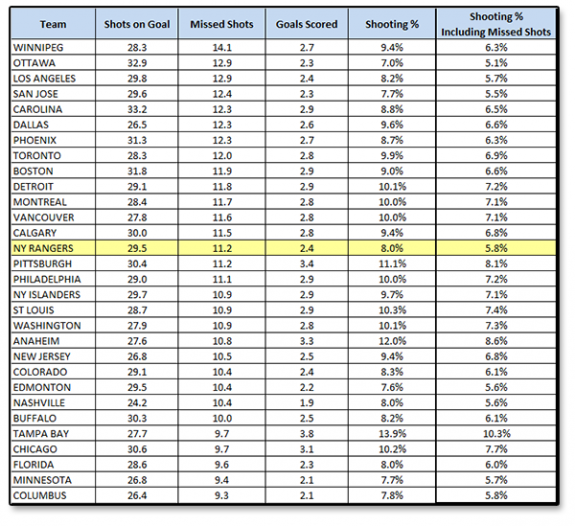 Again, the Rangers are right near the middle, ranked 16th with 27.6% of attempted shots missing the net. Winnipeg again leads the league with over 33% of their shots missing the net. (The best team? Not surprisingly, the undefeated Chicago Blackhawks lead the league in this category, with only 24.0% of their shots going wide.)
Individual Breakdowns
Defensemen miss the net more often than any other position. They're shooting from farther away and often more likely to fire a less-accurate slap shot than forwards. Across the league, defensemen miss 33.6% of their shots. The Rangers blueliners are actually better than average, with only 32.9% of shots missing.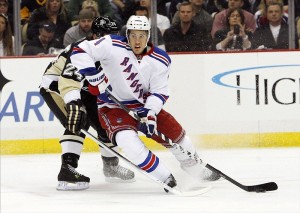 Looking at the actual players, we start to see some differentiation. Matt Gilroy, at 18.8% missed, is most likely to get a shot on net. He's followed by Dan Girardi (21.3%) and Anton Stralman (22.9%).
Worst on the team is Marc Staal (56.3%), who actually misses the net more times (18) than he hits it (14). He's followed by Michael Del Zotto at 38.9%. Del Zotto misses the net just slightly more frequently than the league average. The frustrating part for Rangers fans is that he's doing it on the point of the team's 29th-ranked power play.
Del Zotto averages more power play time – 3:17 per game – than any other defenseman on the team, nearly a minute more than second-ranked Dan Girardi, and over 33% of his shots are missing the net. Even Del Zotto's solid 9.1% shooting percentage – 20th among blueliners – becomes far less impressive when you factor in his missed shots. Including the times he shoots wide, he's only scoring on 5.6% of his shot attempts.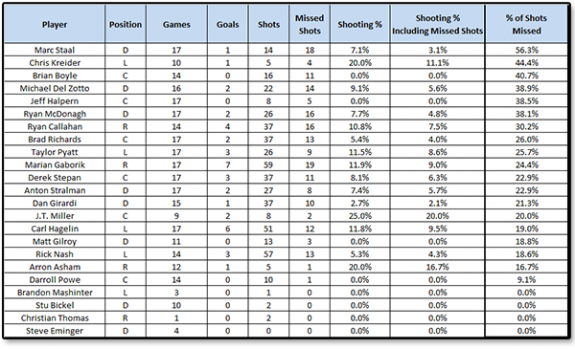 Clearly, if the team is going to shoot more, they need to make sure they're hitting the net with the puck.
Up front, the Rangers have a few players who struggle to get shots on goal. Rookie Chris Kreider leads the team, with 44.4% of his shots missing the net. That's well above the league average of 27.1% missed shots for forwards. It's also way up from his numbers in last year's playoffs, when he was at 27.5%. Kreider's shooting percentage also plummets when you factor in how often he misses the net, going from a respectable 20.0% down to 11.1%.
On the flip side, Rick Nash leads the Rangers with only 18.6% of hit shot attempts missing the net. Most of his shots are getting through, but he's still not scoring. Why?  His accuracy.
Shooting Percentage
Nash has a stunningly-low 5.3% shooting percentage. For all the shots he's getting through, he's just not scoring. This is far below Nash's career average of 11.2% shooting percentage. You'd have to expect him to rebound and pick up his scoring once he's healthy, but how high can he go? Can he return to those double-digit shooting percentages from two seasons back?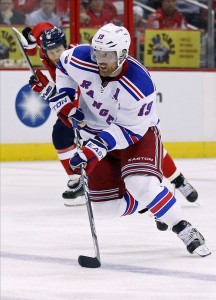 Right behind Nash in shooting percentage is Brad Richards at 5.4%. Unlike Nash, Richards has been improving his accuracy over the past three seasons. His 10.9% shooting percentage last season was his best since his rookie season way back in 2000-01. He should be expected to return to those kinds of numbers and find his way back on the score sheet on a regular basis.
Both he and Nash were brought in – and paid top dollar – to put up points, and this season neither one of them are doing a very good job if getting tehir shots past opposing goaltenders.
What Can the Rangers Do?
Shooting the puck is good. Statistically, though, even an extra three shots per game – which would put them atop the league – might only amount to four more goals over the 17 games the Rangers have played this season. That's likely not enough to make a significant change in the standings.
More important for the Rangers is the placement of their shots.
For players shooting wide, they need to focus on getting pucks to the net.  Not only are they wasting a scoring chance, but those wide shots often have a tendency to curl around the baords and out of the zone or up out of play. (With the way the Rangers do on faceoffs, that's probably not a good outcome.)
For the players with shots getting through, like Nash and Richards, they need to make sure they're getting off quality, targeted shots.  A weak shot into the goalie's crest gets marked down the same as a tough glove save on a quick wrister from the slot. The problem with the Rangers is that their shots tend to be more of the former. They also take too much time in getting shots off, allowing the goalies to get in position to make easier saves.
Listen to the coach and shoot the puck. Don't worry about doing it more often, though. Just do it faster and aim better.
---
Follow Josh on Twitter – @joshsmith29
---