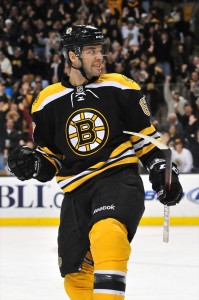 Some first round picks never pan out and many become superstars, as they're projected to be. Then there are players like Benoit Pouliot, who take a good amount of time to adjust to the NHL game, after years of being seen as one of those players that may never live up to his potential.
After being selected 4th overall in the 2005 NHL Entry Draft by the Minnesota Wild, Pouliot had a mediocre rookie season with the Houston Aeros of the AHL, before struggling mightily for three seasons, splitting time between the Houston Aeros and the Minnesota Wild. During his fourth season with the Wild, Pouliot was traded to the Montreal Canadiens, in exchange for Guillaume Latendresse. It was in Montreal that Pouliot began to simplify his game as a player. Over the course of a season and a half with Montreal, Pouliot was able to increase his offensive productivity, compiling 54 points in 118 games.
In the Summer of 2011, Pouliot signed a one year deal as a free agent with the Boston Bruins, just after they'd won the Stanley Cup. Pouliot made the most of his opportunity with Boston, being well received by the Bruins fan base. As a third-line forward with the Bruins, Pouliot had a solid season, posting 32 points with a plus-18 rating. Although having possibly his best season overall as a two-way forward, Pouliot once again found himself being dealt after the 2011-2012 season. This time, he was dealt to the Tampa Bay Lightning, a team that struggled in the 2011-12 campaign, in exchange for Michel Ouellet and a 5th round pick in that 2012 draft.
After a successful season in Boston, which is one of the hardest cities to play in as a professional athlete, there was no reason why Pouliot shouldn't have been set up to be a consistent contributor in Tampa Bay's lineup. Pouliot hasn't disappointed in the early stages of this season, posting 14 points in 18 games played thus far. In the absence of veteran forward Ryan Malone, Pouliot has been rewarded for his solid play, having the opportunity to play on one of the top two lines as a top six forward. If he continues to play with elite players, his production will continue, due to the fact that he's a power forward that can get in on the forecheck and create plays for Tampa Bay's talented scorers.
We've seen some first round picks pan out and some fade as a distant memory. Then there's Pouliot, who did take more time than expected to develop, but his time is now.
Follow me on Twitter: @Matt_Metcalf