It's been a long time since the race for the Hart trophy was so crowded.
In an era of NHL parity, perhaps it makes sense that at least 12 different players could have been nominated as the league's best player. Taylor Hall, Anze Kopitar, and Nathan MacKinnon ended up as the final candidates, which didn't sit well with some.
Hockey is a team game. You need a good team to consistently win games and make the playoffs.

The Hart Trophy is an individual award. It recognizes an individual's contributions. No one individual contributed more to their team this season than Connor McDavid.

— Dimitri Filipovic (@DimFilipovic) April 27, 2018
Although the Edmonton Oilers missed the playoffs, it is surprising not to see Connor McDavid's name on the ballot. In terms of being the Most Valuable Player to your team, it's hard to imagine where the Oilers would be without their 2015 first-round saviour. Would they be at 2016-17 Colorado Avalanche levels, perhaps?
His exclusion overshadows that of Claude Giroux, Nikita Kucherov, Evgeni Malkin and Blake Wheeler, to name a few.
With tight competition for MVP, it makes sense to believe that this Hart Trophy race will be close. We've seen some close ones in the past, like Jose Theodore's controversial victory over Jarome Iginla in 2001-02. More recently, we saw a nail-biter between Alex Ovechkin and Sidney Crosby during the shortened 2012-13 campaign.
Even though this Hart race shapes up to be a close one, the choice is easier than it appears.
Lots of Hart, but No Cigar
Before we get into the clear choice for the Hart Trophy, let's look at the other two candidates who made the ballot.All three players were nominated for similarly impressive feats this season. Without Kopitar, Hall and MacKinnon, their teams would not have made the playoffs.
All three enjoyed career seasons by hitting 90+ points while helping their teams sneak into a Wild Card position. None of the teams made it out of the first round but they made the playoffs solely because of one player.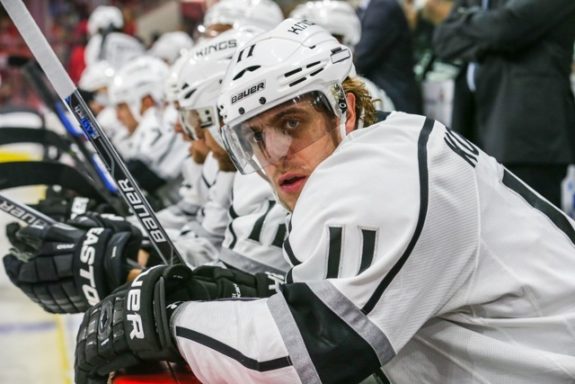 Kopitar continues to lead a Los Angeles Kings team that feels further and further away from competing for a championship. Injuries on the blue line hurt, but their lack of speed was exposed in the first round.
By playing out of his mind, Kopitar did his best to distract from the Kings' flaws. His main linemates throughout the season, Dustin Brown and Alex Iafollo, wouldn't be top six players on any playoff team. However, they both enjoyed successful seasons because of Kopitar. Brown enjoyed a renaissance season, while Iafollo came into this league as an unknown college rookie. With a simple and responsible game, he fit well alongside Kopitar.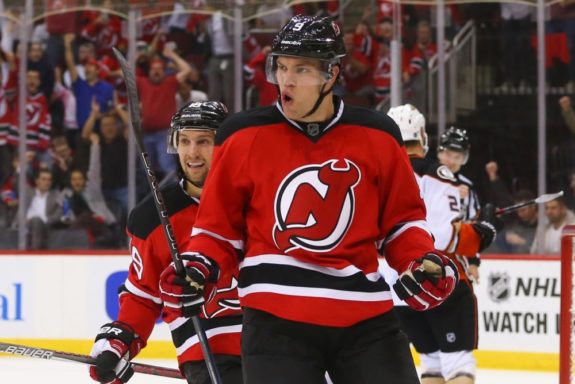 In the case of Taylor Hall, he was glued to 18-year-old rookie Nico Hischier throughout the season. Hischier is much more talented than Brown or Iafollo but he benefited from playing with one of the league's top left wingers. Hall was strong throughout the season, but his 26-game point streak firmly cemented his place in the Hart conversation. He didn't slow down after the streak ended, playing like a man possessed right until the Devils were defeated by the Tampa Bay Lightning.
MacKinnon Makes the Choice Easy
Despite the accolades, what Hall and Kopitar accomplished is a level below what MacKinnon delivered for the Colorado Avalanche. The New Jersey Devils enjoyed an impressive 27-point improvement in the standings over last season, but that pales in comparison to the Avs. After registering a mere 48 points, Colorado nearly doubled their point total by hitting 95 points this season. That turnaround stands as one of the largest single-season improvements in NHL history.
The team's success would not have been possible without the 2013 first overall pick on their side. MacKinnon exploded offensively after three years of playing at a 50-point pace.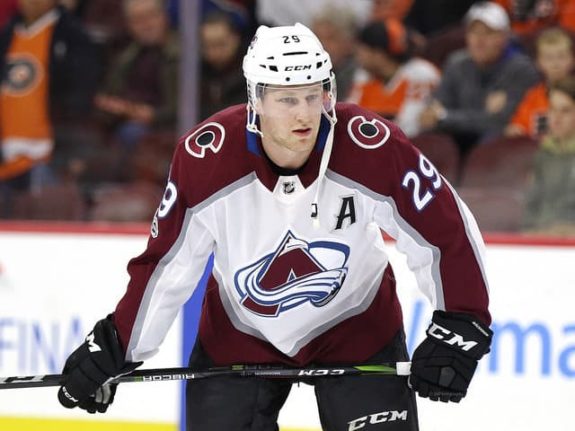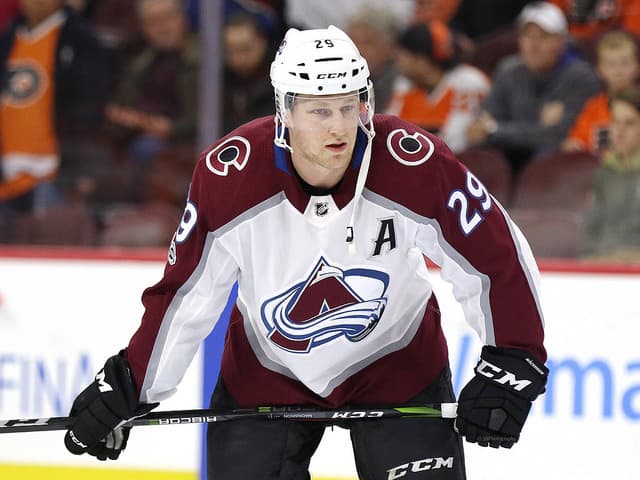 The young winger was dogged by a revolving door of linemates and a low shooting percentage in the previous three seasons. This season, he formed one of the best lines in the league with Gabriel Landeskog and Mikko Rantanen. The trio was a huge factor in getting Colorado back to the playoffs.
MacKinnon, with 97 points, was fifth overall in the NHL to lead all Hart Trophy candidates. Compared to his Hart Trophy competition, MacKinnon fares favourably in a number of categories:
| | | | | | | | | |
| --- | --- | --- | --- | --- | --- | --- | --- | --- |
| | Goals per 60 | Primary Assists per 60 | Points per 60 | Corsi For % | Goals For % | Scoring Chances For % | Power Play Points per 60 | Point Shares |
| Taylor Hall | 1.05 (36th in NHL) | 0.79 (69th in NHL) | 2.42 (26th in NHL) | 51.28 (227th in NHL) | 58.56 (79th in NHL) | 51.80 (222nd in NHL) | 10.05 (1st in NHL) | 12.2 (76 GP) |
| Anze Kopitar | 0.98 (53rd in NHL) | 0.75 (81st in NHL) | 2.25 (45th in NHL) | 52.14 (161st in NHL) | 56.07 (139th in NHL) | 50.63 (302nd in NHL) | 7.24 (11th in NHL) | 11.0 (82 GP) |
| Nathan MacKinnon | 1.31 (8th in NHL) | 1.14 (11th in NHL) | 2.99 (2nd in NHL) | 50.63 (276th in NHL) | 57.66 (99th in NHL) | 51.91 (217th in NHL) | 6.84 (17th in NHL) | 12.2 (74 GP) |
Statistics via Natural Stat Trick and Hockey Reference. Minimum 200 minutes played (697 skaters total).
In terms of individual statistics at even-strength, MacKinnon is comfortably ahead of Kopitar and Hall in terms of goals, primary assists, and points at even-strength. MacKinnon only trails Connor McDavid in terms of points per 60 during five-on-five play.
The players are all closely related in on-ice statistics, and all were very productive on the power play. Hall and MacKinnon also tied in point shares but MacKinnon gets the edge because he played fewer games.
There's a case to be made for any of these three to take home the Hart Trophy. Guys like Kopitar garner attention because of a more defined two-way game, while Hall's point streak is hard to ignore. Feel free to make the case for those two guys, but it's clear that MacKinnon was the most productive and most valuable player to his team in 2017-18.