Even though they're off the ice, you can't stop the competitiveness of hockey players.
James van Riemsdyk and Scott Hartnell are going head-to-head in a fundraising challenge to see who can raise the most money for Hurricane Sandy relief with the Power of 2.  The former Flyers teammates face off in a battle of charitable donations that also includes the prospect of a little added incentive for the winner.
"Hartsy approached me about doing something like this and it seemed like a perfect time to do this, after Hurricane Sandy," said van Riemsdyk of his new charitable venture. "We both wanted to do what we could for those charities and it just started snowballing from there and here we are now."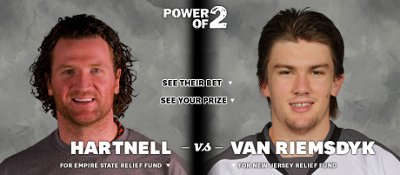 "Growing up in New Jersey," said van Riemsdyk, "it's really important to me to do everything I can to support the families impacted by Hurricane Sandy. This is just a small way I can give back and stay involved in my community, and this Power of 2 competition also gives me an opportunity to embarrass Hartsy in public, so there's some extra motivation."
"I know JVR is not big fan of having all of the cameras on him, so I'm going to win this Power of 2 to make sure the media is all over him when he pays up," said Hartnell. "This is also a great chance to support our friends in the Empire State and their efforts to rebuild. The impact of Hurricane Sandy is longer making headlines, but that's all the more reason for us to give and stay involved."
While the main point of the Power of 2 challenge is to drive donations needed to help support, rebuild, and rebuild the shore, there's another part to this contest.  One a bit more publicly embarrassing – and entertaining.  The player that loses the battle will be forced to go Christmas shopping for the other – in full hockey gear.  Hey, if you're not using your equipment during the lockout, you may as well dust it off to do your shopping, right?
Fans will be invited to come and join Hartnell or van Riemsdyk for their trip to the mall, though the specific details have yet to be nailed down.  "I'm going to be in Minnesota for that and I'm pretty sure Scotty's going to be in Phoenix, so we're going to be a little bit further away. It's all going to be on YouTube, so we'll make that available because people obviously want to see that.  Half the fun of the whole thing is to see one guy looking like a clown out at the local mall with all his hockey gear on."
No word as to what items or which stores the guys might have to hit up.  "I'll have to think about that a little bit more. I'll have to try to embarrass him a little bit here so we'll see if I can think of something funny for him to get for me. I'll send him on a goose chase."  We can only hope that escalators are involved, along with perhaps some shopping for the ladies.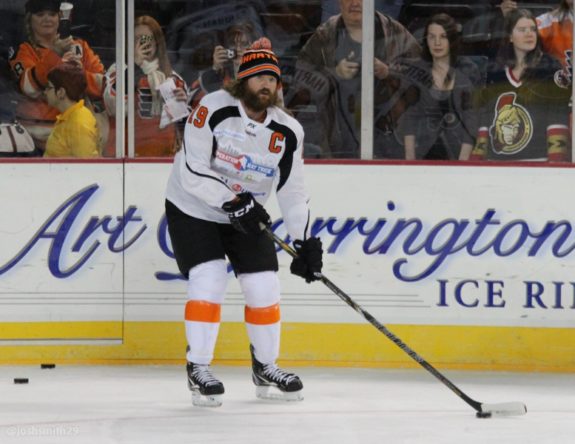 Of course, a head-to-head battle with Scott Hartnell is always a challenge.  With over 170,000 followers and an existing charitable foundation, #Hartnell Down, he's got a solid base to draw from.  Van Riemsdyk, though, is up for the challenge. "He's a tough guy to take on in something like this because he's got a good network and a pretty solid following – especially with the last couple of years in Philly.  Obviously, he's had a great career so far and a great year last year, so he's going to be a tough guy to go against.  I'll try to use some different things that hopefully help people get out there and donate for my side of things instead of his."
Van Riemsdyk is hoping his time with the Flyers, his current spot with the Toronto Maple Leafs, and the fact that he's a native of Sandy-impacted New Jersey will help swing the donations in his favor rather than for the Canadian-born Hartnell.  "That's what I'm banking on right now. I've got some of that going and I've got some tricks up my sleeve, some friends that might help my cause a little bit here, too. I'm definitely going to save those to unveil them a little bit later on."
His friends, including fellow New Jersey native Bobby Ryan, are already starting to show their support:
https://twitter.com/b_ryan9/status/276395799552872449
This isn't the first time Hartnell and van Riemsdyk have come together to help out the victims of Hurricane Sandy. Last month, they both participated in Operation Hat Trick, a charity game at Boardwalk Hall in Atlantic City, NJ.  "That was a great experience. I think after the Hurricane – the aftermath of that – I was thinking of doing something to help raise some funds to help the people that needed it the most. That game came together pretty quickly and Todd Fedoruk did a great job of putting it on and Caesars did a great job of running the thing, too. Not only was it fun for us to get out there and play, but we also raised money for a good cause."   (Full THW coverage of Operation Hat Trick is available here. )
Van Riemsdyk, who grew up in Middletown, NJ, has yet to see the local impact of the storm in person.  "I saw a little bit down in Atlantic City but I haven't had a chance yet to go home and see around," he said. I'm only 10 minutes or so from the shore, so next time I go home, I'll have to check that out and see how it was affected down there and if there's still significant damage around me.  Our family was lucky enough to just lose the power for a week or so and the house was undamaged, but we were a little bit further inland, so it's not as bad there."
Not all of his friends were so lucky. "Some guys that I grew up playing hockey with are not going to be able to move back to their houses probably for a year or so, they were saying.  Some of my buddies definitely are going to be having some challenges ahead here."  Those challenges can hopefully be made a little easier with charitable support.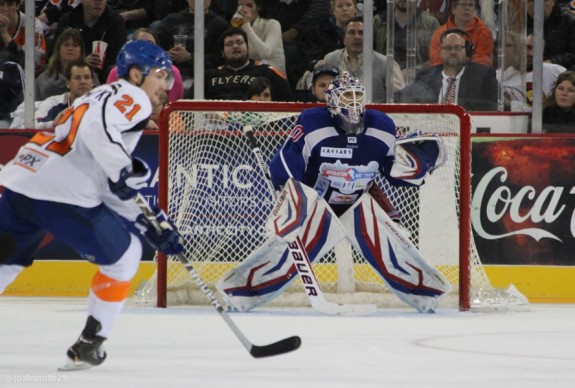 Donations will help to rebuild all areas affected by the storm through the two charities involved.  Van Riemsdyk is supporting the Hurricane Sandy New  Jersey Relief Fund which aims to help rebuild the Jersey shore – an area of particular interest to van Riemsdyk.  "Growing up, I always would go down to Belmar and Monmouth Beach area so I'll have to go down there and check it out.  My dad keeps his boat in Monmouth Beach so that's a spot that I head to every so often in the summer."  Hartnell is supporting the Empire State Relief Fund, which helps support storm-ravaged areas in New York.
While the Power of 2 challenge will help raise money for those impacted by the storm, there's also something it in for the fans. For every donation or share of the event, fans will earn entries into a drawing for a pair of tickets to a game – either in Toronto or Philadelphia – with a chance to meet Hartnell or van Riemsdyk after the game.
That is, whenever NHL hockey resumes. With the NHL lockout still in place, when that happens is very much up in the air.
"You know, I think the whole thing's kind of a shame," van Riemsdyk said of the current work-stoppage. "Obviously as players, we want to be out there playing.  I think we've shown we're willing to make a deal.  If people have been following the negotiations, I think they've seen that firsthand, how the players have shown that they're willing to make some sacrifices to get the season going.  But until both sides want to negotiate, it doesn't matter how hard one side tries, because a deal is not going to get done.  Hopefully, we can get to play some hockey because I know the fans want to see some hockey and the players want to be out there playing – it's something we all love to do so hopefully we can get it going pretty soon. "
When the season does get underway, the talented winger will be donning a new sweater.  Van Riemsdyk was traded to Toronto in the offseason and is looking forward to making his debut in blue and white. "It never quite sinks in until you get into your first game with the new colors on and the new uniform," he said of joining the Maple Leafs. "It's something I'm really looking forward to. It's going to be a good opportunity for me, a good challenge for me, and I'm definitely pumped to get the season started. Hopefully it's sooner rather than later."
In the meantime, van Riemsdyk has been working out on the ice to remain in shape during the lockout. "I'm just trying to stay ready – training, skating a bunch, just trying to make sure I'm ready to go when the season does start and hopefully that's at some point soon here," said van Riemsdyk.  He's also catching some hockey at his old stomping grounds whenever he can. "I went to [a Christian Brothers Academy, where van Riemsdyk played high school hockey] game a week ago. I was just home for a day so I was able to go to the game and then right before heading up to [University of New Hampshire, van Riemsdyk's alma mater] for a bit. So I saw them play [a scrimmage against rival team] Red Bank Catholic and they did pretty well so far."
As far as a parting shot at trash talking Hartnell, van Riemsdyk opted to pass. "I'll save that all for Twitter.  I'll keep it all on there. I want to see his reaction when he can see my comments firsthand, so I'll save it all for Twitter." Make sure you're following James (@JVReemer21) on Twitter to catch all the action.   Heck, follow Scott Hartnell, too (@Hartsy19).
Fans can log on to Power-of-2.org  and make donations through December 18.  Donations will go to help those impacted by Hurricane Sandy, hopefully giving those families a better Christmas this year. They'll also get to watch one of their favorite players suit up in full hockey gear…   even if it is just for a night of shopping.
 __________________
Follow Josh on Twitter at @joshsmith29