Come December 26th, the 2013 Team Canada World Juniors roster will be assembled, and start their quest for gold. As most Canadians gather to watch some of the future NHL stars play for their country, and with the lockout still enduring, many scenario's are at stake for what players will make that journey. Players can be loaned not only from their Major Junior clubs but from their AHL clubs (ie. Ryan Nugent-Hopkins). Barring injuries (ie. Ryan Murray), top players will be brought into the selection camp to be evaluated by the Canadian coaching staff to see if they are deemed worthy of putting on the Team Canada sweater. Analyst's are predicting that 2013, will be one of the best Canadian Junior team since 2005. Here is 23 players that I think will make the final cut come Boxing Day.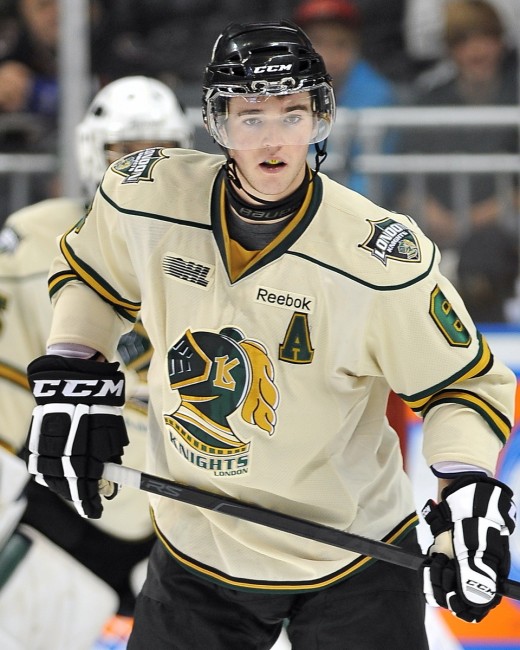 Scott Harrington captain of the high-flying London Knights, will likely be the leading candidate to captain this team to strike Gold in Russia.
FORWARDS: (Note: asterisk means that this player is returning to the World Juniors)
Ryan Nugent-Hopkins, Edmonton Oilers, 1st overall 2011 (Oklahoma City Barons/Red Deer Rebels)
Skinny: Here's a player that is expected to be loaned from his AHL club to participate in the tournament this December pending his recent shoulder injury. Nugent-Hopkins was one of the final-cut for the 2011 Canadian squad and never got a chance in 2012 because he was lighting it up in the NHL at that point. Well, the silver-lining is that Nugent-Hopkins will get his shot finally under lock-out circumstances. Nugent-Hopkins is expected to bring creativity, on ice vision and superb passing ability which will be crucial especially on the powerplay.
*Jonathan Huberdeau, Florida Panthers, 3rd overall 2011 (Saint John Sea Dogs)
Skinny: One of the most offensively complete forwards on the roster, Jonathan Huberdeau should give the Canadian sqaud a great 1-2 punch down the middle. A combination of strength, size, hands, and vision is what to be expected of Huberdeau. Not to mention the leadership he will bring to the roster. Expect him to be paired with MacKinnon for most of the tournamant, as they seemed to have chemisty during the Subway Superseries.
*Ryan Strome, New York Islanders, 5th overall 2011 (Niagra Icedogs)
Skinny: Ryan Strome is currently tearing it up in the Ontario Hockey League. Thanks to the lockout, Strome has been striving offensively and will be a welcome addition to the team. Returning to the team could be a great thing for Strome, as he will get to return to the team and contribute more because he has developed into a more of a dynamic player overall. Polishing off his skills in the OHL until the lockout ends, could be the best thing for his development. I am expecting Strome along with his hands and vision to be situated on the wing alongside Nugent-Hopkins and Schiefele as they should form a veteran combination and be counted upon in crucial circumstances.
*Mark Schiefele, Winnipeg Jets, 7th overall 2011 (Barrie Colts)
Skinny: A huge gritty heart and soul player with size will be exactly be what Nugent-Hopkins ordered. Not to mention how Schiefele is developing into a great power-forward. Similar to Huberdeau, Schiefele posesses a combination of size, skill, hands, and speed.  Leading his Barrie Colts this year to be one of the top teams in the OHL, Schiefele is considered more of a goal scorer and will spend most his time crashing the net or banging in rebounds from infront.
Nathan MacKinnon, 2013 Draft Eligible (Halifax Mooseheads)
Skinny: Mackinnon is projected to be a lock for the team despite not even being drafted until 2013. The projected No. 1 pick in this upcoming NHL Entry Draft this June, is something most scouts and GM's will be watching to see how he measures up against elite junior talent. MacKinnon will bring immense speed and goal scoring prowness to the team. The world juniors should be a great stepping stone for the superstar MacKinnon, in terms of evaluating his talent over a longer period of time.
Jonathan Drouin, 2013 Draft Eligible (Halifax Mooseheads)
Skinny: The Halifax Mooseheads teammate of Mackinnon is definitely not walking in the shadows at all because he's making a name for himself as a potential Top 5 pick in June. Despite an early season injury, Drouin has also been tearing up the QMJHL along with Mackinnon. In fact, he has a better points-per-game average than his heralded teammate. Considered as a player that is heart and soul do anything for the team type of player along with great hands, Drouin should serve well on a line of Huberdeau and Mackinnon.
*Boone Jenner, Columbus Blue Jackets, 37th overall 2011 (Oshawa Generals)
Skinny: Another returing player from last year's team, Boone Jenner will once again bring his physicality and leadership to the team. Memories of the hit on the London Knights Olli Maatta still linger in my head. Not to mention he is the OHL goal scoring leader to date. Not bad. Expect him to center a checking line between Wilson and Camara/Ritchie. This line could be a difference maker down the stretch, forcing turnovers with a great forecheck led by Jenner.
Tom Wilson, Washington Capitals, 16th overall 2012 (Plymouth Whalers)
Skinny: Wow, this one player I wouldn't want to be between him and the boards. Constantly delivering bone-crushing hits, comparison to Milan Lucic are certainly imminent. Considered a true power-forard along with his size and surprising speed for a big-man, they could become a great combination for Team Canada when they need grit or a checking line.
Anthony Camara, Boston Bruins, 81st overall 2011 (Barrie Colts)
Skinny: Camara is like a little wrecking ball on skates. Although he doesn't posess the size of Tom Wilson, he should provide a lot of tenacity along with a good scoring touch. Camara is  enjoying a breakout year while being paired along with Schiefele in 2012-2013. In fact, the 34 points (as of Dec. 3), actually have him  passing his OHL career point total for a season.
Ty Rattie, St. Louis Blues, 32nd overall 2011 (Portland Winterhawks)
Skinny: A pure goal-scorer, Ty Rattie finally gets his shot with Team Canada. Rattie is unique unlike most snipers, because he is very much a gritty hard-working goal-scorer. Reminisent of the likes of Corey Perry, the former 57 goal-scorer in the WHL could be a great depth player despite his diminuative size. However, what ever Rattie lacks in size, he has in heart.
Mark McNeil, Chicago Blackhawks, 11th overall 2011 (Prince Albert Raiders)
Skinny: Probably the best two-way forward on the team, Mark McNeil will likely center the fourth-line. With incredible strength and size, retreiving pucks from the the boards is definitely not be a problem. He can develop a "mean" streak and looks to me like he is the fastest player who has developed physically into his body on this team. McNeil will be needed for depth with his truculence and strength.
Philip Danault, Chicago Blackhawks, 26th overall 2011 (Victoriaville Tigres)
Skinny: The only other forward from QMJHL that I predict that will be selected to the Team Canada roster other than Huberdeau, Danault is a great two-way I expect will be a great fourth liner despite having a great year in the "Q" so far. Not afraid to throw that body around and will provide lots of energy for a team with so much talent.
Brett Ritchie, Dallas Stars, 37th overall 2011 (Niagra Icedogs)
Skinny: Size and energy is how to describe Brett Ritche. The huge 6'4 forward will be a great addition, most likely on the fourth line and should be great along the boards using his size and strength. A natural sniper, Team Canada could use the size on the fourth line and when needed, can provide great chemisty with Ryan Strome.
DEFENSEMEN:
*Dougie Hamilton, Boston Bruins, 9th overall 2011 (Niagra Icedogs)
Skinny: Thanks to the lockout, Hamilton is once again in Niagra and lighting it up. Considered NHL-ready, Hamilton will most certainly make his presence known on the team and will be the anchor on the back-end. He will be the go to guy for points on defense and will see a great amount of ice-time, especially on the powerplay.
*Scott Harrington, Pittsburgh Penguins, 54th overall 2011 (London Knights)
Skinny: A returning defensemen to the World Juniors, Harrington will be a leader along with Hamilton to anchor this young defense. Harrington, considered a shut-down defensemen, and is steady in his own end, will provide stability to this offensive defensive corps. Harrington, who I consider to be the likely candidate to captain this team since Ryan Murray is out with a shoulder injury, it should up his status a veteran and will be a crucial player if things get rough.
Griffin Reinhart, New York Islanders, 4th overall 2012 (Edmonton Oil Kings)
Skinny: This hulking defensemen has a great all-round game. Griffin Reinhart is a huge defensemen who is great in one-on-one situations, and is hard to get by and will compete 100%.  Not only that, he owns one of the hardest shots on the team. He can contribute offensively and is very much mobile despite his overwhelming size, so expect Reinhart to eat up a great amount of ice-time.
Morgan Rielly, Toronto Maple Leafs, 5th overall 2012 (Moose Jaw Warriors)
Skinny: What I consider to be the most pure offensively gifted defenseman in junior. Morgan Rielly has incredible skating ability along with his high hockey IQ will likely be landed alongside Dougie Hamilton on the powerplay. Some consider Rielly a defense liability, but Rielly usually makes smart moves and is always rushing the puck up ice so it's not a priority to constantly defend. Expect Rielly to put up great numbers while potential being paired with a stud in Dougie Hamilton.
Xavier Ouellet, Detroit Red Wings, 48th overall 2011 (Blainville-Broisbriand Armada)
Skinny: Xavier Ouellet is the lone QMJHL defender that I predict will make the team. Xavier is an exceptional player who is a steady defensemen and is similar to Scott Harrington in regards to being a shut-down defender. He is a great skater, who posesses a good amount of upside, and will likely eat up alot of ice time to close out games. I expect Ouellet will be paired with Harrington as the shut-down tandem for the team.
Ryan Murphy, Carolina Hurricanes, 11th overall 2011 (Kitchener Rangers)
Skinny: Similar to Morgan Reilly, Ryan Murphy is a pure offensive force on the back-end. Considered mostly a powerplay specialist, everyone knows when he is out there. Steve Spott the head coach of Team Canada will have one familar face in his line-up, and could gain more minutes if he performs well, or someone should falter.
Matthew Dumba, Minnesota Wild, 7th overall 2012 (Red Deer Rebels)
Skinny: I am predicting that Matthew Dumba will be the seventh defensemen, but that is not a knock on him. Dumba is a hard-hitting, finese "D" with a great skating ability. Dumba owns a cannon from the point and punishes his oppenents physically. He is fearless, and plays with a tremendous amount of knowledge of defending against bigger opponents.  Could very well be used on the PP.
GOALTENDERS
Malcolm Subban, Boston Bruins, 22nd overall 2012 (Belleville Bulls)
Skinny: Considered the concensus No. 1 goalie for Team Canada, Malcolm Subban will join his older brother, P.K. Subban to be selected to a Team Canada roster. Malcolm is a great goalie who is calm in his crease and anticipates the play well. He is extremely flexible and has great lateral movement post to post. Expect Subban to be in net against the top countries in the world.
Laurent Brossoit, Calgary Flames, 164st overall 2011 (Edmonton Oil Kings)
Skinny: Arguably the most experienced goalie of the 3 goalie going over to Russia, Larent Broissoit should provide the biggest challenge for Subban for the No. 1 spot in net. Thanks to the deep run last spring to the Memorial Cup last spring with the Edmonton Oil Kings, Broissoit can certainly be in the spotlight and perform under pressure. Brossoit is a great goalie with a tremendous compete level to keep the puck out of the net and get some time as a concencus No. 2 goaltender.
Jordan Binnington, St. Louis Blues, 88th overall 2011 (Owen Sound Attack)
Skinny: Jordan Binnington has been shutting down the Ontario Hockey League with the Owen Sound Attack so far this season. Because of his play, it has landed team towards the top of the standing in the OHL. In fact, Binnington also has experience national when his team went to the Memorial Cup in 2011 and he was namd "Most Outstanding Goaltender" of the tournament. A huge goalie in the net, there is not many holes players can shoot for, or holes in his game. Binnington is extremely flexible, and has great side to side movement. I predict the Team Canada coaching will take a long look at Binnington for the No. 2 spot.