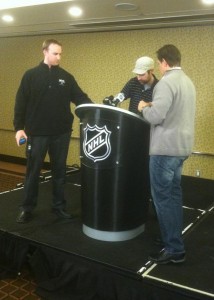 At Wednesday night's CBA negotiation sessions, both sides appeared to be nearing a deal. Discussions were intense, with back-and-forth sessions and lots of break-offs into smaller discussions. It appeared things may settle down for the night until…
The podium reappeared.
po·di·um (/ˈpōdēəm/)

Noun

A small platform on which a person may stand, as when making a speech or conducting an orchestra.
A lectern

Synonyms:  dais, platform, stage, stand, lectern
This isn't the first time a podium has taken a special place in NHL history.
---
10. The First Niagara Center Podium
That is a square, stout, solid podium that tells you it's not going anywhere. It's a podium that's in it for the long haul, just like the team's new owner. Terry Pegula stepped into the ownership suite for the Buffalo Sabres in 2011 and immediately reinvigorated the franchise.  You have to give some credit to a man who can step behind that podium and declare, "Starting today, the Buffalo Sabres reason for existence, will be to win a Stanley Cup."    The new owner's aggressive nature and deep pockets created excitement around the team, even if some of his later purchases were misguided (see: Ville Leino).
9. Generic NHL Square Top Podium
The original.  The old standby.  Your basic black podium with squared-off flat top. This one saw a myriad of different logos throughout the years.  It was there for plenty of drafts, dating as far back as 1995.  It was also host to the draft lottery after the 2004-05 lockout and the Penguins' first overall selection of Sidney Crosby.  (Please, no crying about how far down it was ranked on this list. It's not like it took a dive…)
8. The Jobing.com Arena Podium
Controversy has surrounded the Phoenix Coyotes ever since their move to Arizona.  From their initial relocation from Winnipeg to Phoenix and their later move to Glendale, along with their ownership struggles, things haven't been easy for the Coyotes.  This is the elegant, wooden pulpit from which all the preaching has taken place by the league and the team.  Amazingly, the team has positioned itself to remain in Glendale despite the political upheaval and the city's billion-dollar deficit.  Behold, the power of the podium, and check out its curves.
7. The Nationwide Arena Podium
In its short history, this podium has seem some significant moments for the Columbus Blue Jackets.  It watched Scott Howson regretfully trade Rick Nash to the New York Rangers for Brandon Dubinsky, Artem Anisimov, and Tim Erixon.  It also welcomed the team's new president, John Davidson, earlier this year.   Hopefully, the Blue Jackets will see more good news come from whoever's behind this podium.
6. Original NHL Wooden Podium
Seen here at the 1994 Draft, there's no doubt that this one's a wood-paneled classic.  Admittedly, it's tough to look at the podium when distracted by the fact that: 1.) Gary Bettman has hair, and 2.) they're not booing him.
5. The Barclays Center Podium
The New York Islanders have had plenty of regrettable moments to announce, notably, the signings of Alexei Yashin and Rick DiPietro for ten and fifteen years, respectively.  They've also spent some time behind Nassau County podium around the status of Nassau Coliseum and the disastrous Lighthouse Project that never came to fruition.  Neither of those podiums were host to any good news.  This one actually showed some promise. The relocation to Brooklyn is great news for the team; it might have been the only thing to keep them from moving out of New York.  (Now, watch as Charles Wang signs a 300-year lease…)
4. The True North/MTS Centre Podium
Fans in Manitoba were thrilled with this podium when it first made its appearance, as it confirmed the return of NHL hockey to Winnipeg.  That's enough.
3. The 2011 All-Star Draft Podiums
Remember when Team Staal and Team Lidstrom famously left Phil Kessel to be selected last in the All-Star Game Draft?  I'm sure Kessel does.   Heck, at least he got a new car out of it!   To be fair, Kessel did his best at proving everyone wrong by blowing up the following season, setting career highs in goals (37), assists (45), and points (82).   Still, it's hard to get past the visual of sad Kessel sitting alone as Alex Ovechkin giggles and takes photos with his phone.
2.  The 2006-2011 NHL Podium
The all-around, go-to, utility podium for many years, this particular podium came into the league in 2006, making its debut with the Entry Draft in Vancouver.  Its wooden base with a sleek, stainless steel top became the perfect focal point for fans to target their dissatisfaction — which they did quite frequently when Commissioner Gary Bettman stepped behind it.   Just seven years after he helped put a team in Columbus, even those fans let him have it at the 2007 Draft – one of the biggest sports events ever to take place in Columbus   The boos followed at subsequent drafts in Ottawa (2008), Montreal (2009), Los Angeles (2010), and Minnesota (2011).
This podium, though, wasn't a one-trick pony.  It also showed up in press conferences for All-Star Games and Winter Classics. It most recently supported the announcement of the now-cancelled 2013 Winter Classic between the Red Wings and Maple Leafs.
1. The 2012 NHL CBA Negotiations Podium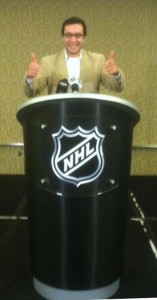 In 2004-05, we learned that the league and the Players' Association weren't afraid to lose a whole season to attempt to get what they wanted in negotiations.  With another lockout starting off 2012-13, it looked like things would go much more smoothly and that both sides would come to an agreement.  Only, it didn't happen.  Instead, two months into what would've been the NHL season, both sides are still at an impasse.  Discussions picked up steam on the afternoon of December 6, after some sessions with the players and owners — and without Bettman and Fehr.  It looked like things were wrapping up.
Then the podium came back out.
While this podium is similar in structure to the aforementioned 2006-2011 NHL Podium, it's clearly different.  It's black.  ("How much more black could this be? The answer is none. None more black.")
The NHL reassembled the podium at which Gary Bettman has made a few short comments hours earlier.  Were the sides nearing an agreement?  Had a compromise been reached?   Was the staff being proactive and setting it up for a press conference tomorrow?
The podium waits to find out.