With optimism yielding to realistic logic, all signs are indicating that we have seen the last of Kimmo Timonen in the NHL. After the 15-year veteran was indefinitely sidelined due to blood clotting back in August, the Flyers planned accordingly as if his career was, in fact, finished. But despite his progress throughout the brief amount of time that has elapsed since his original diagnosis, the factors keeping him from jumping back into action are likely enough to end his prominent career.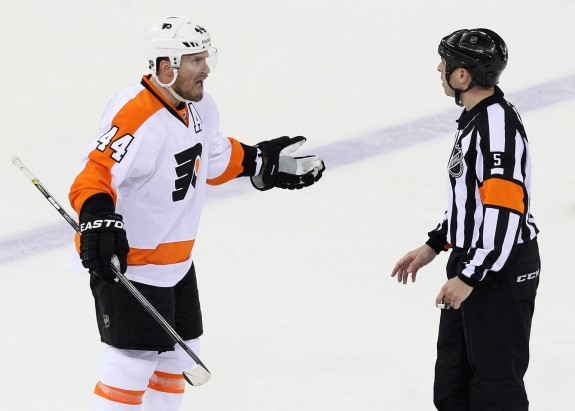 Unlikely to Ever Play Again?
On Thursday, the Flyers called for a 3:30 p.m. press conference regarding their top defenseman. The impromptu announcement set the internet ablaze with speculation, ranging from a possible retirement announcement, to a miraculous recovery that would result in Timonen's re-insertion into the lineup.
As it turns out, neither verdict was reached. The information relayed to the public, however, suggests that Timonen's seven-year run in Philadelphia has likely come to an end.
"My desire is, I want to play," said Timonen. "The chance of me playing is really slim. That's the fact, but I'm ready to wait to see if I still have those clots.
"I've been seeing a lot of doctors and there's different opinions. I have a blood disorder in my family. My desire is to play, but I have to listen to doctors and see what's safe here."
With Hextall sitting to his left, Timonen spoke matter-of-factly about his situation, explaining his hereditary background with blood clotting, on top of definitively stating that he won't be able to play again if he is on blood thinners – a scenario that's most likely to string out for the remainder of his life.
"Here's basically how it breaks down: Kimmo has a family history of a blood clots. He's currently on blood thinners to get rid of those clots, but they might never fully go away and the doctors say there's a good chance he'll have to stay on those thinners for the rest of his life. If he must remain on the thinners, he can't play hockey because it would be too dangerous to take contact.

"So the only hope is that when he goes back for that follow-up in January or whenever it is, he's able to get off the thinners. That's his only chance of playing in the NHL again." — Travis Hughes, Broad Street Hockey
Kimmo Timonen says docs told him that he will probably need to be on blood thinners for the rest of his life. If on thinners, he can't play.

— Frank Seravalli (@frank_seravalli) September 18, 2014
Aside from minor details, Thursday's press conference left fans and media with no real breaking news. After all, we already knew the severity, as well as the implications, of Timonen's blood clots. And with the Flyers' limited cap space, the signing of Michael Del Zotto was evidence that the organization wasn't anticipating his return any time soon, if ever at all.
"Essentially nothing has changed because the Flyers prepared as if he would not play by signing Michael Del Zotto. General manager Ron Hextall said it would be many months before another update might be forthcoming. Timonen said he can work out but not skate as long as his clots remain present.

"He is not retiring as of now." — Tim Panaccio, CSN Philly
Timonen's improved health may have led some to believe that he was ahead of schedule and priming for an early return. After all, he was cleared earlier in Sept. to play in the Flyers' charity golf outing, and has since been fine to partake in activities like running. But when it comes to the grind of playing in the NHL, Timonen's condition still keeps him on the shelf for what the organization calls "months."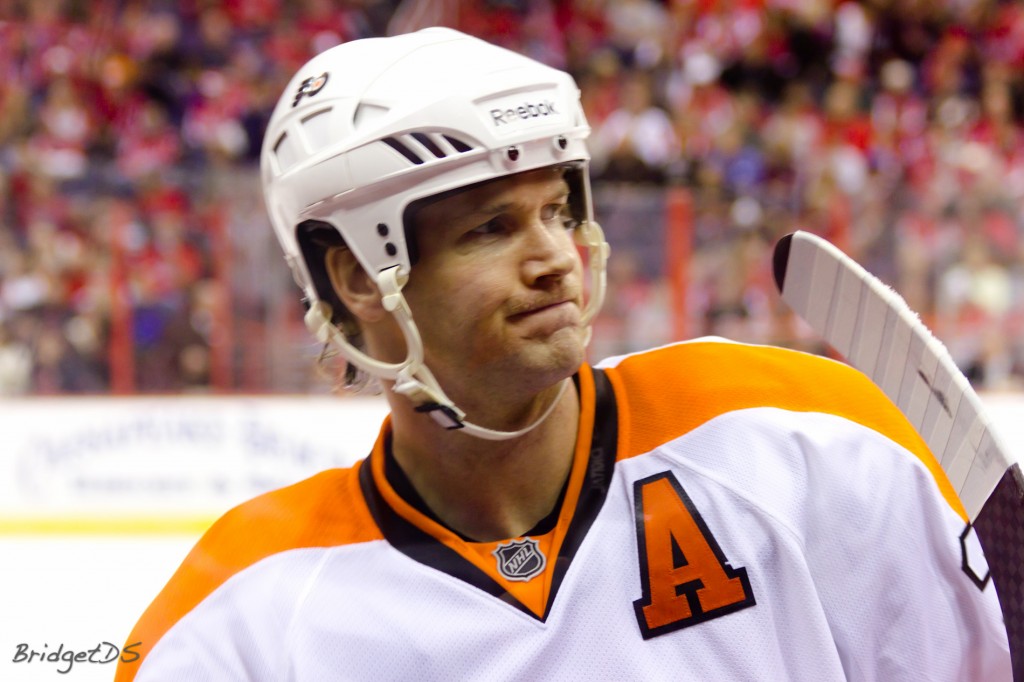 The Coincidental Trend
Not to be the guy that digs up past nightmares, but the latest events surrounding Timonen make him the team's second top defenseman to leave the ice with his career in question. After 13 games into the 2011-12 season, former captain Chris Pronger was shut down for the remainder of the season, which included the post-season as well. And although Pronger recorded a pair of assists in the final game of his NHL career in Nov. of 2011, his post-concussion syndrome was enough to pull the plug on his season, and ultimately, his career.
"After consultation with respected concussion specialists Dr. Joseph Maroon and Dr. Micky Collins, it is the opinion of both doctors that Chris is suffering from severe post concussion syndrome. It is the recommendation of Doctors Maroon and Collins that Chris not return to play for the Philadelphia Flyers for the remainder of the 2011-12 season or playoffs. Chris will continue to receive treatment and therapy with the hope that he can get better." — Official press release on Chris Pronger's post-concussion status via the Score
So, the two best (arguably) defensemen on Flyers roster, 39-year-olds Kimmo Timonen and Chris Pronger, might never play again…

— Yahoo Sports NHL (@YahooSportsNHL) September 18, 2014
While Pronger's career-ending injury cost the Flyers more than success on the ice, the ramifications of Timonen's likely permanent departure ends there. Up until last season, the Flyers were on the hook for Pronger's annual cap hit, which came out to over $4 million per year, for the past four seasons. It was especially felt this past offseason, as Hextall was held hostage to the bloated cap that included Pronger's name.
"Timonen will start the season on long-term injury reserve, which will provide $2 million in cap relief for the Flyers. He's just going to have to hope he's able to come off it eventually, and not just hang up his skates for good." — Sarah Baicker, CSN Philly
Unlike the situation with Pronger, the Flyers will be given immediate cap relief with Timonen headed straight to the LTIR. And while that's nice and all, the Flyers are now left in uncertainty with their number one defenseman for the second time in three years. This time, it's Timonen instead of Pronger.
Yes, it's the risk you run for signing players who are more advanced in age. But considering the odds of Philadelphia's Stanley Cup drought, despite fielding one of the league's most consistently competitive teams, the fact that the Flyers are re-living this nightmare is merely par for the course at this stage.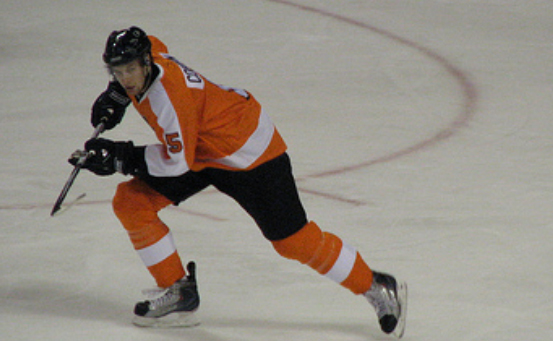 Back to Plan B
Fortunately for the Flyers, the team had already braced themselves for what they heard in the Timonen press conference. Hextall filled the vacant spot by nabbing a hungry and motivated Michael Del Zotto, while making other positional tweaks to upgrade the squad's overall team speed. But who will fill Timonen's role on the top pairing opposite of Braydon Coburn?
To answer that question, nj.com's Randy Miller wrote the following:
With Kimmo Timonen out indefinitely, Braydon Coburn needs a new partner for the Flyers' top defense pair. Starting out it'll be Andrew MacDonald.
Mark Streit and Nick Grossmann, a pair for most of last season, likely will stay together.
Luke Schenn, a third-pair blueliner last season and the Flyers' only defenseman who has a right-handed shot, likely will remain on the third pair this season with newcomer Michael Del Zotto, who exclusively plays on the left side.
Nick Schultz, a free agent signee, is slated to be the Flyers' extra defenseman. If the team carries eight, which is unlikely due to their cap situation, Brandon Manning would be a candidate.
With the defensive effort in last season's quarterfinal round against the New York Rangers, the minimal turnover leaves this group a primary target for critics. But the silver lining says that it could be worse – and it could be.
Philadelphia still has the services of Mark Streit, who compiled 44 points and a plus-three rating last season, as well as minute-eater, Braydon Coburn. And although Coburn was highly criticized for his puck handling in last year's post-season, he was still good for 17 points and a pair of game-winning goals to go along with team-leading average time on ice of 22:26.
While the Flyers will certainly miss Timonen's possession statistics, they're success hangs in the balance of their five-on-five play. A strong suite of both Coburn and Nicklas Grossmann.
"In the end, Philly's superior special teams and goaltending play brought them to the brink of knocking off New York. The Flyers just couldn't get enough five-on-five push to take them over the top and win the series.

"Despite all the media focus on power plays, the Rangers won the series because they were the better even strength team. That is far more often than not how it goes in hockey." — Bill Meltzer, Hockey Buzz
As the defense, and team for that matter, adapts to Timonen's absence, all anyone can hope for is the best. If that happens to be a return for the Flyers' iron man, even better. If we have seen the last of Kimmo Timonen, though, it's been an absolute privilege to have witnessed him play in orange and black for the last seven seasons – Stanley Cup, or not.