During his team's tumultuous offseason, San Jose Sharks head coach Todd McLellan has suggested numerous times that there would still be a leadership group with or without anointed captains.
Furthermore, in a recent column from the Mercury News' David Pollak, Thornton is quoted as saying the Sharks will need 23 captains. Obviously Thornton is stating that everyone on the roster will need to be a leader. Somewhat cliche, but at the same time noteworthy, in regards to how the Sharks go about naming captains.
"Other Crap"
Now, in one of Pollak's recent blog posts, McLellan expressed his excitement to getting back to hockey, and away from offseason drama saying "we've had enough of this other crap."
That "other crap" could certainly include (but is not limited to) some of the following:
-Captaincy drama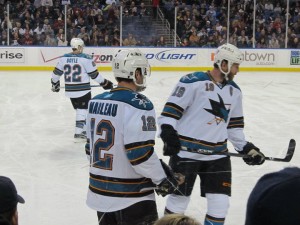 -Locker room rifts
-Rebuild talk
-Trade rumors
-Ice girls
-John Scott signing
-Drew Remenda's firing
The Sharks have brought most, if not all of this "other crap" on themselves. If they truly want to move on and focus on hockey, then McLellan ought to make a simple decision and make it now at the start of camp. Go without a captain and name only alternates.
Sharks training camp officially kicks off on Friday with the first practices. Does McLellan really want to listen to the media ask him captaincy questions throughout camp? The Sharks organization may claim that players will earn their letters in training camp but let's be serious, they already have an idea of what they want to do. What the captaincy candidates do in training camp isn't going to separate one another as a better leader. We're talking about practices and preseason games. You can be assured that management already has a preference based off bodies of work, and won't be naming captains based off who is more vocal during a singular September.
Leadership Committee
If McLellan and the Sharks have seriously had "enough of this other crap" and truly believe in the leadership by committee concept, then they should decide against having a singular captain. They should name only alternates. The Montreal Canadiens recently decided to go this route and most smart people acknowledge it's a good move.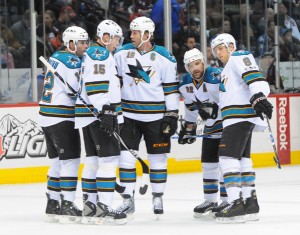 As for the Sharks, the quickest way to void themselves of captaincy questions would be to keep things simple. Name Marc-Edouard Vlasic and Joe Pavelski full time alternates, and have Thornton and Patrick Marleau switch off as the third alternate for home and road games.
Doing this would show that Thornton and Marleau are still highly valued leaders, but it would give more responsibility to Vlasic and Pavelski. Considering the latter two have more years of service than Logan Couture (another possible candidate), by default they deserve the recognition.
Going this route would certainly help put an end to captaincy questions. Otherwise, this will be a season long topic. If the Sharks choose to give out the captaincy to Vlasic, Pavelski, or Couture, that decision will be dissected by fans and the media throughout the season. If either Thornton or Marleau don't get letters, will they be happy with that? These guys all like to say the politically correct things in public but privately? Who knows how that dynamic will play out. Questions and second guessing will be rampant all season long. If the Sharks have another captaincy change in six years with the former captain yet again remaining with the team, that will only spur the media on. If the Sharks want to start focusing on hockey and shedding off the distractions, then going without a captain is the only move to make.