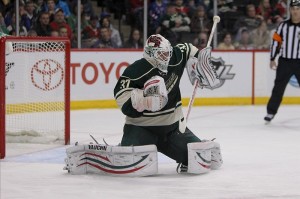 When I heard a couple days ago that Minnesota wild goaltender Josh Harding had injured his foot, my first thought was about the bad luck that the Wild have had with their goaltenders and their injuries.
I was driving in my car on my commute home from St. Paul Minnesota to the Minneapolis suburbs when Minnesota Star Tribune writer Mike Russo was on KFAN 103.3 FM's Dan Barreiro show. Mike dropped the bombshell that Harding was injured.
I was planning to write an article about Minnesota Wild's goalie roulette and yes, game of chance when it comes to the Wild and goaltending. With news trickling in that Harding likely injured his foot after getting into an altercation with a teammate, I wanted to write an article focused more on Harding.
I will delve into the Wild goalie injury situation (last year) but the focus will be in Josh Harding's injury and how it impacts the Minnesota Wild.
Wild Have Been Fair to Josh Harding
The Minnesota Wild has been more than fair with Josh. It's well documented that Josh Harding has MS and suffered setbacks to his disease last year. The Wild didn't release Josh even though he missed most of last season and the likelihood that Josh's MS could be an issue in the future. They stuck by him and supported him on his fight to try and get the disease under control (as much as that is possible).
This offseason we heard that Josh was in good shape and that he didn't have major complications with his disease. The Wild organization and its fans were excited that one of our star netminders would be ready to play and would be in top shape.
When Harding has been in the pipes, the he's been really good and he's been a difference maker for a team that has traditionally had issues scoring goals.
The Wild should be applauded for not bailing on Josh Harding.
Niklas Backstrom is another Injury Prone Netminder
Before I go any further with my Harding rant, I want to mention that it isn't so simple that the Wild could rely on their other netminders and regular starter (when he's healthy) Niklas Backstrom. Nicklaus has been injured throughout the past couple of seasons. His injuries have come at inopportune times including the playoffs
Last year was particularly troublesome as the Wild were without their top netminder for a large part of the 2013/14 season.
The Minnesota Wild and their fans can't be confident that Backstrom will be healthy for the entire season. That's not how things have panned out for the Wild in recent times.
So the Harding injury and the fact that they seem to have been somewhat self inflicted is troubling. The Wild are left in a position of not having a starting netminder that they can rely on.
Harding has put this team in a bind and that's angers this Wild fan.
Is Darcy Kuemper the Man?
So where does this leave Darcy Kuemper? It's hard to know. Darcy wants a one way contract but the Wild seem interested in a two way deal. Darcy feels that he's earned the right to receive a good deal and one that will land him on the team's roster.
It seems as if Wild GM Chuck Fletcher hasn't convinced that Kuemper was ready to shoulder the burden of an entire regular season NHL campaign, despite the fact that Kuemper filled in nicely last year with injuries to Harding and Backstrom.
Kuemper might be testing his luck. Mike Fletcher and Head Coach Mike Yeo are frustrated that Kuemer is holding out on the team, especially now that Harding is injured. Some Wild fans might think that Kuemper has the upper hand due to the Harding situation but that's not true.
Minnesota is bringing Ilya Bryzgalov in for a tryout (see Bryzgalov below). If Ilya passes the test, Kuemper will likely see himself on the outside looking in and any leverage he might have will be lost. I would expect Fletcher and company to punish Kuemper for his stubbornness if that happens.
Fletcher Brings Ilya Bryzgalov in for a Tryout
As mentioned above it doesn't seem as if Fletcher is sold on Kuemper. Yesterday, Wild fans learned that the Wild were bringing Ilya Bryzgalov in for a tryout. If Bryzgalov impresses Fletcher and the Wild coaching staff, he will likely get a contract with the team.
That would put a damper on Kuemper's chances at landing a one way deal.
Bryzgalov was brought in for the playoff run late last season. When Kuemper went down, he was strong between the pipes. Hist strong netminding was the difference maker in the team making the playoffs.
Bryzgalov also did his part in helping the Wild beat the Colorado Avalanche in the first round of the playoffs. Ilya was in goal for the seventh and deciding game of the Colorado series. Bryzgalov also won two games in the second round series with the Chicago Blackhawks.
So the Wild know what they're getting in Ilya. If Ilya is signed, it would most likely be a one year deal and Ilya would want to use the year to prove that he still has what it takes to backstop an NHL team.
Harding Must Go
That brings us back to Josh Harding. I'm upset with how Harding allegedly got injured. It's one thing to have a disease or an on-ice injury but it's another thing to act like a clown and put the team that has supported you in a bind. I'm sure Fletcher is seething. He's had to deal with unfortunate goalie injuries. Now he has to deal with a boneheaded one.
This is not the way Harding should have repaid Fletcher and the team's coaching staff. This latest injury has Mike Yeo upset with the current state of the Wild's goalie situation. I don't blame Yeo. He has every right to be upset. If the allegations are true about how Josh Harding was injured (we're still waiting for the details), I think that the Wild should release him.
Harding has become too much of a distraction. The Wild need to focus on having two strong netminders who are not only dedicated to doing everything they can to remain healthy but also have to act in a professional manner by not putting themselves into poor situations.
What Harding is alleged to have done by getting into an altercation with a teammate is put himself in danger and has shown the club that he's not focused on the only thing that matters and that's hockey.
I'm really disappointed in Josh. I've liked how he's played for the team and his story has been an inspiration to young hockey players who may be suffering from a disease. Harding's fight to remain in the lineup has been remarkable until now. From a purely hockey perspective and what's best for the team, releasing Harding is the best thing.
It's time for this team to try and assemble some sense of consistency and regularity with its goaltenders. I know that the Wild can't control if players get hurt and the team has had its fair share of bad luck but they need players who will do their best to stay on the ice.