I'll state the obvious – the Philadelphia Flyers desperately miss Chris Pronger. Since Pronger's concussion-induced departure, the Flyers' blue line has been a wobbly Jenga tower. With their backs against the wall in their opening round series against the New York Rangers, Pronger's absence now stings like peroxide in an infected sore.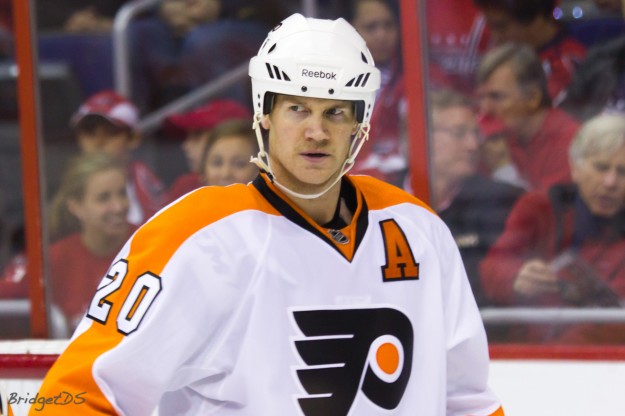 Life Without Chris Pronger
When GM Paul Holmgren rolled the dice on trading for Chris Pronger, it was a move that provided immediate dividends. In his first year in orange and black, Pronger's 55 points were his highest point total since his Stanley Cup-winning season with the Anaheim Ducks in 2006-07.  As Pronger bolstered the Flyers to their first Stanley Cup Finals appearance since 1997, the pair of first-round draft picks, along with prospect Luca Sbisa, created the impression that the cost was well worth the reward. But much to the chagrin of Holmgren and the Flyers, that reward would be short-lived, leaving Philly's blue line back at square one.
"He's a presence in the room and on the ice," said Flyers forward Scott Hartnell after Pronger's season/career-ending injury in 2011. "He was a big factor in our run [to the Stanley Cup final] a couple of years ago. When he's in the lineup be brings a lot of intangibles. We're upset about it."
To say the Flyers were upset about the future Hall of Famer's sudden absence is an understatement of epic proportions. Philly would go onto make the playoffs in 2012, and even down their bitter rival, the Pittsburgh Penguins. But the band-aid eventually lost its adhesiveness, and the wound has yet to heal to this day.
"For the Flyers, the impact is rather obvious: They can win without Pronger, but they probably can't win the Stanley Cup without him.

"He's one of the best playoff performers of the last decade, bringing three different teams to the Stanley Cup Final; in the case of the 2006 Edmonton Oilers and the 2010 Philadelphia Flyers, it was through Conn Smythe-worthy performances. From his leadership on the ice to his cunning off the ice — c'mon, stealing pucks when your team is losing? — you simply can't replicate those intangibles. Nor can you ignore his significant impact on special teams and the Flyers' defensive depth chart." — Puck Daddy
The Flyers expect Chris Pronger to miss the rest of the season with a "severe concussion". This could be career ending.

— NHL Connected (@NHLconnected) December 16, 2011
Chris Pronger is helping #Flyers' brass at draft. Probably telling em: "Draft someone like me!" #20IsMissed

— Sam Carchidi (@BroadStBull) June 30, 2013
While it appears that the Flyers have finally found the anecdote to the hex casted on their goaltending for so many years, the new woeful trend is now their defensive unit. Throughout the post-Pronger era in Philadelphia, Holmgren has tediously pursued an answer to filling the mile-wide void that Pronger left behind. Names such as Pavel Kubina, Luke Schenn, Nicklas Grossmann, Andrej Meszaros, Mark Streit, and Andrew MacDonald were added with little satisfaction. And although Mark Streit performed admirably in his first season as a Flyer, comparing him to Pronger is sophomoric and unfair.
With an aging Kimmo Timonen and an above average Brayden Coburn, the Flyers were able to claw their way back to the playoffs, despite lacking a dominant presence on the blue line. But losing Grossmann to an injury in Game Four against the Rangers left the Flyers defensively short handed yet again. Forced to activate Hal Gill, who previously appeared in only six games all season, Philadelphia's defensive miscues and lack of familiarity led to the Rangers marching to a Game Five victory, leaving the Flyers one loss away from another disappointing early playoff exit.
"About eight minutes later, after a bad passing exchange between Brayden Coburn and Gill, Dominic Moore took the puck from Gill, went in alone, and made it 3-0. Gill, who played just six regular-season games, was in the lineup because of an injury to Nick Grossmann." — philly.com
Chris Pronger, an Irreplaceable Force
Chris Pronger is undeniably a first ballot Hall of Famer. With a Stanley Cup to go along with a Hart and Norris Trophy, the six-time All-Star was a driving force in the NHL for 17 years and some change. And while Pronger's elite status on the blue line catapulted his teams throughout that time to remarkable success, it's the aftermath that he's left behind in every city he's played for that tells a different story.
The unofficially retired defenseman has played for five teams over his marvelous career. Ironically, though, all five teams share a not-so-illustrious commonality. The Hartford Whalers, St. Louis Blues, Edmonton Oilers, Anaheim Ducks, and now Philadelphia Flyers can all tell a Taylor Swift-like story of abandonment. And while Pronger's departures weren't as hormonally driven as the pop star's adolescent-themed music, the aftermath in each case were equally painful.
Hartford Whalers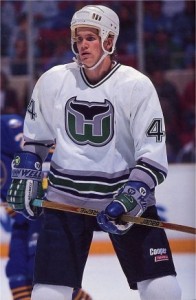 The Hartford Whalers drafted Pronger second overall in 1993, but made the mistake of growing impatient with a young and immature Pronger. After suffering a sophomore slump with the Whalers throughout the 1994-95 campaign, the Hartford media made him out to be a Ryan Leaf-type bust.
"Pronger is playing a 78 rpm sport at 33 speed. Other teams have caught on. Forecheckers jump at him. They run him at every chance. They pound him along the rear boards, because they know he's going to cough up the puck like a broken vending machine coughs up extra change.

"You can't hide a 6-foot-5 defenseman like you can a 5-9 left wing on a fourth line. Pronger is not so different from the Philadelphia 76ers' 7-6 center, Shawn Bradley. You're going to notice when somebody that big and that slow is messing up." — The Courant, 1995
With the benefit of hindsight, can you say foolish? The Whalers would go on to treat the greater Connecticut area to two more losing seasons after the Whalers eagerly traded Pronger to St. Louis, leaving the first post-Pronger team team-less. Advantage Pronger.
St. Louis Blues
The 6-6, 220 pounder would go onto skate with the Blues for the next nine seasons, where he would lead St. Louis to the playoffs in all nine opportunities. It was with the Blues that Pronger would post his career-high 62 points in the 1999-00 campaign, which were part of his 356 total points while contributing for the Note. When Pronger joined the Edmonton Oilers in 2005, though, the second organization to go post-Pronger not only missed the playoffs for the first time since 1979, they also failed to qualify for postseason play for the following two seasons.
"It wasn't the money," said former Blues GM Larry Pleau. "It was a situation that the team was for sale and they weren't going to sign any long-term contracts. And Chris wanted a long-term contract. Otherwise we could have fit him into our payroll."
Edmonton Oilers
Pronger would move onto Edmonton, where he spent a short, yet productive stint. With the Blues left in futility, the Oilers used Pronger's 56 points en route to 41 wins and an eventual Stanley Cup Finals appearance. Edmonton's run was due in large part to Pronger's monster playoff showing, notching five goals and 16 assists in 24 games.
After asking out of Edmonton, Pronger left the Oilers empty-handed and saddened. Sound familiar? After joining the Anaheim Ducks, and eventually winning a Stanley Cup, the Oilers would never recover, failing to make the playoffs for a current stretch that has now reached eight years. Edmonton's reversal of fortunes led to the city naming the infamous set of events, "The Pronger Curse." Seriously, you can't make this kind of stuff up.
"For those not familiar with this curse, when Pronger left Edmonton, he essentially cursed both the city and the franchise. His rejection gave the impression to other players and agents that this city was too cold, too small, not metro enough, not big enough, and this was a factor in some free players not even considering coming to play here.

"Things didn't get any better when Pronger — no doubt aggrieved by the unproven and malicious rumours spread about his love life in Edmonton — started to spread false rumours of his own about the city, including one that had crazed Oilers fans burning his furniture, including his child's crib, a rumour that has now been proven to be false." — Edmonton Journal
Anaheim Ducks
Chris Pronger's next relationship was a fit from the beginning. Pronger joined the Anaheim Ducks in 2006, and would go onto win his first career Stanley Cup while the Whalers were no more, and the Blues and Oilers were swinging golf clubs.
"When Chris shows up and plays a great game, we're all better," said former Ducks teammate Jean-Sebastien Giguere. "He's that good."
In three seasons in Anaheim, Pronger tallied 114 points, not counting his 23 playoff points. While Anaheim's decline slowly began during Pronger's tenure with the Ducks, the team never finished below second place in the Pacific Division, winning at least 42 games in all three seasons Pronger was a member. But like his previous teams, the Ducks would fail to make the playoffs in their first season apart from the dominant blue liner. After Pronger was traded to Philadelphia, Anaheim dropped to fourth in the Pacific, while missing the playoffs for the first time in four seasons.
You don't trade Hall of Famers every day; it's not that much fun, to be honest with you," said Ducks GM Bob Murray.
While the Ducks appeared to have recovered sooner than any of Pronger's previous clubs, they did end up missing the playoffs again in 2012, and didn't even make it out of the first round until this year.
Philadelphia Flyers
Which brings us to Pronger's final destination, Broad Street. Like his experience in Anaheim, Pronger found himself back in the Stanley Cup Finals in his first season with a new organization. But unlike the 2006-07 Ducks, the Flyers came up empty, losing to the Chicago Blackhawks in six games. Since giving Philadelphia hope in 2010, however, he would never play another full 82-game schedule again. And although you won't see Pronger in action anymore, his impact is still felt.
While Holmgren continues to fill a pothole with pebbles, he does so knowing what he's up against.
"I think you do what you think you need to do in the best interest of the team," said Holmgren. "You can never replace a guy like Chris Pronger, for sure. You try to fill holes as best you can."
While Holmgren does just that, it doesn't change the damage felt by Chris Pronger's tornado-like aftermath. The Flyers gambled and came close to breaking the house. But until a solution is fortuitously found, the Flyers will continue to find themselves behind the eight ball. Join the club.