Lightning in a bottle. One hit wonder. Flash in the pan. These are descriptions circulating the Pittsburgh Penguins fan base and media folks — whether they're fair or not — to describe the Penguins' once-deadly HBK line. Nick Bonino, Carl Hagelin and Phil Kessel can't seem to find the same spark they discovered during Pittsburgh's Stanley Cup run. Not only have they made less of an impact but in a lot of ways, they've been bad.
In early March 2016, with a playoff berth on the line and a gruelling schedule ahead, the Penguins lost Evgeni Malkin to a wrist injury suffered on a hit from Columbus' Dalton Prout. Pittsburgh was still fairly inconsistent at that point, and with Malkin out for the remainder of the regular season, the Penguins looked to be facing an impossible task.
Everyone assumed they didn't have shot at a deep playoff run, and most figured they would miss the postseason completely.
However, as well all know, Malkin's injury became a blessing in disguise. It resulted in the birth of the HBK line. That trio was phenomenal and played a major role in Pittsburgh's fourth Stanley Cup victory in franchise history. Unfortunately, they haven't been able to rediscover that magic so far in the 2016-17 campaign.
A Shell of Themselves
The key component of this trio is their nearly unmatched speed. Hagelin and Kessel — both of whom won the NHL's fastest skater competition at NHL All-Star events in recent seasons — led the charge. Their approach was fairly simple, too. A quick transition out of the defensive zone, hit the neutral zone with speed and ultimately play behind the opposition's defensemen.
In many cases, it was as easy as sending a hail mary pass to a streaking Hagelin while Kessel joined the attack as his outlet. Bonino — a cerebral player, as Sullivan likes to refer to him — was the late man in. It seemed impossible to completely suppress that line.
Until now.
The HBK line shared the ice for a shade over 144 minutes during the 2015-16 regular season, according to Corsica.Hockey. In that timeframe, they ranked second on the Penguins in Corsi-for percentage, accounting for just over 60-percent of all shot attempts during. They trailed only Sidney Crosby, Chris Kunitz and Patric Hornqvist in that regard. That percentage was also good for ninth in the league among lines that shared the ice for at least 100 minutes. Why did they dominate shot attempts so severely when they were considered a speedy, offensively-minded line?
Their opponents never had the puck.
This season, the trio has played roughly 198 minutes together, and they're the second worst line on the Penguins in terms of shot attempts. In fact, there are only seven trios in the NHL with at least 100 minutes together that boast a lower Corsi-for percentage. Their scoring chances-for per hour has dropped from an impressive 12.43 in 2015-16 to 7.56. In other words, things are pretty much the opposite of last season and, well, their opponents always have the puck.
The Future of the HBK Line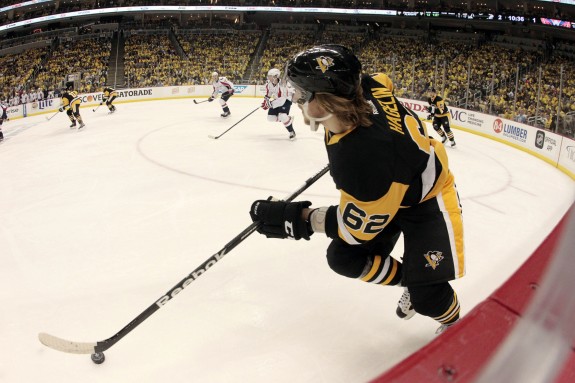 The ultimate question here is whether or not Sullivan should keep this line together, hoping they come together down the stretch. That's a bit of a loaded question, though. You also have to consider the impact it would have on Pittsburgh's top-six if they were separated.
Bryan Rust is settling in nicely alongside Crosby and Conor Sheary on the top line, while Hornqvist and rookie Jake Guentzel have slotted in on Malkin's wings. Both lines are producing and keep improving as a unit. Therefore, splitting up the HBK line and sliding one of Rust, Sheary or Guentzel down in the lineup may not be worth the reward.
When the Penguins take the ice tonight against the Boston Bruins, Malkin will be sidelined with a lower-body injury. He's also going to miss the All-Star game, and no one is quite sure whether the Penguins expect him back immediately after the break. That injury will likely mean the HBK line is split up in the interim but when Geno returns, it will likely — and should be — back to business for the trio.
Let them play through their issues now, and they might catch fire like last season. Hagelin hasn't been himself for much of this season, but he's also staring down another chance at a long playoff run after four trips to the Conference Finals in the last six years, and two of them ended in a trip to the Cup Finals. That's a lot of hockey — and throw in the World Cup of Hockey this past fall — and you could be looking at a worn down version of number 62.
That's something he'll need to figure out as the Penguins approach the home stretch. They need this line to start producing again.