With the Capitals announcement of Barry Trotz as their next head coach, the Hershey Bears should have their third coach in three seasons in the coming weeks. With Mike Haviland out of the picture, the Bears and Capitals will once again for a bench boss to man Washington's AHL affiliate.
Hershey has received over 60 applications for the job, including members of teams still competing in the postseason according to Bears' GM Doug Yingst.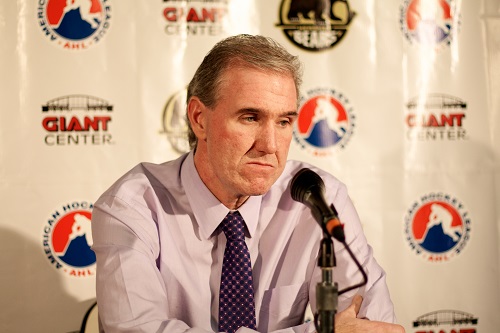 "It's our hope we can move more aggressively now in the process of hiring a new Bears coach," Yingst said. "However, there are other coaches who have expressed interest in being the next head coach of the Hershey Bears that can't interview yet because their teams are still playing for league championships."
The Capitals also promoted Brian MacLellan to General Manager, replacing George McPhee who headed Washington's hockey operations for the past 17 seasons. MacLellan has had a vested interest in Hershey over the past several seasons when he was assistant General Manager for the Capitals, which could continue to evolve, which in turn will benefit the Bears at the AHL level.
"The hiring of Brian MacLellan makes for a smoother transition in the Caps' front office," Yingst told the Patriot News. "He's been around for a while, knows the inner workings of not just the Washington organization but the Washington-Hershey relationship, too."
"He and I have worked together the past eight or nine years and had a very strong relationship. With his elevated responsibilities, the Caps will probably have someone else deal with Hershey more than him going forward, but we'll continue to work well together."
The Hockey Writers gives five names Hershey and Washington should consider as the near their decision. The hiring is made by the Washington Capitals, but GM Doug Yingst does have a say in the process.
Mark Morris
After being dismissed by the L.A. Kings after a first round playoff exit as the number one seed, Morris is looking for a coaching job for the first time in a long time. Following eight seasons as the Manchester Monarchs head coach, the 56 year old is on the market. He does have interest in Hershey, according to the Patriot News.
"Obviously, I've enjoyed my time in Manchester," Morris told Tim Leone of the Patriot News. "But from afar, I've always admired the setup in Hershey, watching what Bruce Boudreau was able to do there when I first started and having played against Hershey in the playoffs."
"It's an unbelievable experience to play and watch games in that rink. It's a pretty special atmosphere to watch people be that passionate. Even in games in Manchester, there was a great following of Hershey Bears fans."
Rumors of former Manchester coach Mark Morris landing in Hershey continue to bounce around. Would be interesting, as Boudreau did same thing

— John Hoven | The Mayor (@mayorNHL) May 22, 2014
Morris helped develop key prospects through the Kings' system, most noticeably Dwight King, Tyler Toffoli and Tanner Pearson, who all have played key roles during L.A.'s playoff appearances the past few seasons and continue to do so. Morris should be the top option for Washington to coach the Bears.
Claude Noel
The former Winnipeg Jets head coach was fired earlier this season and has close connections to recently hired Capitals' bench boss Barry Trotz. He could end up as one of Trotz's assistants in Washington if he doesn't become an AHL coach. Noel, 58, was also a player on Hershey's 1979-80 team. He played in seven games for Washington that season as well and coaching his former team could interest Noel.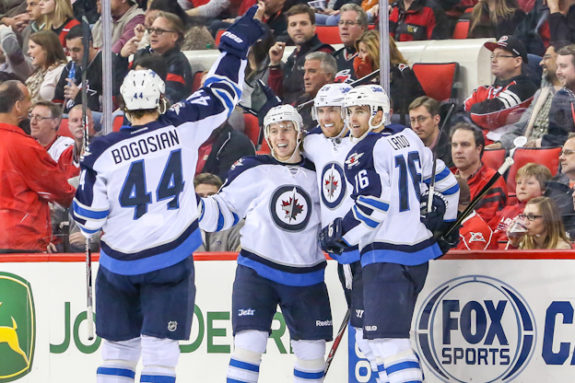 He won AHL coach of the year during the 2003-04 campaign, leading the Norfolk Admirals to a Calder Cup championship. He coached the Columbus Blue Jackets briefly and the Winnpeg Jets for three seasons, finishing with an 80-79-18 record in Winnipeg prior to being dismissed.
"I would (go to the American league) in some places," Noel explained in an interview this April with the Winnpeg Free Press. "Because I love to teach and coach. I would be an assistant; I would look at that again. I would go to the KHL, but not in the near future. I don't think I'm there yet, but I would look at Europe at some point. I'm not that young, and I have a coaching life of… I don't know how many years left."
John Paddock (Assistant Coach- Philadelphia Flyers)
Paddock was promoted to assistant coach in Philadelphia just a few games into the season, but has a front office background as well. He's unlikely to leave the Flyers for an AHL head coaching job, but Paddock is well worth the call. At 59 years old, Paddock is regarded as one of the best hockey minds in the business. He was Philadelphia's assistant GM prior to joining the Flyers' bench.
Paddock joined the Flyers organization as the Phantoms head coach in 2008 and has played a big role in the development of Philadelphia's forwards currently in the NHL today. He also was a head coach for the Ottawa Senators prior to joining the Phantoms coaching staff.
Holmgren: "John Paddock is a coach and wants to coach. He's got a great track record in that regard and he's familiar with our guys." #NHL

— Anthony SanFilippo (@AntSanPhilly) January 14, 2013
Paddock was drafted as a player by the Capitals 37th overall in 1974 and played in 87 NHL games. He accumulated eight goals and 14 assists over that time period. Paddock was also a coach for the Hershey Bears prior to joining the Flyers organization, leading the Bears to a Calder Cup championship during the 1987-88 season. He coached the club for four seasons and earned the AHL's top coaching award, the Louis A.R. Pieri Memorial Award when he coached Hershey to another championship.
Doug Lidster (Assistant Coach- Texas Stars)
Lidster is currently coaching for the AHL's Texas Stars and could have a head coaching position by the end of this summer. He's in his second season with Texas, coaching under Stars head coach Willie Desjardins. Lidster and Desjardins have helped build a powerhouse in the tough Western Conference of the American Hockey League.
Lidster previously coached for Canada's Women National Team as an assistant coach from 2008-10, along with the Sanina Spirit of the OHL from 2004-05 as head coach. He previously was an assistant for the Medicine Hat Tigers of the Western Hockey League (WHL).
Lidster is a lesser known name, but he's had success in his brief time at the AHL level. Numerous young players have developed in the Stars system, most noticeably former Hershey Bears forward Travis Morin, a top scorer in the AHL this past regular season.
Gord Dineen (Assistant Coach- Toronto Marlies)
The Marlies are currently facing Texas in the Western Conference playoffs, with the Stars holding a 2-1 lead. Gord Dineen is another potential Hershey Bears coaching candidate, but would have to wait till the end of the season to interview for Washington's AHL affiliate.
Dineen is in his fourth season behind the Marlies' bench as an assistant coach, joining them in August 2009. He previously led Anaheim's AHL affiliate, the Iowa Chops, as head coach during the 2008-09 campaign, guiding Iowa to a 33-33-4-10 record. He's served as an assistant coach for four other AHL franchises excluding Toronto and Iowa, also coaching the Springfield Falcons (2003-04), the Utah Grizzlies (2004-05), the San Antonio Rampage (2005-06) and the Portland Pirates (2007-08).
You can follow Matthew on twitter @m_speck and email him at mspeck21@yahoo.com with any questions or comments.